Ryobi Updates Hybrid Portable Fan To Keep You Cool With Quiet Operation
While you might use a fan to cool the jobsite, this one seems at home on a camping trip or in your backyard. No matter how you use it, the airflow of the Ryobi PCL811B should helps you stay cool. We got our hands on the Ryobi 18V hybrid 7.5-inch cordless fan (PCL811B) to review it and see what all the fuss is about.
Ryobi 18V 7.5-inch Cordless Fan Features
Size and Weight
The Ryobi PCL811B 18V cordless fan blade has a 7.5-inch blade diameter. Noticeably smaller than the Ryobi cordless misting fan, it's stands just 15.5 inches tall and 11.5 inches wide.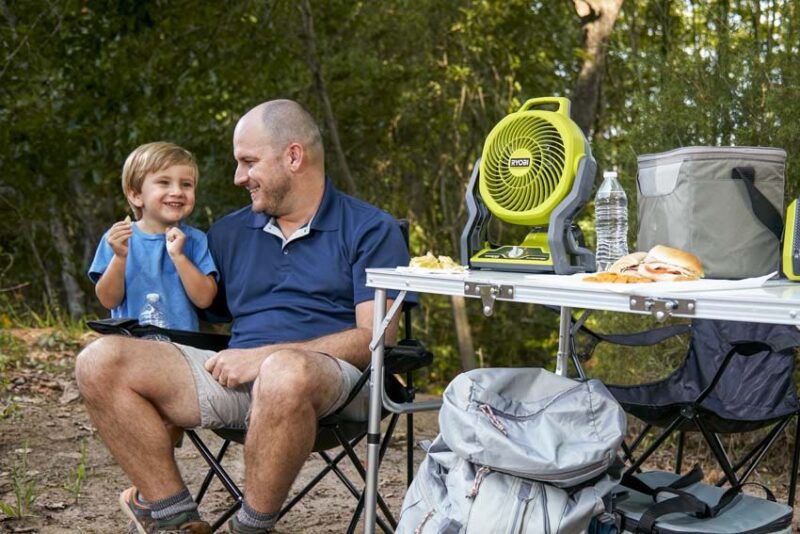 Insert a 4Ah Ryobi battery pack and the entire fan still weighs just 3.9 pounds. In our opinion, that makes it light enough for anything you might think of. We think this could work well for working indoors with little to no AC or airflow. It can also, of course, go with you when camping or fishing from shore.
Putting Air Where You Need It
As you might expect, Ryobi gives you several ways to mount or position the PCL811B fan. Two pairs of keyholes on the base fit #8 pan head screws for fastening the fan to a stud wall. Plastic hooks also let you hang this 7.5-inch 18V fan from a chain link fence.
The head of the 18V Ryobi 7.5-inch Cordless Fan pivots 160°. This really lets you direct the airflow to anywhere in the room. This comes in handy when you have the fan mounted so that you can't just pick it up and turn it.
A carrying handle on top of the fan makes it easy to grab and go.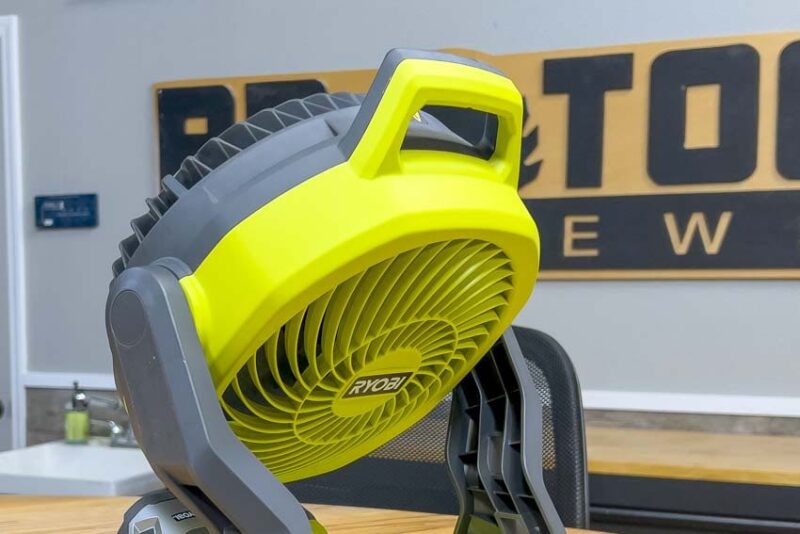 Additional Features
Compatible with all Ryobi 18V ONE+ batteries
Ryobi PCL811B 18V 7.5-inch Cordless Fan Performance
Noise Testing
The Ryobi Hybris 7.5-inch cordless fan is part of the Whisper series. When that happens, we pull out our SPL meter to see just how quiet it really is. We measured a sound pressure level of just 47 dBA. Ryobi claims this equates to 44% quieter than their previous fans.
With less noise, you might expect less airflow. Instead, the Ryobi Hybrid 7.5″ Whisper Series fan puts out up to 24% more air velocity than Ryobi's other fans. Our SPL meter registered the following from 3 feet away:
Low: < 50 dBA (undetectable by our meter)
Medium: 52 dBA
High: 54 dBA
We've never had such a difficult time measuring noise levels before. Since the noise of birds chirping or even a gentle breeze through the trees altered our measurements, we threw in the towel at Low speed. Suffice it to say—while the fan does make some noise while operating, that noise is almost negligible.
Ryobi 7.5-inch Cordless Fan Airflow Testing
Ryobi claims as much as 680 CFM from this fan. We like to understand the amount of air the fan can help you actually feel. To do this, we measured air velocity in two different ways using an anemometer. Here's what each of the modes measured from 3 feet away:
Low: 4.4 MPH
Medium: 7.3 MPH
High: 8.2 MPH
Next, we wanted to see how far away you can practically put this fan and still get results. To do this, we determine how far away you can place the fan while still getting 2.5 MPH of air blowing on you.
Low: 2.5 MPH @ 7 feet
Medium: 2.5 MPH @ 14 feet
High: 2.5 MPH @ 19 feet
Runtime Testing
We then tested runtime. After all, what good is power without longevity? We inserted a 4Ah 18V battery for our testing, We got 5 hours and 9 minutes of total runtime on High. At Low speed, that time increases to OVER 21 HOURS according to Ryobi. We have no reason to doubt that (or really test it since two batteries get you infinite runtime if you have access to power).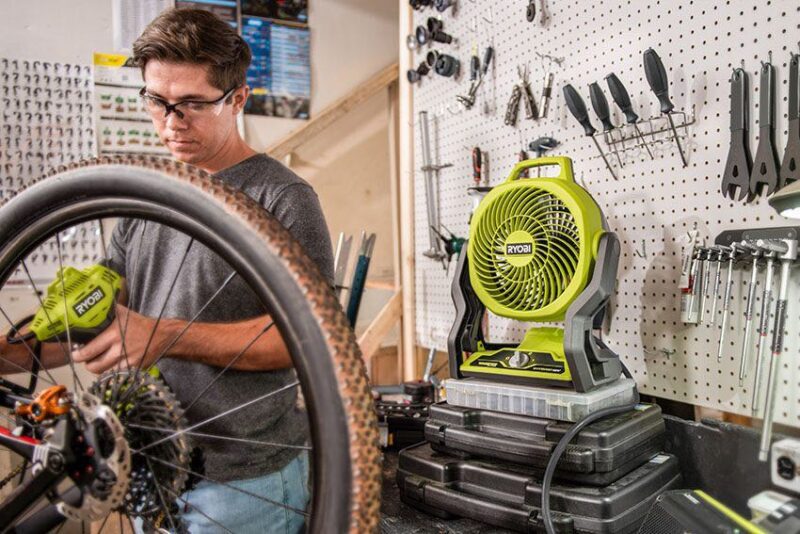 The Hybrid part of this fan means you can power the Ryobi PCL811B using an extension cord. This works really well if you have an extension cord and an outlet nearby.
Ryobi 18V Hybrid 7.5-Inch Portable Fan Pricing
The Ryobi PCL811B retails for $59 without a battery or charger. You also have a kit option that sells for $129. That includes a 4.0Ah battery and charger. Ryobi backs your purchase with a 3-year limited warranty. As with all Ryobi products, this fan is exclusive to The Home Depot.
Ryobi PCL811B Bottom Line
During the summers in Florida, a tool like this comes in handy. The excellent power and runtime and the hybrid functionality make this a great choice. The price makes it as close to a no-brainer as we've seen all year. Anyone can make good use of the Ryobi PCL811B hybrid fan.
This goes triple if you already have some Ryobi 18V ONE+ tools and batteries. Get on over to your local Home Depot and grab one—if you can find it in stock!
Specifications
Model: Ryobi PCL811B
Fan diameter: 7.5 in
Height: 15.5 in
Width: 11.5 in
Weight: 3.9 lbs
Blade material: ABS plastic
Battery type required: 18V
Number of speeds: 3
Sound rating: 47 dBA
High setting speed: 1,850 RPM
Medium setting speed: 1,500 RPM
Low setting speed: 930 RPM