The age of "roughing it" involuntarily is coming to a close, if it isn't already gone. And, it's all thanks to tools like the Ryobi Portable Power Station (RYI818BT). Indeed, Ryobi is no stranger to compact power supplies, which come in handy on job sites and camping trips.
Our staff put this one to the test. Let's explore what we thought of it so that you can decide if it's the right model for you.
Want to explore more models? Check out our Best Generator Reviews list!
Ryobi Portable Power Station Performance
Peak Wattage: 3000 watts
Running Watts: 1800 watts
Charging Input: 60W
While there are many things that impressed our colleagues about this unit, perhaps foremost is the juice that it delivers. Although it's not the most powerful model in Ryobi's arsenal, the RYI818BT puts out wattage comparable to gas models from seriously competitive brands.
Specifically, the Ryobi portable power station gives you 3,000 watts on startup and up to 1,800 when running. What's more, it produces pure sine wave energy, so it's safe for sensitive electronics. These include laptops and cell phones, and it even has enough power to keep larger appliances like refrigerators going.
Ryobi gives you a little guidance when it comes to battery selection. They suggest using at least a 4.0Ah battery for best performance. Now, this power station can run on a single battery. However, not surprisingly, the power output will increase as you add batteries. Here's a helpful guide.
As you can see, you'll need between 4 and 8 packs to reach the top running wattage. Therefore, if you buy the tool only and don't have spare One+ batteries, you'll have to invest some additional bread to guarantee that you can put the RYI818BT's pedal to the metal.
Of course, with the kit (RYI818BG), Ryobi includes four 6.0Ah batteries, which is nice. Furthermore, you can mix and match packs of various amp hours.
| Number of Batteries | Power Output |
| --- | --- |
| 1 | 450W |
| 2 | 900W |
| 3 | 1350W |
| 4-8 | 1800W |
Specs
Model: Ryobi RYI818BT
Batteries: 18V
Push-Button start
Voltage: 120
Outlets: 9
Bluetooth capable
Weight: 19.3 lbs
To give the power-to-runtime ratio some context, the Ryobi portable power station should run a full-size fridge for up to 28 hours or a 55-inch LED TV for 14 hours when using eight 12.0Ah batteries. However, don't forget that these estimates will vary based on your battery choice and the number of outlets you're using.
According to our staff, Ryobi definitely didn't skimp on power outlet options. It has three 120V 15-Amp outlets and an assortment of DC USB outlets.
12W USB-A (x2)
18W USB-A (x2)
45W USB-C (x2)
As we've seen with other generators (and other types of tools, for that matter), you can remotely control Ryobi's portable power station with their GenControl app. This app is available on both iOS and Android and allows you to remotely monitor power output, set shutdown timers, adjust the LCD screen brightness, and even activate the LED task lighting.
But, because it's Bluetooth, you will need to be within 50 feet to control the RYI818BT.
One handy feature on this power station is that it doubles as an 8-battery sequential charger. The onboard 60-watt USB-C charging port is compatible with the included wall charger, a car adapter, and even the Ryobi RYi60SP solar panels.
Despite the fact that this method charges much slower, it's still a useful option if you have the time. You can also run two Ryobi Power Stations in parallel to increase the output.
Ryobi Portable Power Station Design
On the design side, the RYi818BT has a solid build. It weighs 19.3 pounds as a bare tool and features a sturdy top-handle.
In fact, with tools like this one, durability is a pretty darned important facet. In this case, Ryobi gave this portable power station four rounded roll bars to protect the battery ports and the batteries themselves.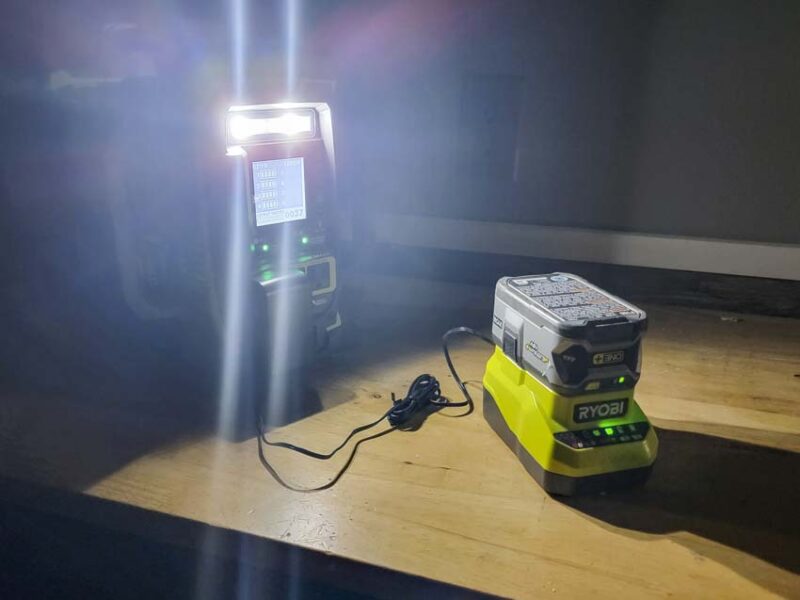 Despite its beefy build, Ryobi does not recommend using this power station in wet conditions. But they do include a dust cover that affords some protection from the elements.
Ryobi RYI818BT Power Station Price
The Ryobi Portable Power Station sells as a bare tool for $649 and as a kit with four 6.0Ah batteries (RYI818BG) for $849. This tool also comes with a 3-year warranty .
Editor's Note: If you pop into Home Depot at the right time, you might get the kit for $100 less.
The Bottom Line
Quite frankly, our staff was rather impressed with this tool. It offers ample power and a range of outlets. Both make for a portable power station that can run a variety of appliances–well done Ryobi!
Ultimately, if you're looking for cordless power and quiet operation, the RYI818BT is worth a second look.