Power and Dual-Rotation Mark the DR Power XLDRT Rear Tine Rototiller
Here in Georgia, we live in the county for a reason. You can plant a garden, operate a small business—and do many other things they frown upon in the big city. As we got ready to expand our garden, we looked forward to preparing the soil so we could move on to planting more vegetables. As soil goes, we have an easier time of it than some—lots of sand, very little rocks. Still, when breaking topsoil and grass and prepping a garden for its first run, you need something capable of getting the job done. We brought in the DR Power XLDRT rear tine rototiller to see if it could speed up the process and keep up the pace.
Pros
Strong tilling performance
Forward and reverse tine rotation
Thick 13-inch drive wheels
Side panels and rear debris shield control soil spray
Forward, neutral, and reverse transport modes
Manually adjustable handle
Cons
Difficult-to-access engine oil
No electric start option
DR Power Rear Tine Rototiller Features
The DR Power 209cc overhead valve engine powers the drive system in addition to the rear tines. Using the speed selector at the right of the handle you can quickly adjust the drive speed. We found it easy to match the tilling speed with our drive speed to get excellent results and a steady pace.
No matter which way the tines move—forward or reverse—the drive direction always goes forward. DR Power gives you a separate forward, neutral, and reverse mode. This works when transporting the DR Power tiler when the tines are not moving.
By running the tines in reverse, you increase the resistance but it helps when digging into difficult soil. When you put the tines in the forward direction they actually help push the machine forward. If you need to slow the unit down in this mode, drop and use the integrated drag stake.
The oversized 13-inch x 5-inch pneumatic wheels include a "tractor-style" tread that really lets it grip the soil. This helps when you turn up a bunch of soil and need to keep moving through it.
Rear Debris Shield and Side Panels
With some tillers, you can really throw a bunch of soil all over yourself—particularly with the tines spinning in the forward direction. DR Power includes side panels and a spring-loaded rear shield to help manage the spray of dirt.
Additional Notes
Pull (recoil) start
Holds 96 ounces of fuel
Adjustable handle height
Front brush guard
Weighs 205 lbs.
DR Power Rear Tine Rototiller Performance
The DR Power XLDRT uses that 209cc OHV (overhead valve) engine to output up to 9.5 ft-lbs of torque. Fortunately, if you happen to live in California, they also managed to make it CARB-certified.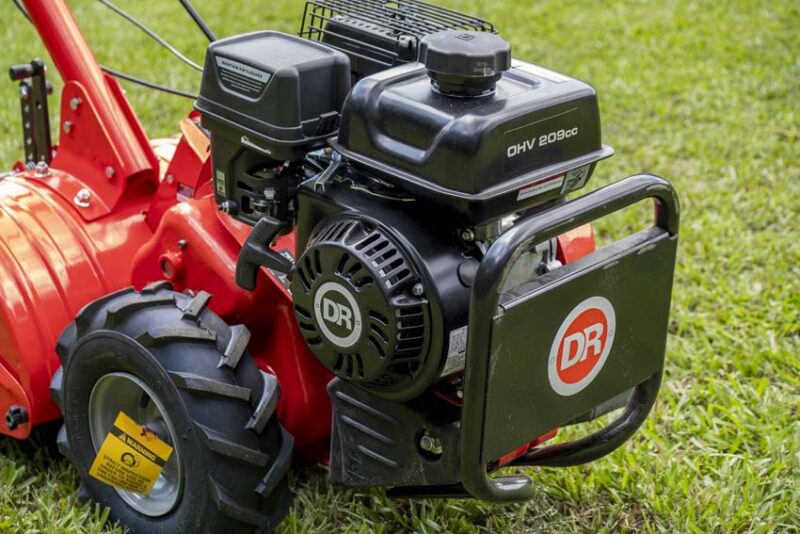 We did have some difficulty when filling the rear tine rototiller with oil. Getting the 20 ounces of 30W-HD oil into the engine takes a long, narrow funnel.
Tilling an Existing Garden
Before expanding our backyard vegetable garden, we used the We tilled a backyard vegetable garden up in Georgia, using the DR Power rototiller to clear out the rows in between our growing veggies. With our family's hectic schedule, we had simply left it go wild for far too long.
The engine drove those 11-inch tines like nobody's business. The XLDRT tills an 18-inch width path and those tines can dig down up to 11 inches. I can't express how much easier it is to use this tool vs pulling out an attachment system with a tiller head.
We found something immediately great about the DR Power XLDRT rear tine tiller. We love that the tines can rotate in either direction. Working in loose soil or in established gardens, you can keep those tines running in the forward direction. It helps you move and you aren't fighting the ground as much.
However, when you really need to dig in and break up hard soil, flip them into reverse. This also helps when tilling up an area for the first time—even areas full of grass. To reverse the tines, we used the gear selection lever positioned to the left of the handle.
While the tines were in reverse, we expanded the boundaries of our garden. The soil featured a mix of Georgia clay and topsoil. We have to say that the rototiller dug through that hard-packed mixture quickly and with very little difficulty. It performed impressively.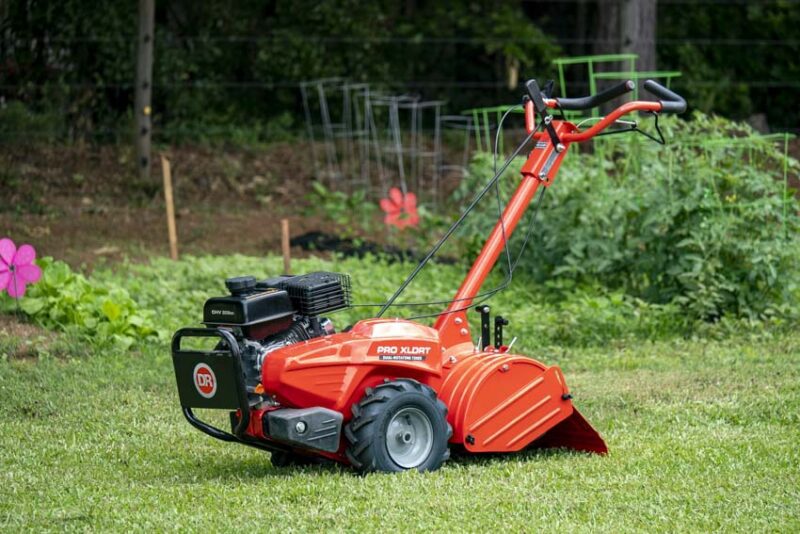 You do have some limitations—even with a tiller this strong. You want to avoid truly rocky soil and rootsw. While these tines can handle small rocks and debris, you won't get far if they become completely obstructed by larger pieces of stone or root systems.
DR Power Rear Tine Rototiller Price
The DR Power Pro XLDRT has a list price of $999.99 and comes with a 2-year residential/90-day commercial warranty. Keep your eyes open for sales. When we wrote this DR had it for sale at $799.99 on their website. Shipping is free.
The Bottom Line
The Pro XLDRT rear tine rototiller is the most powerful walk-behind in the DR Power line. We really love the dual-direction tines and the overall features and performance. If you want to get a serious amount of work done in a small amount of time, this tool can save you hours. Ditch your attachment system and consider putting the DR Power Pro XLDRT to work instead.
DR Power Rear Tine Rototiller Specifications
Model: DR Power Pro XLDRT
Engine: 209cc OHV
Torque: 9.5 ft-lbs
Tilling Width: 18 inches
Tilling Depth: Up to 11 inches
Tine Size: 11 inches
Wheels: 13 x 5 inches
Price: $999.99
Warranty: 2 years residential, 90 days commercial
Discover more outdoor power equipment at DR's website .