Echo Launches Three Commercial-Grade Broadcast Spreader Models
Spreaders designed for spreading fertilizer or insecticide on commercial lawns differ from models designed for residential use. The key is build quality and features. Echo introduced three commercial-grade broadcast spreaders that some pros may find useful as additions to their landscaping businesses.
Echo Commercial Broadcast Spreaders: The Big Deal
All of the latest Echo broadcast spreaders feature 85-pound capacity hoppers. This lets them hold more material so you don't need to head back to the trailer as frequently to refill them. This also represents a 15-pound improvement over the Echo RB-60. While not the only reason, this increased capacity makes these spreaders more suitable for commercial applications.
Echo RB-85 Spreader
The Echo RB-85 spreader features a powder-coated steel frame that resists corrosion. It should prove a great solution for spreading seeds, fertilizers, and pesticides on larger areas of turf.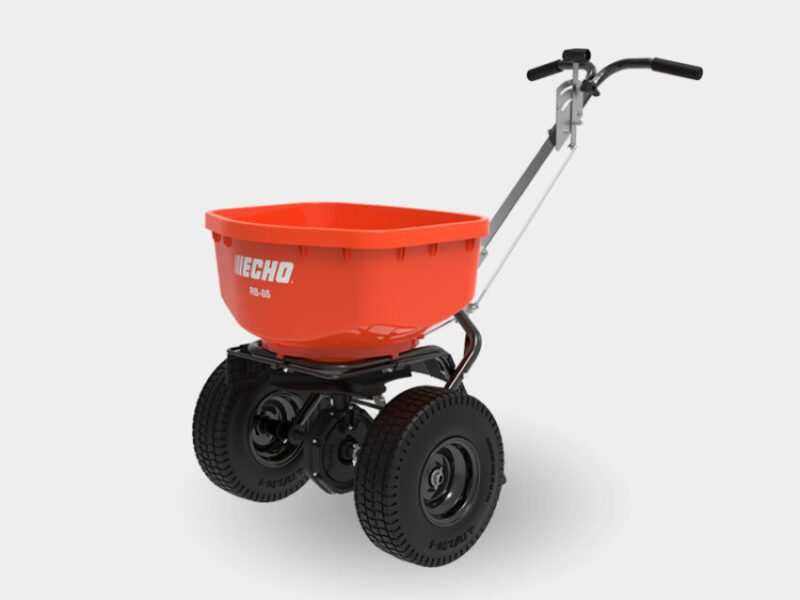 Echo RB-85S Stainless Steel Broadcast Spreader
Upping the game, the Echo RB-85S model matches the general capabilities of the RB-85 but adds a stainless-steel frame. For obvious reasons, the upgraded frame should hold up better to corrosion when working in coastal areas or with materials that would otherwise prove problematic to traditional steel.
Echo RB-85W Winter Stainless Spreader
The winter-season Echo RB-85W broadcast spreader takes the stainless-steel frame of the RB-85S and includes hard surface ice and snow management features. It can spread ice melt and rock salt in driveways and walkways.
Here, the stainless-steel frame becomes vital as salt and winter environments wreak havoc on steel. Combined with the salt-specific hopper and agitator, as well as four-sided foot defectors, this tool spreads across an area of 2 feet to 8 feet.
Echo dialed in these spreaders with factory-calibrated spread patterns for even-spaced coverage. Each spreader also has a foot-operated side deflector. Use this to keep material out of unwanted areas. Lastly, a T-handle with a manual chute control lets you direct exactly when and where you spread your chemicals or materials.
Additional Features
Includes hopper grate and cover
13-inch tires
High-visibility orange color increases safety when working near roadways
Echo Commercial Broadcast Spreader Price
The RB-85 spreader retails for $329.99, the RB-85S model retails for $449.99, and the RB-85W retails for $499.99. All models include a 5-year consumer warranty and a 2-year commercial warranty.
Specifications
Model: RB-85 / RB-85S / RB-85W
Hopper capacity: 85 lbs
Frame material: Steel / Stainless Steel
Chute control linkage: Manual