No doubt, EGO is a leader in battery-powered outdoor equipment. What's more, their fleet of products is as diverse as it is extensive, bringing cordless technology to traditionally gas-fueled tools. Among them is the 56V EGO SNT2110 Snow Blower.
Here's a rundown of its features and design to help you decide if it's the right model for you.
EGO SNT2110 Snow Blower Features
When we talk about gas-powered equipment, some of the things that come to mind are noise and fumes. Naturally, EGO products have none of these issues.
Indeed, they tell us that the SNT2110 yields gas-equivalent performance. Driving this tool is a high-efficiency brushless motor, fueled by two of EGO's 56V (5.0Ah) POWER+ ARC Lithium batteries.
And from what we can tell, this duo yields impressive performance.
For instance, according to EGO, the 56V SNT2110 snow blower is capable of handling a 12-car driveway with 8 inches of snow on a single charge (using two 5.0Ah packs). And with each pass, you'll be clearing a 21-inch swath.
That's not bad, especially for a battery-powered model.
Specs
Model: EGO SNT2110
Battery: 2 x 56V (variable Ah)
Clearing swath: 21 in
Throwing distance: 40 ft
Auger: Steel
Weight: 50.6 lbs
Furthermore, this unit comes equipped with a steel auger that should cut through the white stuff up to 50% faster than its sibling, the SNT2102. Specifically, EGO says the SNT2110 blower's motor can toss snow up to 40 feet.
You can adjust this distance using the tool's variable auger speed control system.
EGO SNT2110 Design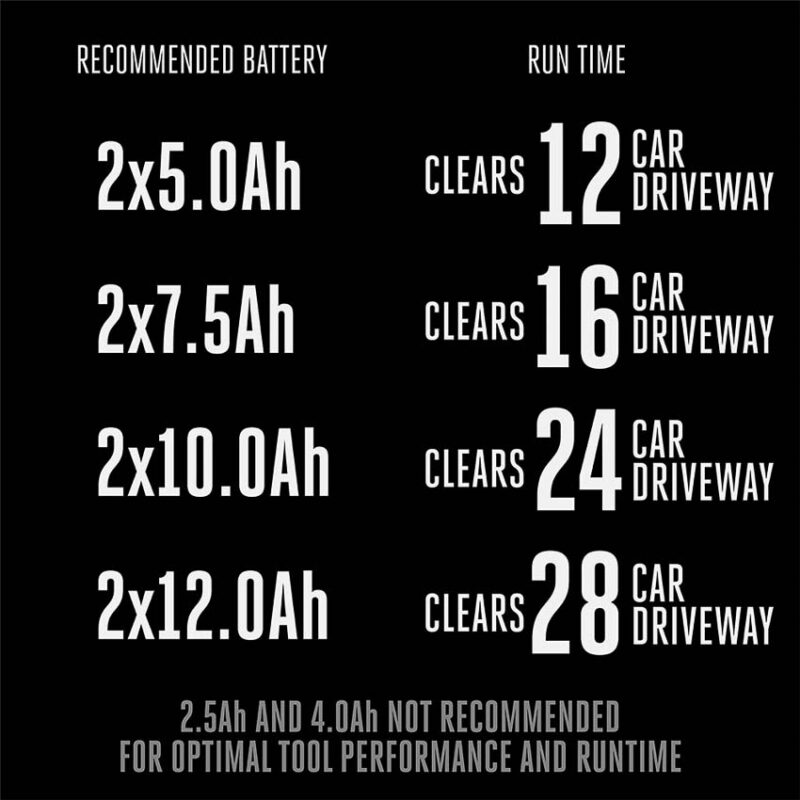 Starting off, EGO built this snow blower using weather-resistant heavy-duty steel and composite materials. According to the literature, this combination should hold up well to the challenging conditions presented by winter precipitation.
In addition to push-button start, it also provides significant control over runtime. Thanks to EGO's Peak Power technology, you can combine any two Ah EGO POWER+ 56V ARC Lithium batteries.
EGO SNT2110 Snow Blower Price
This model retails as a bare tool for $469 (batteries sold separately) and comes with a 5-year limited warranty.