Greenworks HT60L211 60V Hedge Trimmer Adds Performance and Features
Having used most of the Greenworks 60V outdoor power tools—including multiple generations of each, we're familiar with the lineup. When they sent us the Greenworks 60V hedge trimmer (model HT60L211), we wanted to see if they updated the balance and weight to deliver a better trimming experience.
Pros
180° rotating handle

26-inches of cutting
Larger 1.2-inch diameter cut capacity
Improved top-loading battery
Cons
Weight (over 10 pounds with battery) might prove heavy for many consumers
Greenworks 60V Cordless Hedge Trimmer Stand-out Features
Convenient Rotating Handle
Rotating handles aren't a requirement for hedge trimmers, however, they do help. When trimming vertically along the sides of hedges, it lets you get a more ergonomic grip on the handle. The Greenworks 60V hedge trimmer now lets you take some additional strain off of your back. To rotate the handle, pull back on the ring located just below the trigger at the bottom of the handle. You can then twist the handle left or right. It locks into any of five different positions with 180 degrees of overall rotation.
Simple Controls
Industry standards place certain regulations on how battery-powered outdoor power tools must operate. That includes trigger locks. Fortunately, the Greenworks 60V cordless hedge trimmer uses a simple trigger safety on the front handle. This ensures you keep two hands on the tool at all times while starting or operating it. Just grasp the front handle, pull the trigger, and start cutting. We prefer this as a more natural solution to any sort of double-trigger safety system.
Top-Insert Battery
Where the previous version of this tool utilized a side-entry battery, that created a rather wide body. The new Greenworks 60V cordless hedge trimmer shifts to a top-insert design. Since the pack slides into the hedge trimmer from the top, it also makes it easier to lock into place since you get a nice "gravity assist".
Additional Highlights
Includes blade sheath
Kit includes 2.0Ah battery
Greenworks 60V Battery-Powered Hedge Trimmer Capacity
Greenworks went with a 26-inch long dual-action blade. That means the blades actually cut in both directions. We consider this a critical feature in larger-capacity hedge trimmers. You get faster cutting overall.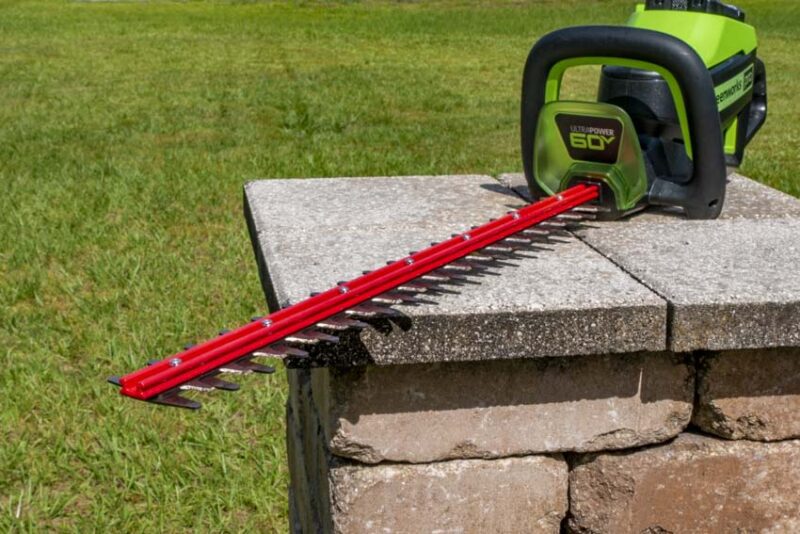 The Greenworks HT60L211 can cut branches up to 1.2 inches in diameters. That marks almost an additional 1/2-inch more than the previous model (which had a 3/4-inch cut capacity). We've seen a few residential models reach the 1-inch mark, but many stick around 3/4-inches. Dual action and high-capacity cutting put Greenworks ahead of a lot of their competitors.
This Greenworks cordless hedge trimmer also cuts quickly with 3200 strokes per minute (SPM). That rate equates to what we've seen in several commercial-grade cordless tools.
Cutting Performance
We took the Greenworks 60V hedge trimmer to work on a 1 1/4-acre property in Central Florida to see how well it would do. The dual-action blades trimmed up our holly shrubs very quickly. We also used it to knock down some sneaky oak saplings that approached the limits of the hedge trimmer's 1.2-inch capacity.
We can't ignore the ample weight of this tool. Any time you work at shoulder height for long periods of time—weight becomes very noticeable. Without a battery, the Greenworks HT60L211 weighed 7.2 pounds. While that dropped 1/2 pound off the last version, adding the 2.0 Ah battery brought it up to 10.1 pounds.
That's fairly heavy.
Given that, we definitely recommend using the 2.0 Ah battery. It balances the tool and saves you 1.5 pounds off the 4.0Ah pack. Plus, with up to 45 minutes of runtime the 2.0Ah battery gives you ample time to get your work done.
Greenworks 60V Battery-Powered Hedge Trimmer Price
Without the battery and charger, the hedge trimmer runs $149.99 at Tractor Supply. The available kit version includes a 2.0Ah battery and charger for $199.99. That matches the price of the previous model this hedge trimmer replaces. It also includes the Greewnworks standard 4-year limited tool and battery warranty.
The Bottom Line
In the end, the Greenworks 60V battery-powered hedge trimmer is simple to use and has the performance to tackle tougher hedge trimming than many of its competitors. While a tad heavy, we appreciate the updated ergonomics this revision brings—and the improved power is welcome as well. Put it together, and we feel this is now one of the best battery-powered hedge trimmers currently on the market.
Greenworks 60V Battery-Powered Hedge Trimmer Specifications
Model: Greenworks HT60L211
Voltage: 60V
Blade Length: 26 inches
Blade Type: Steel
Cutting Capacity: 1.2 inches
Handle Rotation: 180°
Warranty: 4 years (tool and battery)
Price: $149.99 bare tool, $199.99 kit
Learn more at the Greenworks website .