HART Brings the Power in 2022 with 40V Brushless Lawn Care Tools
Could HART Tools 40V brushless battery-powered lawn tools have what it takes to induce consumers to switch to battery power from gas? The company has certainly pushed performance levels to higher limits over their 20V line of outdoor tools. To help you know which products represent their top-of-the-line, we've assembled their best 40V products here—and every one of them is available at Walmart.
20V vs 40V HART Tools
HART Tools uses two different battery lines for its outdoor power tools. Each has its own advantages and disadvantages depending upon your needs. The 20V battery system works well for consumers with smaller properties and yards. It also maintains compatibility with HART Tools' entire lineup of handheld 20V power tools.
If you need more power and runtime, however, the HART Tools 40V system gives you that level of performance. This line works much better for those with bigger properties (over 1/8-acre). Brushless motors make the applicable tools in this line perform even better and with more capabilities.
This article covers some of the best 40V Brushless HART lawn care tools. If that interests you, you've come to the right place.
HART 40V Brushless 21-Inch Self-Propelled Lawn Mower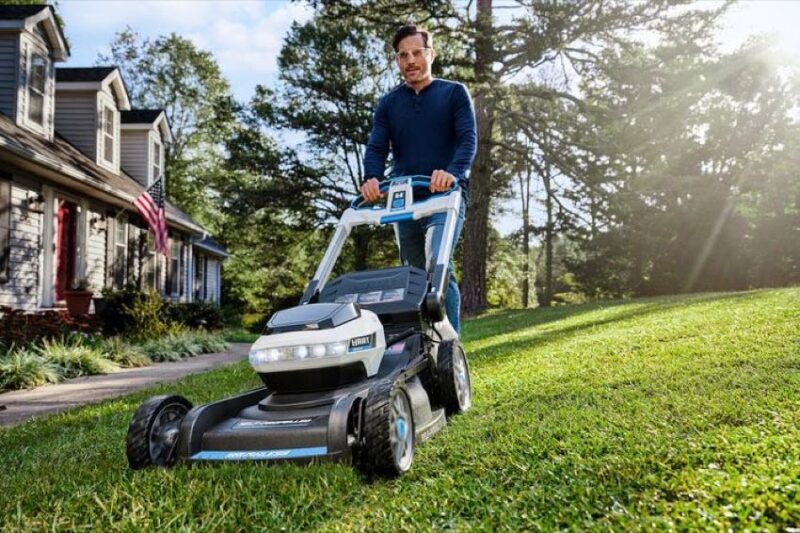 New for 2022, Hart has a 21-inch self-propelled lawn mower that raises the bar over its previous models. It's stronger and has a much greater runtime thanks to the pair of 6.0Ah batteries that come with the kit. Depending on your cutting conditions, you can mow up to 3/4 of an acre on one charge.
Even if you do happen to run the batteries out, the kit also includes a rapid charger to get you back in the game sooner with a 1-hour charge time for each pack.
As an added bonus, HART is making this mower in the USA using global materials.
Additional Highlights
Easily swtiches between mulching, bagging, and side discharge
Bag fits between the handles, making installation and removal easier
Single point height adjustment hits 1 – 4-inch cutting heights
Transitions easily for vertical storage with handle release mounted below the control bars
Front LED lights
5-year warranty
Price: $498 with two 6.0Ah batteries and a rapid charger
HART 40V Brushless 15-Inch Carbon Fiber String Trimmer

HART stepped up its string trimmer game big-time by adding a carbon fiber shaft to the attachment capable brushless string trimmer. Carbon fiber string trimmer shafts are stronger than they look and reduce the overall weight significantly over steel.
There's a very interesting head design on this model as well. You can use grass-cutting plastic blades or attach a fixed-length line in addition to the standard easy-load bump-feed head. No matter which way you want to trim, the 3-in-1 head has you covered.
Additional Highlights
13 – 15-inch adjustable cutting swath
Compatible with HART PowerFit or universal attachements
Includes 0.095-inch line
5-year warranty
Price: $248 with a 4.0Ah battery and a fast charger
HART 40V 24-Inch Hedge Trimmer
HART's 40V hedge trimmer is the only tool in this group that isn't brushless, and that's okay. From the beginning of our experience with battery-powered OPE, it's the one tool that was already efficient with a brushed motor.
With dual-action 24-inch knives reciprocating at 3200 SPM, you get a solid 1-inch cutting capacity and the head rotates 180° to make cutting at different angles far easier.
Additional Highlights
Scabbard included
5-year warranty
Price: $96 bare, $140 with 2.5Ah battery and charger
HART 40V Brushless 650 CFM Blower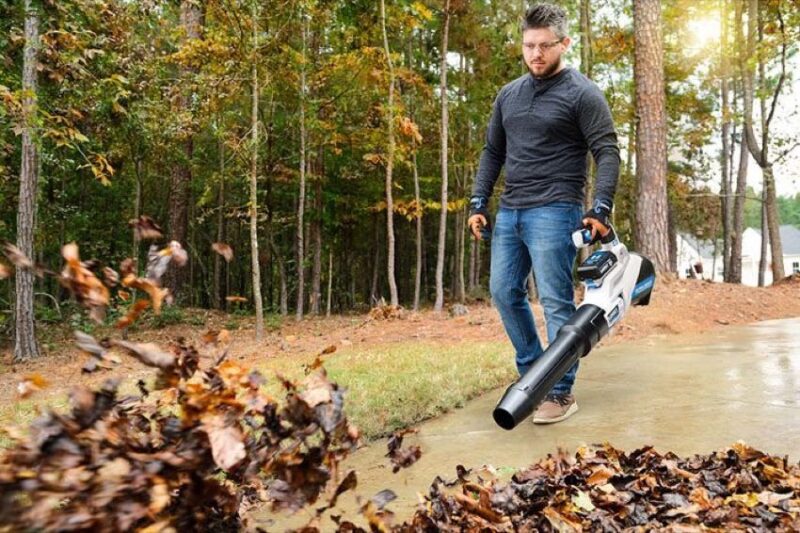 HART shifted gears into the high-performance cordless blower class with its latest battery-powered blower. Capable of producing up to 650 CFM and 160 MPH, calling it "strong" doesn't seem to do it justice.
It's not just powerful, though. As part of HART's Ultra-Quiet series, it's incredibly quiet for this performance level.
Additional Highlights
Turbo fan design
Speed tip nozzle included
Variable speed with cruise control
Turbo button
Pivoting handle
5-year warranty
Price: $258 with a 5.0Ah battery and a fast charger
HART 40V Brushless 16-Inch Chainsaw
When it's time to look up from your lawn care to tree maintenance and storm cleanup, HART has a new chainsaw to consider. With a 16-inch bar and brushless performance, it's a fantastic balance of size and weight to tackle those medium-diameter cuts.
There are several features worth mentioning, starting with the chain tensioning. HART uses two bar nuts that offer a secure hold and pairs them with an easy-mounted side chain tensioner. Just loosen the bar nuts and give the tensioning screw a twist with the onboard scrench and you're back in action in less than a minute.
The other thing we love is that there's a blow-molded case to store the saw. It makes transporting and storing the chainsaw easier than saws without one.
Additional Highlights
Automatic oiler
Rear comfort grip handle
3-year warranty
Price: $274 with 4.0Ah battery and charger