Whether you need to manage shrubs or remove small tree limbs, a good pruning chainsaw is handy to have around. Generally speaking, they make quick work of small tasks, and they're easy to use. Moreover, they lack the intimidation factor that usually comes along with bigger, more powerful models. And, considering that battery power dominates the pruning chainsaw landscape, we think that you should know about the 6-inch Kobalt KMCS 1024A-03.
Let's dive into what this 24V unit has in the way of features and design.
Check out the Kobalt model that made our Best Chainsaw Reviews list!
Kobalt Pruning Chainsaw Performance Features
Driving the KMCS 1024A-03 is a brushless motor and a 24V (2.0Ah) battery. Together, they provide a chain speed of up to 25 feet per second. In our opinion, that's a solid number. Indeed, if these specs are accurate, then this model actually outperforms excellent competing saws that we've handled in the past.
Specs
Model: Kobalt KMCS 1024A-03
Battery: 24V (2.0Ah)
Bar length: 6 in
Chain speed: 25 fps
Cutting capacity: 3 in
Weight: ~5 lbs
And, according to Kobalt, that 25 fps enables you to tackle hardwoods as thick as 3 inches with this pruning chainsaw. Furthermore, they tell us that the 24V battery will deliver up to 120 cuts on a single charge.
Of course, that figure will vary depending on how hard you run it, but either way, the KMCS 1024A-03 will give you plenty of trigger time.
Kobalt Pruning Chainsaw Design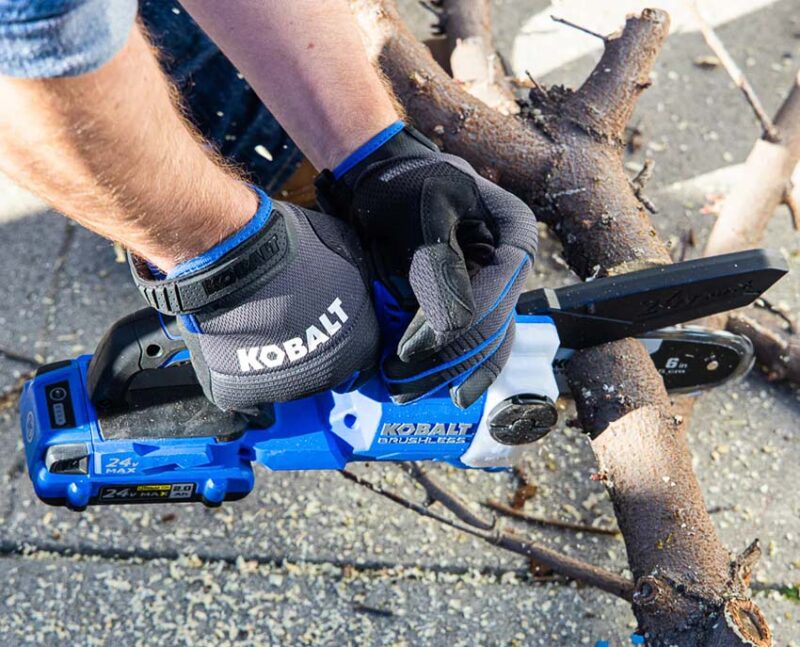 In terms of design, the KMCS 1024A-03 has a few standout traits.
First, we like that Kobalt gave this pruning chainsaw adjustable speed capability. Although that might not sound like all that big a deal, it does improve control.
What's more, the KMCS 1024A-03 comes equipped with toolless tensioning and an automatic oiler. Both take a lot of the hassle out of maintenance and operation.
Finally, this model is compact and lightweight, enhancing maneuverability and minimizing fatigue.
Kobalt KMCS 1024A-03 Price
The Kobalt 24V pruning chainsaw normally retails for $149 and comes with a battery, a charger, and 5-year tool and 3-year battery limited warranties.