It seems like just about everyone has a lithium-ion blower these days, but DeWalt may have just released the best battery powered blower focused on professional users. The new DeWalt 40V Max Backpack Blower is taking performance, design, and run time to a level we simply haven't seen before.
Why bother heading this direction? Do we really need another battery powered blower? These are valid questions. Right now, companies like DeWalt are ahead of the curve when it comes to developing battery powered OPE solutions. When we look at Europe, they tend to be the trend setters in regulation on many levels. One of the trends we've seen is the requirement for quieter lawn maintenance tools. With whispers that the same regulations are being considered for the US, we're in luck that DeWalt is targeting the pro user.
In addition to future regulation, some pros are looking for ways to jump to a battery platform for the noise reduction simply as a boost for business. Potential clients like schools, offices, apartment complexes, and cemeteries all put a premium on getting lawn maintenance done with minimal interruption to the activities happening on site. Of course having no gas and oil to mix or small engine maintenance is a huge benefit as well.
Until now, backpack blowers have only been concepts in the minds of product managers and engineers. Several hurdles have to be overcome to reach the pro landscaper. The biggest are providing enough power and run time in a package that allows a pro to work a full day.
DeWalt 40V Max Backpack Blower Key Features
DeWalt's backpack blower is obviously a backpack design. They've really modeled it after a traditional pro gas blower model. Adjustable shoulder and chest straps along with back support help you efficiently bear the weight of the motor and batteries. I'd like to see a hip strap added to distribute the weight even better.
"Batteries" was not a typo. The DeWalt DCBL590 has space for two 40V Max Batteries. DeWalt isn't fooling around when it comes to kits. A bare tool is not currently an option and the blower is kitted with either one or two 7.5 amp hour batteries. Anything less would leave user with a disappointing experience trying to go with 4.0 or 6.0 amp hour batteries to save money.
Moving to air delivery, the blower is controlled with joystick style controls. DeWalt leaves the trend of wide open tubes and returns to a more traditional gas blower style tube that's a smaller diameter. The nature of the backpack design means it's also moving away from the straight flow and comes back around to pushing the air through a curved tube around the motor. A battery switch on the joystick controller allows you to choose which battery is being used or to lock the blower off during transport.
DeWalt manages to push air 450 CFM at 142 MPH. There's a lot of confusion about which number is more important. The correct answer is both, but they're not equal. DeWalt did well by increasing the air volume over the air speed, but gets both in a range that other blowers have to choose between one or the other. The performance on paper beats out gas blowers in the 25 cc – 30 cc range, which includes several entry-level backpack blowers.
DeWalt 40V Max Backpack Blower Specifications
Model Number: DCBL590X1 (1 battery), DCBL590X2 (2 batteries)
Power Source: DeWalt 40V Max Battery (7.5 amp hour included)
Max Air Volume: 450 CFM
Max Air Speed: 142 MPH
Weight: 27 pounds
Rated Decibel Level: 63 dB(A)
Warranty: 3 years
Price: $499 (1 battery kit) , $699 (2 battery kit)

Let's Strap this Thing on Already!
Putting a pair of 7.5 amp hour 40 volt batteries on this doesn't do the weight any favors. It comes in weighing 27 pounds (22.8 pounds with 1 battery). That's pretty heavy compared to an entry level pro gas blower, but I didn't find it unmanageable. You'll need to connect the tubing before anything else. There's a quick start guide to show you how and the straight forward process takes less than 5 minutes. Adjustments to the straps were easy enough to make and I found I was ready to go in very little time. I just had to wait for the batteries to finish charging.
The joystick can easily be moved forward or back to adjust for your arm length. Loosen the nut underneath (it's tool-free), adjust, and re-tighten to be on your way. I only needed to nudge it forward about an inch. If there will be multiple users on your blower, adjustments can be made on the fly in less than a minute.
The Speed Lock feature is a little different than what I'm used from other cruise control type blower options. Simply find the speed you want to work at, and press the button. It's not a lock on switch like you'd expect, but rather just a button. Press it again to turn it off. Actually, it's more like a truck's cruise control than the other "cruise control" options out there. When you're blowing a large area, it's nice to give your trigger finger a break.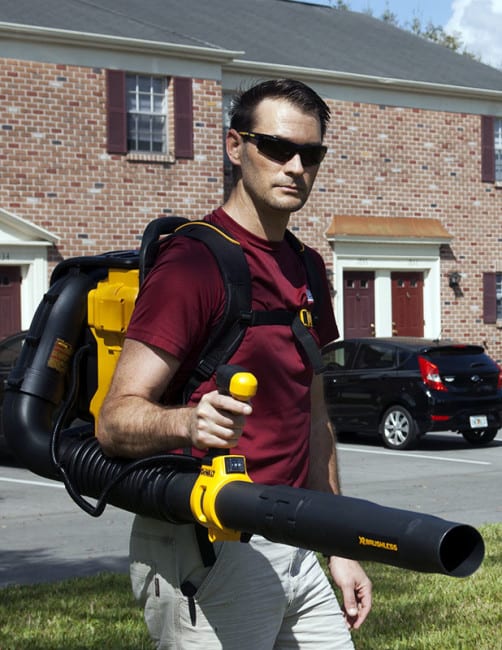 I took the DeWalt 40V Max Backpack Blower out to a 900 unit apartment complex to see what how it stacked up against the gas blowers they currently use. With 3 miles of road and sidewalk to clear every day, there was quite a bit of skepticism. This crew works as a team. A wheeled high power gas blower is used first to get rid of the incredible number of oak droppings coming down each day followed by a backpack blower for touch up.
I tested the DeWalt 40 Max Backpack Blower's run time by simply letting it run at full power until it drained its fully charged battery. Nearly 20 minutes later (19:24 to be exact), I was grateful for the speed lock. Under typical conditions, you can expect to get 20 minutes of continuous full power use from each battery. For wrapping up a lawn by blowing off the driveway and sidewalks, you can use less than full blast and extend the run time significantly.
On dry, hard surfaces, there's no doubt the DeWalt Backpack Blower is effective. For the amount of road that the complex grounds crew has to cover, they would need a second set of batteries to get the job done without stopping. Wet blowing is more of a challenge. With grass clippings and oak leaves on the ground marinating in the previous night's rain, a 65 cc gas blower was needed to keep the job moving along.
Charging times may be an issue for some. It took more than 2 hours to take my fully drained battery back to 100%. Even then, the temperatures you're working at can affect those charge times. With 40 minutes of total run time at full power and 4 hours of total charging time to look forward to, you'll need to evaluate if 2 batteries will be enough.
Put Your Money Where Your Mouth Is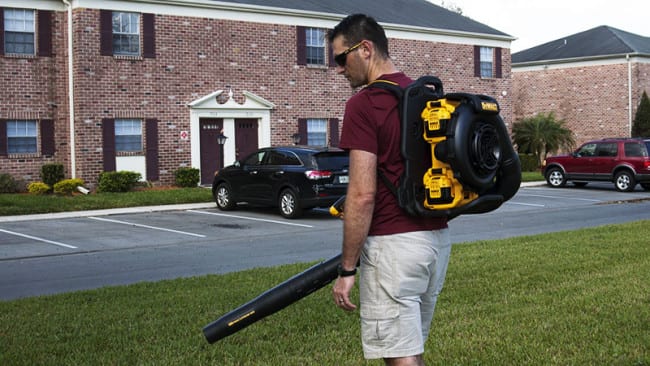 The elephant in the room here is going to be the price tag. The two battery configuration runs $699, which is no small consideration when leaving the world of gas for greener lithium-ion pastures.
We have to look at the 30cc units to get the closest performance comparison. You're going to be in the $250 range to get something comparable that's also going to meet the build quality needs of a pro. We still need to look at the cost of maintenance, repair, gas, and oil against DeWalt's 3 year warranty on the tool and batteries.
Estimated fuel/oil costs for a pro landscaper blower range from $250 – $400 in the 30 cc engine class and more than double that for the 50cc+ class. Even at the low end, you're going to pay for the DeWalt 40V Max Backpack Blower in fuel savings alone over the 3 years the batteries are covered. Maintenance costs are a bonus on top of all that.
3 Year Cost Blower and Fuel Estimation
DeWalt 40V Max Backpack Blower: $699
30cc Pro Level Gas Backpack Blower: $1000 – $1650
The bottom line is if 450 CFM and 142 MPH performance gets the job done for you, the DeWalt 40V Max Backpack Blower is going to save you money, not to mention your hearing and reputation with your clients and their neighbors.
Conclusions
For the maintenance crew that covers smaller apartment complexes, offices, and schools, the DeWalt 40V Max Backpack Blower makes a solid argument for adoption. The pro lawn crew working 10 and 12 hour days in the summer can certainly get away with the two battery system provided they have an inverter on board to keep one battery charging.
When I first laid eyes on the DeWalt 40V Max Backpack Blower, I knew they had a winner if the performance was there. While it's short of the 50+ cc class, it still has what it takes for the professional lawn crew to get the job done during a busy mowing season. What makes this a really compelling choice is the the fuel savings that offset the initial cost while still reaching performance of the 30 cc class of gas backpack blowers. Combined with noise reduction and no maintenance downtime, you get a package that professionals can seriously consider.