To know is to love – at least that's how the saying goes – and I'm getting to know the Ryobi One+ 18V Brushless String Trimmer. And you really do need to get to know this tool in order to appreciate what you can do and what you really shouldn't expect from it. With last year's string trimmer shootout and plenty of other standalone string trimmer reviews, it's hard not to compare this Ryobi string trimmer to all the other brands we tested.
But the reality is, it's not in the same class and it would be an unfair comparison. The Ryobi One+ 18V Brushless String Trimmer is 100% targeting the homeowner who is already on the Ryobi One+ battery platform or looking to get into it. So let's step away from the commercial landscaping conversation for a bit and consider the weekend warrior who just needs to cut the lawn before Saturday really heats up.
Assembly
Unlike the 40-volt mower, the Ryobi One+ 18V Brushless String Trimmer requires some assembly. Like most string trimmers, you need to install the guard. You also need to connect the shaft, but you do get a smaller box to manage for your trouble. The guard is easy enough – just slip it over the metal protrusion and use your winged bolt to tighten it down. No tools required.
You'll need the hex wrench to connect the shaft in the center. Although it may look like you're taking a shot in the dark on lining up the holes, it slips into position pretty naturally before you tighten it down.
Adjustments
The most obvious adjustment is to the support handle. This pivots rather than sliding up and down the shaft. It is possible – but very difficult – to move the handle on the shaft, even with the bolt completely undone. However, I didn't have an issue finding a comfortable position to use by pivoting and I have a fairly long reach.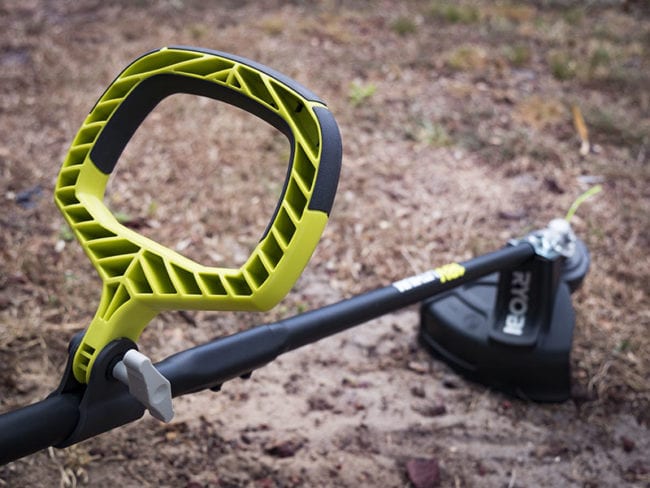 You also need to decide if you want an 11-inch or 13-inch cutting swath. The cutter inside the guard comes preinstalled at 11 inches. Just take out the screws and turn it around to switch it to 13 inches. Now, this is shorter than we would normally recommend for a string trimmer, but keep in mind who the target user is.
Other Key Features
Speed Selection
You don't necessarily expect a string trimmer at this price point to give you the option of high and low speed modes, but the Ryobi One+ 18V Brushless String Trimmer does. We're not told what the exact RPMs are at each speed.
Line Changes
At first glance, it looks like the Ryobi One+ 18V Brushless String Trimmer has you in for a typical dual line change and the frustrations that come with it. However, Ryobi developed a Reel-Easy line change similar to some of the Speed-Feed style systems out there. The big difference is that you need to use a reel handle that's separate from the trimmer head.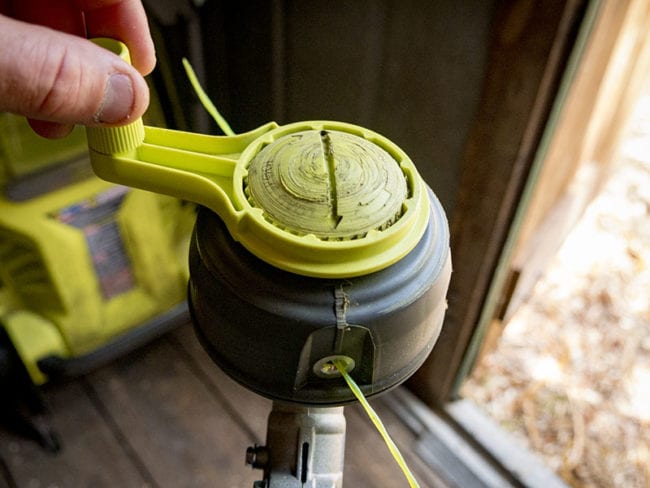 When it's time for a change, the last of the line will fly out when it gets to the end. Simply thread a new line (three spare ones come with it) through the head to the halfway point and use the reel handle to wind it up. The whole process takes less than a minute once you've done it a couple times.
Performance
The Ryobi One+ 18V String Trimmer is relatively lightweight compared to other battery-powered string trimmers. Operating the unit is very simple. The trigger safety is simple to defeat as you place your hand over the top of the handle to press down on it and pull up on the trigger to start it.
I realize Milwaukee is a bit of a lone wolf when it comes to an OPE line on an 18-volt battery system. For nearly everyone else, there's not enough power to make it worth the effort. However, the combination of a brushless motor and Ryobi's 18-volt battery does a very nice job of maintaining plenty of power for trimming duties. It's not quite where Milwaukee's string trimmer is, but it's more powerful than you might first expect.
When stands out to me during use is that there is a lot of vibration in this trimmer. We noticed the same thing in the model we tested in our shootout last year. Compared to other battery-powered string trimmers, this is noticeable. But I think you can get away with it since it's not dissimilar from the vibration you experience with a gas engine. So it's there, it's just not more excessive than gas.
The blade guard could stand to be a bit wider. You'll definitely want to pay attention to the line's direction of rotation to keep clippings pushing away from you instead of into you.
The Bottom Line
The Ryobi One+ 18V Brushless String Trimmer is a lightweight string trimmer capable of handling the majority of a homeowner's lawn care trimming duties. The fact that it runs on the Ryobi One+ 18V battery system is a big win for the tens of millions of users with tools on that platform.
While the performance exceeds my expectations for an 18-volt model and the adjustments give me a comfortable set up, the vibration makes me not want to volunteer to trim my neighbor's yards once I'm done with mine. That said, this is still a great little string trimmer for homeowners that have up to a half acre to care for. I trimmed a quarter acre lot with landscaping and fence lines and only used one bar on my 4.0 amp hour battery.
You can pick up this model for $159 with a 4.0 amp hour battery and charger at the Home Depot. It's also listed for $99 as a bare tool, but that one's currently not available. Either way, it's a good price. However, you are not far away from moving into other systems like Ego that will have a better fit, finish, and performance. At the end of the day, this is a good bet for homeowners who are already in the Ryobi One+ battery system for those who want to get into it.
Ryobi One+ 18V Brushless String Trimmer Key Features
Brushless motor
Compatible with all Ryobi One+ 18V batteries
Reel-Easy bump feed head with speed winder
Variable speed trigger and two speed modes
Ryobi One+ 18V Brushless String Trimmer Specifications
Model: Ryobi P2090 (kit), Ryobi P2009 (bare)
Power Source: Ryobi One+ 18V battery
Line Diameter: 0.080″
Cutting Swath: 11 or 13 inches
Speeds: 2
Line Advancement: Bump feed
Weight: 9 pounds
Price: $159 (kit), $99 (bare)
Warranty: 3 years