Milwaukee M12 Sprayer Lets You Complete Spraying Tasks with Newfound Convenience
Ever since we tried out the Milwaukee Switch Tank, using a manual pump sprayer seems almost ridiculous. A new M12 handheld sprayer from Milwaukee promises even more flexibility and portability. Suitable for killing weeds, spraying pesticides, or disinfecting a medium-sized area, the Milwaukee M12 Handheld Sprayer looks like a potentially great product. We wanted to understand how it differed from the Switch Tank and whether it might present a better value for those who don't need a 4-gallon unit.
Milwaukee M12 Handheld Sprayers: The Big Deal
The Milwaukee M12 handheld sprayer eliminates manual pumping by integrating a battery-powered solution. The M12 battery system provides plenty of runtime for this smaller sprayer, giving you up to 80 gallons when using an M12 RedLithium CP2.0 battery. That's up to 80 full canisters for the 1-gallon unit!
The new Milwaukee M12 handheld sprayer weighs 16 pounds less than the Milwaukee M18 Switch Tank. We also like choice, and the 1-gallon 2528-21G1 and 2-gallon 2528-21G2 certainly give you that. Chose the size that matches your desired workload. Just keep in mind that these liquids add around 8 pounds per gallon!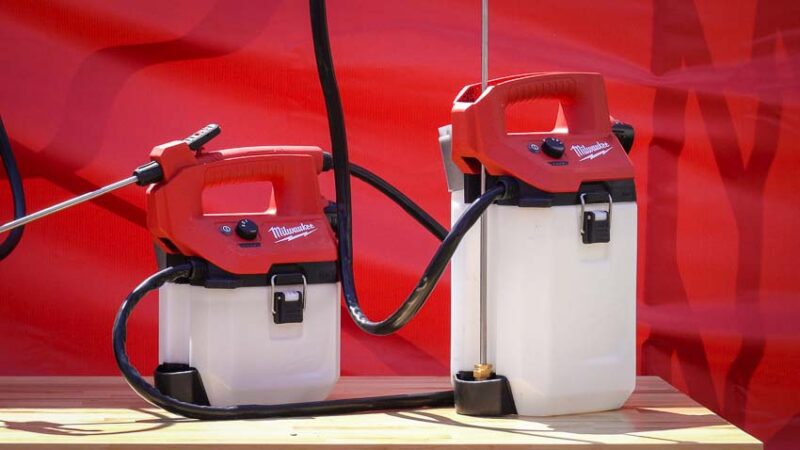 The Milwaukee M12 handheld sprayers include settings for varying the pressure from 20 to 80 PSI. A 3-mode pressure adjustment knob facilitates these options. When set to 80 PSI (the maximum), these handheld sprayers can spray up to 17 feet vertically.
While you can find other battery-powered sprayers, we like that this one gets you onto the largest 12V power tool platform in the industry. The Milwaukee M12 series has grown considerably since it started back in 2010. This is especially useful if you already own Milwaukee M12 products.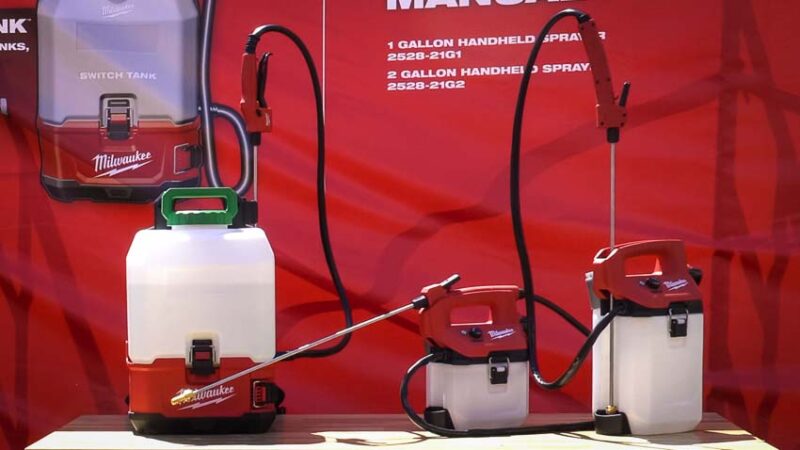 Additional Features
Onboard measuring cup
Strainer filters debris before entering the tank
Vertical and horizontal wand storage (like the Switch Tank)
Milwaukee M12 Handheld Sprayer Pricing
The Milwaukee 1-gallon sprayer retails for $189 as part of a kit. For just $10 more, you can get the 2-gallon version ($199). Look for the Milwaukee M12 handheld sprayers starting in November 2022 at your favorite Milwaukee retailer.
Specifications
Models: 2528-21G1 (1-gallon); 2528-21G2 (2-gallon)
Variable flow rate
Removable tank
Price: $189 (1 gal), $199 (2 gal)