There's no doubt that Milwaukee makes quality equipment. We've tested numerous models, and they've proven the company a solid and dependable manufacturer. And, in regard to OPE, it's always nice to see kits. In this case, we mean those that go beyond (even a little bit) the battery and charger. These are nice options for those who are starting out from scratch. You get it out of the box, into the field, and back on the charger to be ready for your next outing. That's precisely what you'll have with the Milwaukee M18 Trimmer Kit (2713).
So, let's look at this tool, which comes with a battery, charger, and an extra spool containing 250 feet of line.
Milwaukee M18 Trimmer Kit Features
At the heart of this string trimmer is a brushless motor. This trimmer gets its juice from the M18 REDLITHIUM high-output XC8.0 battery. That's a mouthful, but it delivers respectable performance. Indeed, the pack gives you about an hour of runtime per charge. Of course, this varies depending on how hard you push it.
Specifically, you get up to 6,800 RPMs (6,200 with a full cutting swath), which is a decent speed for tackling a host of jobs. This range of tasks encompasses everything from basic trimming and edging to tearing through dense brush and overgrowth. What's more, it can reach full speed in under 1 second.
Specs
Model: 2825-21ST-49-16-2713
Battery: 18V (8.0Ah)
Cutting swaths: 14–16 in
RPM: 6,800 (w/ 14 in); 6,200 (w/ 16 in)
Weight: 12.3 lbs
And speaking of cutting, Milwaukee fitted the M18 Trimmer for two trimmer line sizes, with one of them included in the kit. First, you have a rather thin .80 gauge. The other is the heavier .095, which is less likely to break and better suited for more demanding applications.
Moreover, Milwaukee further enhanced the 2825-21ST's versatility, enabling you to bounce from 14- to 16-inch cutting swaths. However, this unit can also serve multiple purposes thanks to its design.
Ever wonder what length line to use? Learn why string line length is important.
Milwaukee M18 Trimmer Kit Design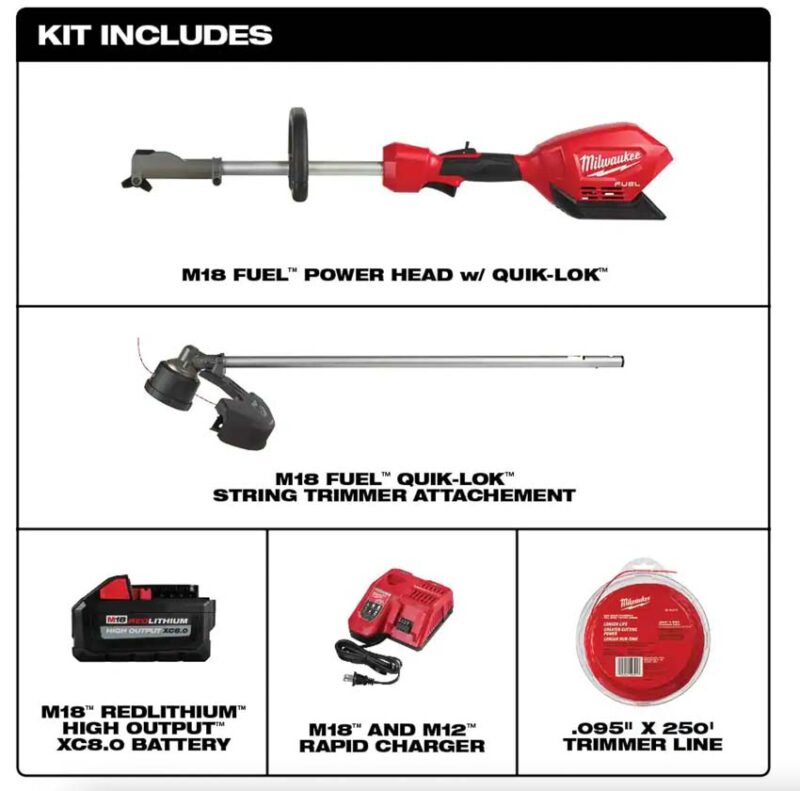 These days, many outdoor tool manufacturers have cross-compatible attachments that expand your work options. The Quik-Lok system is Milwaukee's rendition. We have extensive experience with this feature, and we like it. In particular, its multi-head capability gives you choices that save space.
For instance, in addition to the string trimmer, there's a pole saw, a dedicated edger, and a hedge trimmer available.
Another helpful feature that we appreciate on any handheld tool is a variable speed trigger. This one's got it.
Milwaukee's Quik-Lok earned a spot on our Best Weed Eater Attachment Systems list!
Milwaukee 2825-21ST-49-16-2713 Price
The Milwaukee M18 Trimmer Kit comes with the power head, the Quik-Lok string trimmer attachment, a battery and charger, and a spool of .095 line. As we mentioned, this is a nice ensemble that gets you started and keeps you in the field. Together, they sell for $309 and come with a 3-year tool warranty.