Monument Grills Provides Consistent Grilling on a Budget
When it comes time to pick up a new gas grill, you can spend upwards of $1,000 on premium products. On the other hand, the Monument Grills Mesa 400M gas grill provides a less expensive alternative that includes some nice bells and whistles. We've been using it for a while now, and we like what it's been able to help us deliver.
Monument Grills Mesa 400M Gas Grill Features
Looking at the Monument Mesa propane grill, you see a very familiar design that includes four independently-controlled burners. They heat up the 392 square inches of cooking space. as a fairly compact solution, the four-burner density actually gives you a considerable amount of temperature control for searing.
An indirect cooking tray sits atop the lower grate and provides 132 more square inches of cooking space. We fit 8 burgers and a whole package of 5 sausages on the main grilling surface. Even with that, we had more space we could have used.
A side burner lets you whip up sauces or sides while you cook the rest of your meal on the grill.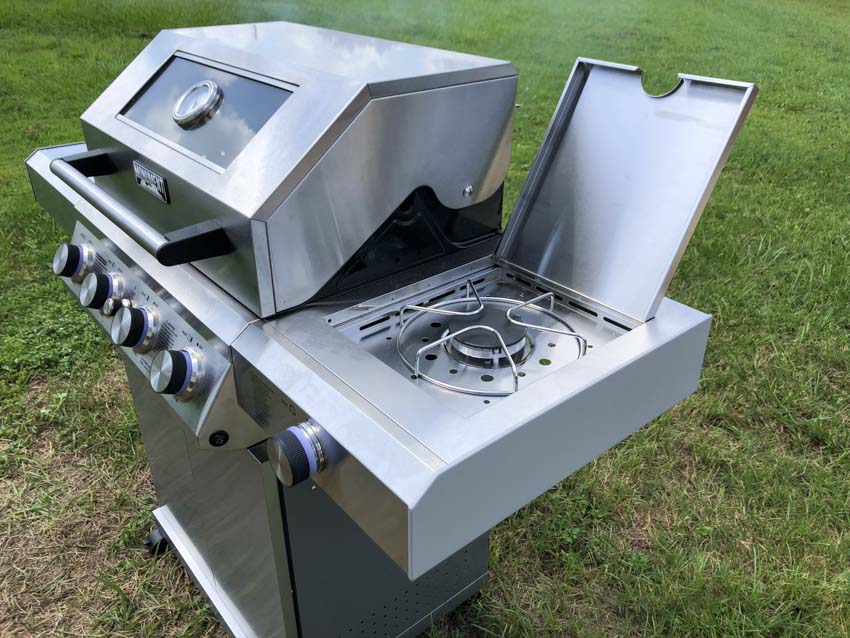 Power and Heat Capability
The four burners on the main Monument grill deliver a lot of heat—perfect for searing steaks, Italian sausage, or burgers. Combined, you get up to 52,000 BTUs from the four 10,000 BTU burners and the 12,000 side burner.
Monument designed the main burners from 304 stainless steel. While not all steels are the same, 304 gives you a fighting chance at longevity. Unless you live near the ocean, they also won't oxidize from the environment. Even if you live in Florida like us, you get more life than with less expensive steel burners. Monument made the side burner—which shouldn't see nearly the same sort of high-temperature use— from cast aluminum.
LED Backlit Control Knobs
Like the Monument Grill Clearview 6-burner grill we reviewed earlier, the burner knobs feature the company's blue LED backlighting. We like this when grilling at night. Four AAs power the LEDs. Just hit the button located on the right side of the grill to light up the knobs.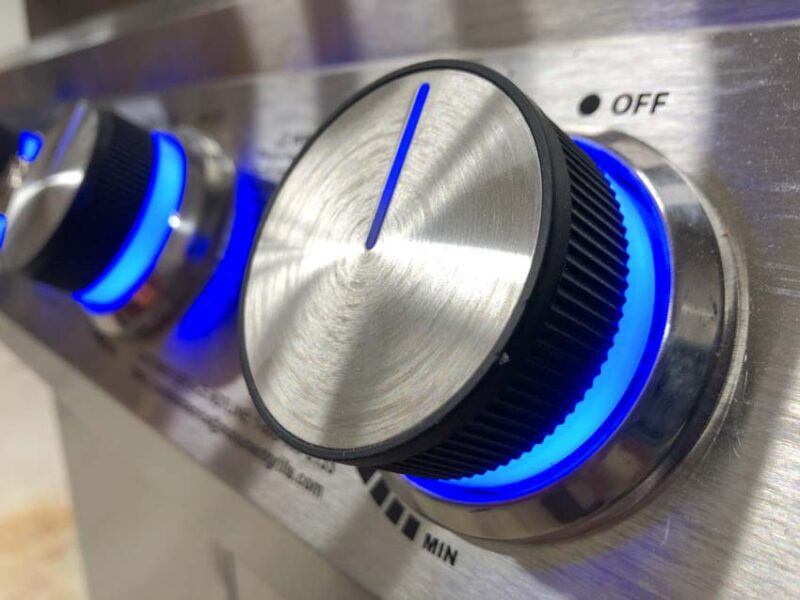 AA-Powered Electric Ignition
The electric ignition uses a single, easily-replaceable AA battery. Starting the grill simply involves opening the lid, turning on the gas, and pressing the Electronic Ignition button until all the burners light up.
Watch Your Food Cook – Glass Viewing Window
Similar to the Monument Grills Clearview, the Mesa 400M gives you a nice clear glass window. With this Clearview lid, you can monitor your grilling without lifting the lid. This lets you sear meat more accurately since you don't lose heat by unnecessarily opening the lid to check on the progress of your food.
Expect the glass window to "gunk up" over time. Cleaning it regularly with soap and water should help keep your food visible.
Monument also gives you an easily-accessible grease trap. After the grill cools down you can access it from the rear of the grill.
Grilling Tool Hangers
We liked the design and inclusion of 4 utensil hooks. They mount under the left shelf and have enough room for any size of tongs or spatulas. Speaking of that shelf—it gives you just the right amount of space for plating or positioning your seasonings and sauces while you cook.
The Truly Compact Monument Grills Mesa 400M
We can't help but note the truly compact size of this stainless steel Monument Grill. The 400M Gas Grill measures just 52.5 inches wide and 21 inches deep. For a grill with 4 burners that's incredibly compact and perfect for those with limited space. A ground-floor apartment renter will love this.
Additional Features
Integrated thermometer
4 swivel castor wheels
Monument Grills Mesa 400M Gas Grill Price
While some propane gas grills can run you $1,000+, the Mesa 400M retails for just under $420 . Monument Grills even backs your burners with an 8-year warranty.
The Bottom Line
While the Monument Mesa 400M Gas Grill isn't a top-of-the-line grill, it provides a great experience without breaking the bank. It's everything you need in a mid-level gas grill, with enough room to feed your family or entertain a group during the next summer holiday at home. Having a shelf and side burner plus a Clearview window and backlit knobs is just icing on the cake.
Monument Grill Mesa 400M Gas Grill Specifications
Model: Monument Grills Mesa 400M
Fuel: Propane
Dimensions (LxWxH): 52.3 x 21.5 x 44.75 in.
Weight: 83.8 lbs
Burner BTU: 52,000 (4 x 10,000 BTU main burners + 12,000 BTU side burner)
Cooking area: 392 sq in
Grill grate material: Porcelain-coated cast iron
Finish: Stainless steel
Side burner material: Cast aluminum