Grill Like A Pro This Season With The Pit Boss Sportsman 1100 Wood Pellet Grill
As we're still in the midst of summer, we can't help but want to take advantage of it by having barbeques and family get-togethers. While you might be new to pellet grilling, it's not as complicated as it might sound. You can produce quality homemade barbeque at any experience level, and the Pit Boss Sportsman 1100 Wood Pellet Grill aims to help.
Using The Pit Boss Sportsman 1100 Wood Pellet Grill
Got Power?
One notable difference you might notice if you're a pellet-grilling novice is the need for access to power. Unlike traditional propane or charcoal grilling, pellet grills need a power source to run the auger, control screen, and in some cases WiFi capabilities.
8-in-1 Cooking Versatility
There's no need for multiple cooking apparatuses— the PB1100SP allows 8-in-1 cooking versatility, allowing you to grill, smoke, bake, roast, sear, braise, char-grill, and BBQ in the same grill, saving you time and space.
To start cooking, it's really as easy as turning the power on and setting it to "Smoke." After about 10 minutes of letting the grill automatically ignite with the lid open, you should start seeing the white smoke disappear. That's when you know it's done and you can close the lid and set your cooking temperature.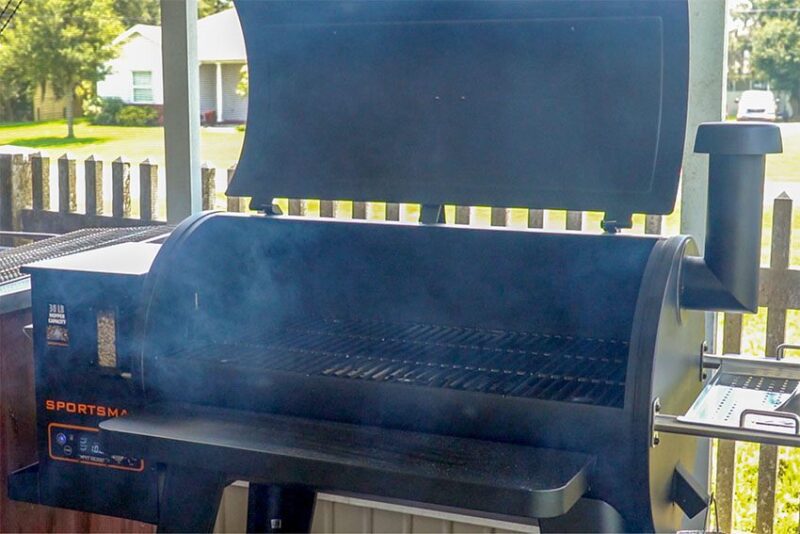 Guessing the doneness of your meat is a thing of the past. The digital control board communicates with two wired meat probes so you can monitor the internal temperature. Having two of these probes can be a lifesaver when you're cooking a number of pieces of meat at the same time. One probe in both the largest and smallest pieces will give you a good idea of the doneness of the group.
Pit Boss features a Flame Broiler in this pellet grill. It opens a series of sliding vents under the grill to give you direct heat over the fire pot. This allows you to sear your food at up to 1000°F. It also offers indirect heat ranging from 180°F to 500°F
You can also adjust the cooking temperatures and keep track of pellet levels without opening the lid. It does the work electronically so you don't have to let heat escape every time you need to check on your food.
Savor The Flavor
At its base grilling setting, the Pit Boss Sportsman 1100 gives your food a subtle smokey flavor. We found that this smoke flavor is enjoyable and not at all overpowering. If you're really into that flavor in your food, the "Smoke" setting will serve you well. This allows the pellets to be burned at a rate that you select, giving you control over how much smoke enters your food. Here's a look at each setting on the pellet-feeding auger:
P0: 18 seconds on, 55 seconds off
P1: 18 seconds on, 70 seconds off
P2: 18 seconds on, 85 seconds off
P3: 18 seconds on, 100 seconds off
P4: 18 seconds on, 115 seconds off
P5: 18 seconds on, 130 seconds off
P6: 18 seconds on, 140 seconds off
P7: 18 seconds on, 150 seconds off
Keep in mind that environmental conditions like humidity, temperature, and wind can all affect the amount of smoke produced, so it may require some tinkering to find the perfect setting for you. You can let the computer do the work, and it'll control the pellet feed based on your preferred setting. For reference, the higher your cooking temperature, the less smoke flavor you'll see in the final product.
Tons of Cooking Space
You won't have to worry about a lack of cooking space on the Pit Boss Sportsman 1100. You have a total of 1610 square inches of cooking space, with the main area being 35 x 19 inches. There's also an upper tray that's 33 x 11 inches and a stainless steel jerky tray that's 32 x 14 inches, giving you plenty of grilling area.
This amount of space is big enough for three full-sized turkeys for Thanksgiving. If you're having a family cookout (or one for the whole neighborhood) you can fit up to 35 burgers on the bottom grates, which translates to about 15 – 18 ribeyes.
All Hopped Up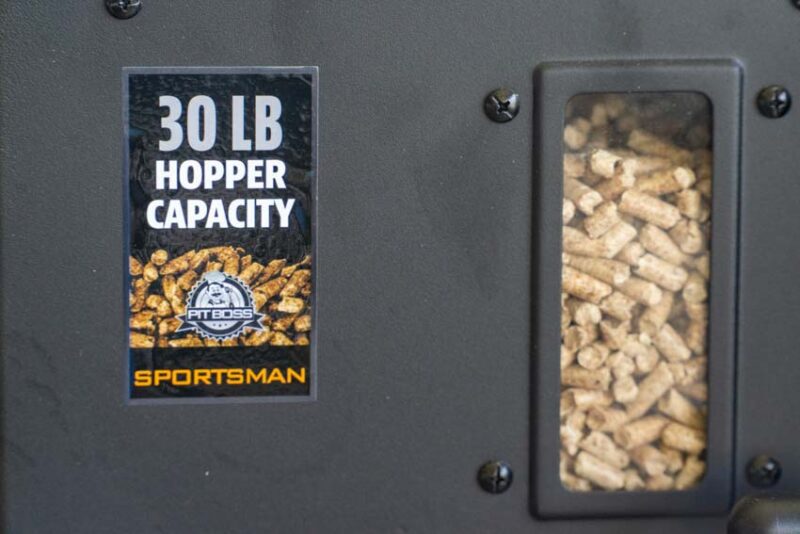 With this pellet grill, you have a 30-pound capacity hopper that houses a side window to monitor your pellet levels. Most pellet grills have a smaller capacity than this, which means you can go longer between needing to fill it back up.
You should keep an eye on humidity levels since the wood pellets tend to swell with levels similar to what we see in central Florida. If you're storing your extra pellets outside, make sure they're in an airtight container to keep them fresh and dry.
Pellet Consumption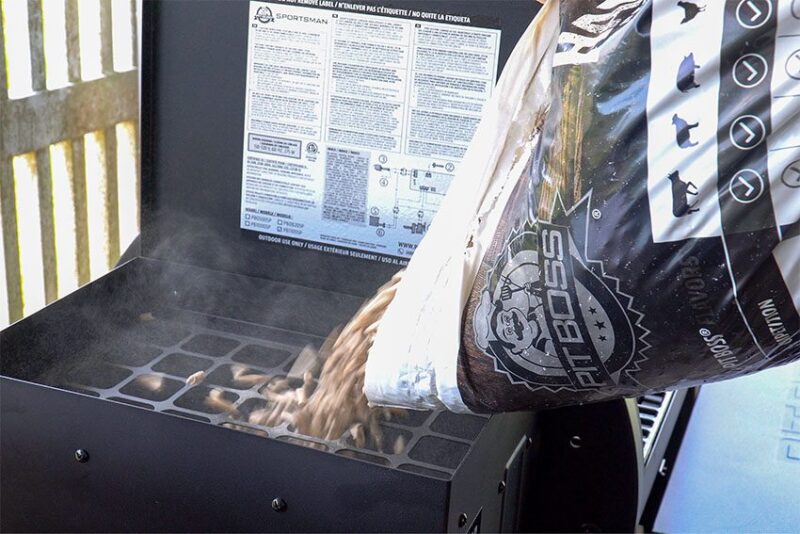 Many different variables affect the rate of pellet consumption for your grill. While we don't have an exact number, we find ourselves running through approximately 1 pound per hour when smoking at 225°F. Remember, the hotter your cooking temperature, the faster you'll go through pellets.
On average, you should expect to run through around six bags of pellets per year with regular grilling. A good quality pellet will run you around $20 per bag, which would end up offsetting the cost of propane on a gas grill.
As for what type of pellet to use, it would be out recommendation to use a high-quality 100% hardwood pellet as opposed to a cheaper option. Those can contain fillers and binders that result in a lesser-quality flavor and won't burn as well. They may also leave unwanted residue on your grill.
Shelving
Who doesn't love a good storage area when they're cooking? The Pit Boss Sportsman 1100 has a base tray near the wheels that is great for storing extra pellets, seasonings, and grilling tools.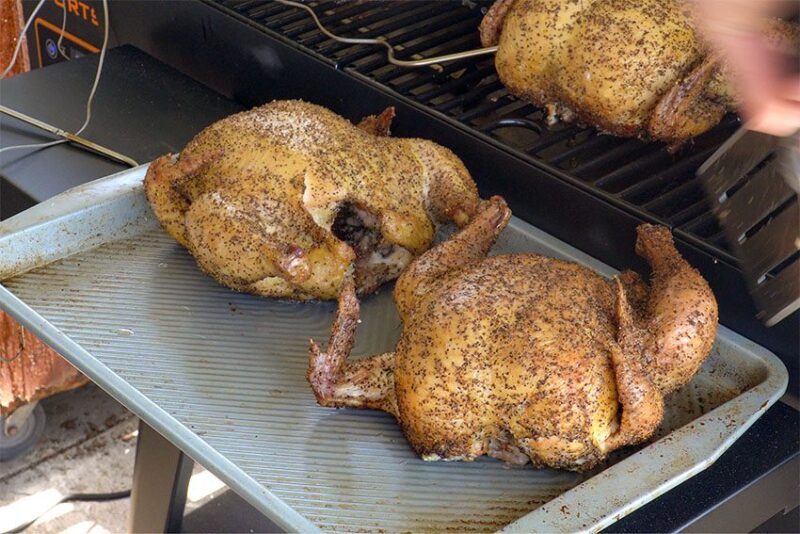 There's also a folding try in the front that's perfect for setting food when you take it off the grill. You can use it to sauce food, wrap it, or place it on serving trays.
For even more shelving, you also have a side shelf that features a removable tray. This serves as some extra storage for when you take your meat off the grill to serve or slice up.
Making The Switch To A Pit Boss Sportsman 1100 Wood Pellet Grill
Before you use it for the first time, set aside an hour or so to season your new grill. The seasoning process can act as a sort of tutorial to introduce you to the grill's functions, especially if you're a beginner at pellet grilling.
Pit Boss makes grilling low and slow a simple process for those of us who just don't have time to constantly monitor a traditional wood-burning smoker. We're big fans of the fact that it's largely an automatic process from the time you load your food until it's done cooking. The Sportsman 1100's computer takes care of temperature management so you don't have to.
Be sure to cook in an open, outdoor area to avoid any unwanted accidents when you step away from the grill. Nobody wants to be the subject of the next home insurance commercial— or the punchline to a joke in bad taste!
Additional Features
Stainless-steel bottle opener
Porcelain-coated cast iron cooking grates
Pit Boss Sportsman 1100 Wood Pellet Grill Price
The Pit Boss Sportsman 1100 Pellet Grill retails for $799. You can find it at your favorite Pit Boss retailer. With your grill, you also get two wired meat probes, a jerky rack, a spice rack, a side tray, and a front tray. Pit Boss backs your purchase with a 5-year warranty.
First responders and servicemen and women can enjoy a 25% HERO discount on any Pit Boss purchases. You can find out how to redeem this discount and eligibility requirements here .
The Bottom Line
Pellet grilling isn't as complicated as it might seem, even to a beginner. It changes your approach to grilling and smoking and could make you look like a culinary genius. You might even find yourself making food with better quality than you would get at most restaurants. You can tackle get-togethers with confidence knowing Pit Boss gives you plenty of cooking space to feed a small army.
Pit Boss Sportsman 1100 Wood Pellet Grill Specifications
Model: Pit Boss PB1100SP
Power Source: 120V AC
Total Cooking Space: 1610 sq. in.
Pellet Hopper Capacity: 30 lbs.
Max Pellet Cooking Temperature: 500°F
Max Open Flame Searing Temperature: 1000°F
8-in-1 Cooking Versatility
Warranty: 5-year
Price: $799