It's not often that we come across compact gear here at OPE Reviews. After all, the models we cover and test tend to comprise larger hand-held items or mowing equipment. That's why, when we got word of the Ryobi 18V Compact Blower (PSBLB01B), the question of doing a product tour was a no-brainer.
So, let's dive into this small tool to see if it has some big features.
Ryobi 18V Compact Blower Features
Interestingly, the PSBLB01B is a little tool with a lot of fight. In fact, it appears that this blower has got quite a bit of power.
With an 18V brushless motor driving it, this tool puts out an impressive 220 CFM, 140 mph. Now, compared to a traditional-sized blower, that might not seem like much. However, remember that this is predominantly a close-in piece of equipment.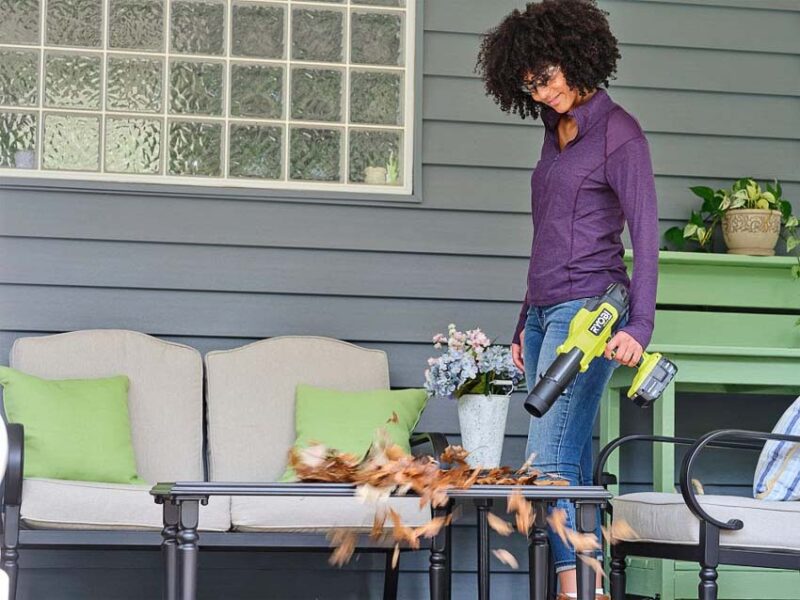 Specs
Model: Ryobi PSBLB01B
Motor: Brushless
Battery: 18V (4Ah) Lithium-ion
222 CFM, 140 mph
Weight: ~4 lbs
Of course, that's not all it is. According to Ryobi, if you have quick cleanup tasks in somewhat large areas, this 18V compact blower will get the job done. More specifically, we're talking about everything from garages and truck beds to patios and driveways.
That kind of force, combined with the diverse nature of the PSBLB01B, should be quite effective.
Confused by which is more important, CFM or MPH? We can help!
Ryobi PSBLB01B Design
In the case of this model, design is paramount. Indeed, the main selling point is the size. Pairing that with the 18V compact blower's power was likely a challenge for Ryobi's team. Based on the numbers, it looks like they were successful.
For one, this tool is light, weighing about 4 lbs.
What's more, Ryobi included a number of accessories to further enhance both power and versatility. For example, the PSBLB01B comes with four attachment configurations to customize airflow.
This includes two extension tubes that you can connect, extending its reach an additional 20 inches. Also, this tool comes with a speed tip that boosts blowing force, while the flat nozzle gives you a wider, concentrated airflow.
Additionally, the blower comes equipped with a variable-speed trigger and a "lock-on" feature to maintain speed, thus reducing the likelihood of fatigue.
Ryobi 18V Compact Blower Price
This blower will retail as a kit (PSBLB01K), including the tool, battery, charger, and tubes, for $149 and as a bare tool (PSBLB01B) for $99. It will be available at Home Depot.