Spring 2023 marks a big season for Ryobi as it expands its riding mower solutions with two 80V HP lawn tractors. The two Ryobi 80V lawn tractors add to the company's 80V joystick zero-turn mowers and 80V 30-inch lawn mower. Emphasizing mini-tractor-like power over speed and maneuverability, these mowers could prove the utility solution for homeowners looking to do more than simply cut their lawns.
Best of all—Ryobi makes both these mowers in its Anderson, SC plant.
Ryobi 80V HP 46″ Lawn Tractor (RYRM8070)
Power and Runtime
Ryobi's 46″ electric riding lawn tractor—the premier model in its spring 2023 lineup—promises the power of a gas lawn mower with the convenience of cordless. It utilizes 4 brushless motors in total (one for each of the three blades and one for the rear-drive system). The Ryobi RYRM8070 mower cuts at up to 7 mph.
Specifically, Ryobi compares the overall power to a 23-horsepower gasoline engine. It uses that power to achieve up to 2.5 acres of mowing on a single charge. Under the hood…or rather the rear gate, you find three (3) 80V 10Ah suitcase-style lithium-ion batteries. Those batteries feature onboard charging and they top off fully in around 2.5 hours.
The 46-inch model includes three CrossCut blades. That essentially gives you six blades cutting underneath the 10-gauge fabricated steel deck.
Author's Note: Check out this section of our video where we explain Ryobi CrossCut blade technology.
Ryobi 80V HP 46″ Lawn Tractor Notable Features
An LCD display just in front of the steering wheel displays the following information on the screen:
Runtime
Remaining battery charge
Blade speed setting (Low/Med/High)
Drive speed setting (Low/Med/High)
Headlight controls
Blade check reminders
Physical buttons exist for Blade and Drive speed modes as well as headlights and Bluetooth pairing. Regarding that last item, Ryobi lets you use its Riding Mower app to connect to the unit and monitor both battery levels among other things.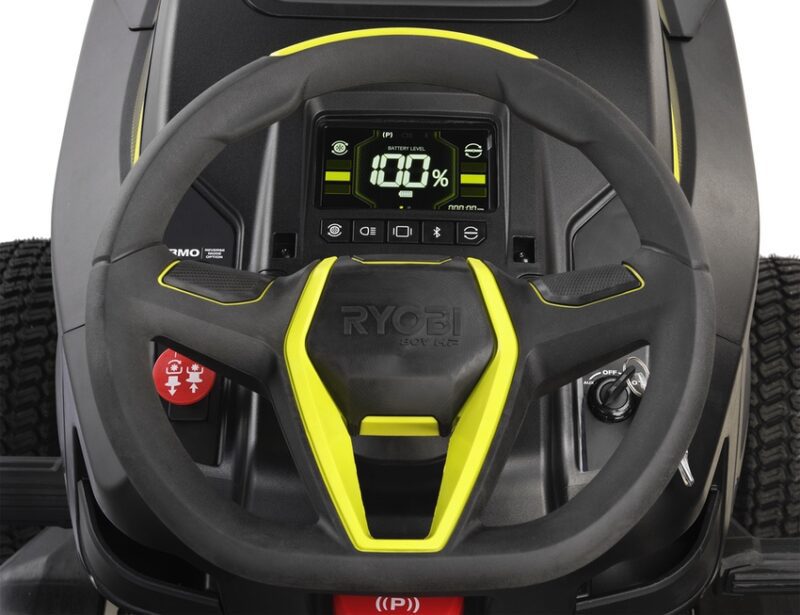 High-intensity LED headlights further assist in the flexibility of mowing times, whether morning, afternoon, or dusk. You can also adjust the cutting height in any of 13 positions from 1.5-4.5 inches.
In the rear, the Ryobi has a storage bed that makes this more than a cutting lawn tractor. It gives you the ability to haul tools and anything else that you'd like to either keep with you or transport. Front and rear 2-inch square tow hitches net you a tow rating of up to 500 lbs. Ryobi also offers a Tow Behind Dump Cart (ACRM025) as well as a Soft Top Bagger for easy cleanup while mowing.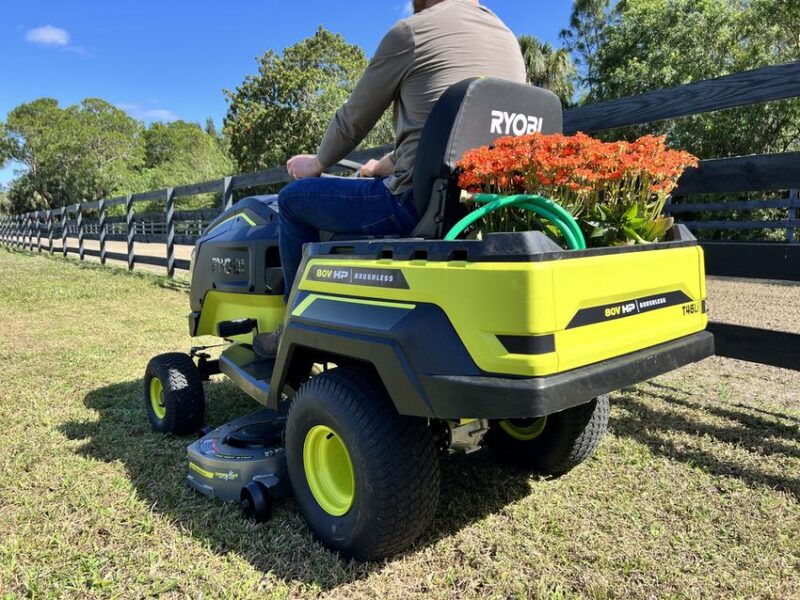 While we don't see any air ride features or armrests, Ryobi calls this a premium seat. It does, of course, adjust forward and back to allow for varying user heights. Lastly, you get both front, rear, and side storage—enough to haul around small tools, plants, or other items to help you work.
Additional Features:
10-gauge fabricated steel deck with 90-second quick release
Mulching, side discharge, and bagging capable
High-intensity LED headlight
USB-C and USB-A charging ports
80V 1440W Hyper Charger
Cup holders
MSRP: $5,499
Ryobi 80V HP 42″ Lawn Tractor (RYRM8060)
For those with smaller lawns, the Ryobi RYRM8060 42″ lawn tractor dials back the deck width to utilize just two Crosscut blades. That also means this Ryobi 80V HP lawn tractor needs just 3 brushless motors (two for the blades and one for the drive system). It has the same top speed of 7 mph and delivers power equivalent to a 21-horsepower gasoline engine.
Cutting up to 2 acres of land per charge, the three 80V backpack-style batteries recharge in just 2.5 hours using the included 80V Hyper Charger.
Ryobi gives you the same 2-inch square tow hitches on the front and rear. You also get ample storage compartments on the front, rear, and sides of the lawn tractor. Deck height and cutting speed are virtually the same as well.
One of the differences has to do with discharge. Only side-discharge mulching is available with the Ryobi RYRM8060 lawn tractor.
Features Summary:
3 brushless motors
10-gauge fabricated steel deck with quick release
CROSS CUT Multi-Blade System
Side discharge mulching, and bagging capability
LCD screen and control panel
Front standard 2″ receiver hitch for attaching Ryobi riding mower accessories
Front, side, and rear storage
High-intensity LED headlight
Up to 2 acres of run-time
80V 1440W Hyper Charger
MSRP: $4,999
Final Thoughts
Both lawn tractors are sold exclusively at The Home Depot and carry an impressive 5-year tool and battery warranty. That gives you some peace of mind when spending this much on a lawn tractor. We look forward to testing these out on our property and seeing how well they perform compared to competitive battery and gas products.