Whether you felled a tree with your chainsaw or Mother Nature did it herself, you've got some work on your hands. Indeed, the sound of it crashing to the ground merely signals the beginning of your tasks. After you've sliced that trunk into coin-shaped chunks, it's time to split them into quarters. And that's where tools like the Ryobi Kinetic Log Splitter come into play.
Let's take a look at what the manufacturer says is a first in the realm of battery-powered gear.
Ryobi 40V Kinetic Log Splitter
Background
If you have a wooded lot or have ever worked on a farm, then you're probably no stranger to log splitters. Moreover, you know that not all of them are created equal.
Up until now, all splitters ran on gas, and many of them operate using hydraulically driven pistons. But the problem with hydraulic models is that they're slow (sometimes, very slow).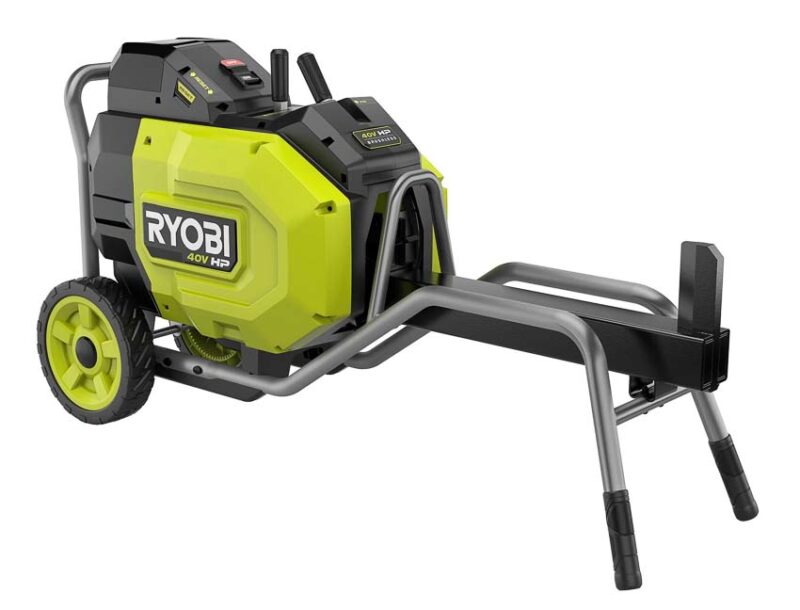 However, Ryobi's 40V log splitter is kinetic, meaning that it uses kinetic energy stored in a spinning flywheel. When you engage the splitter, the machine releases this built-up power to split the log.
The main advantage here is that it's a lot faster, with a cycle time of between 2 and 3 seconds.
Ryobi Kinetic Log Splitter Performance
First, this product is something of a history maker because it's the world's first cordless kinetic log splitter. Driven by a brushless motor and Ryobi's 40V HP technology, this tool has more power than an 80cc gas-fueled equivalent.
Model: Ryobi RTY40704BTL
40V (4.0Ah) lithium-ion
Log length: Up to 20 in
Splitting force: 12 tons
Cycle time: 2 secs
Splits per charge: 150
Weight: 177 lbs
Specifically, Ryobi tells us that its kinetic log splitter delivers 12 tons of splitting force and up to 150 splits per charge. Furthermore, it does this roughly 10 times faster than some comparable setups.
Also, the RTY40704BTL is capable of splitting both softwoods and harder varieties like white oak, red oak, and hickory.
In terms of construction, Ryobi's 40V model consists of a steel frame, all-terrain wheels, and textured hand grips. What's more, it folds up for vertical storage.
Ryobi RTY40704BTL Price
The Ryobi Kinetic Log Splitter will retail for $899 as a bare tool and $999 as a kit (RY40740).