Worx gives consumers a chainsaw with a safe but nasty bite
Chainsaws are among the most useful outdoor tools. You can use them for numerous applications, and they come in handy year-round. However, they can also be intimidating for many users (and that even goes for the 6- to 8-inch mini saws). Apparently, the engineers at Worx were thinking the same thing, which is why they created the 20V JawSaw (WG320).
Indeed, they tout this somewhat unconventional beast as being the safest chainsaw on the market. Let's take a tour of its features and design to help you decide if this is the right solution for you.
Be sure to check out our Best Chainsaw Reviews list!
Worx JawSaw Performance Features
Driving the WG320's motor is a 20V Max battery, which is compatible with all Worx 20v and 40v tools within the Power Share lineup.
Now, before we get into specifics, we have to say that this thing looks mean. In fact, its appearance alone doesn't exactly scream safety, but the performance details say otherwise.
According to Worx, what makes the JawSaw safe is its housing and retractable blade. Thanks to the tool's protective shell, the bar and chain aren't as accessible as they are on traditional saws.
Specs
Model: Worx WG320
Battery: 20V
Bar length: 6 in
No-load speed: 1,350 RPM
Cut capacity: 4 in
Weight: 7.9 lbs (w/ battery)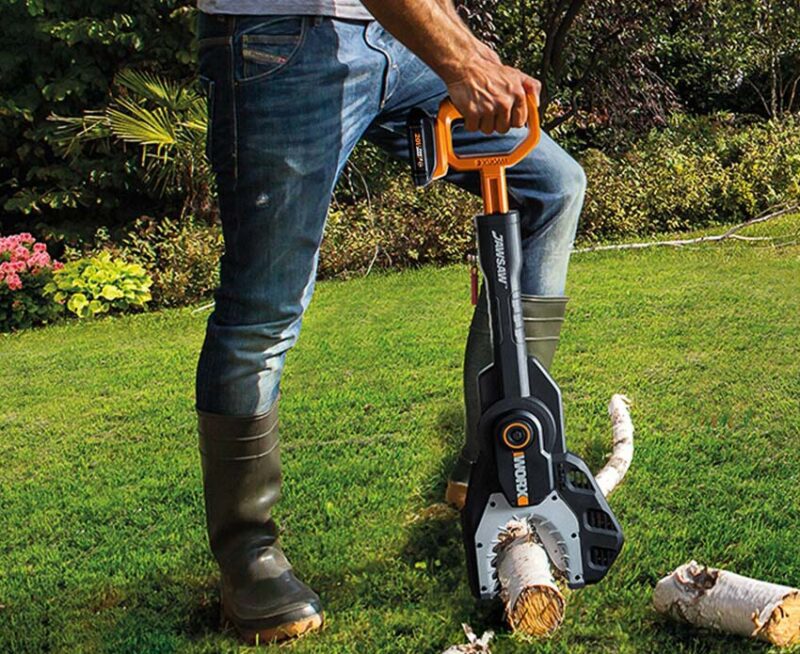 Apparently, the blade and chain remain in the WG320's housing when it's in use. Likewise, they retract into the unit's neck when it stops running.
And, this tool keeps on getting interesting as you dive into its various uses. For instance, Worx tells us that the 6-inch JawSaw has a no-load speed of 1,350 RPMs and a 4-inch cutting capacity. This, combined with its overall design, enables you to easily chew through limbs still attached to a tree. Or, you can cut them when they're lying flat on the ground. In other words, you don't have to prop them up like you do when using conventional saws.
Worx JawSaw Design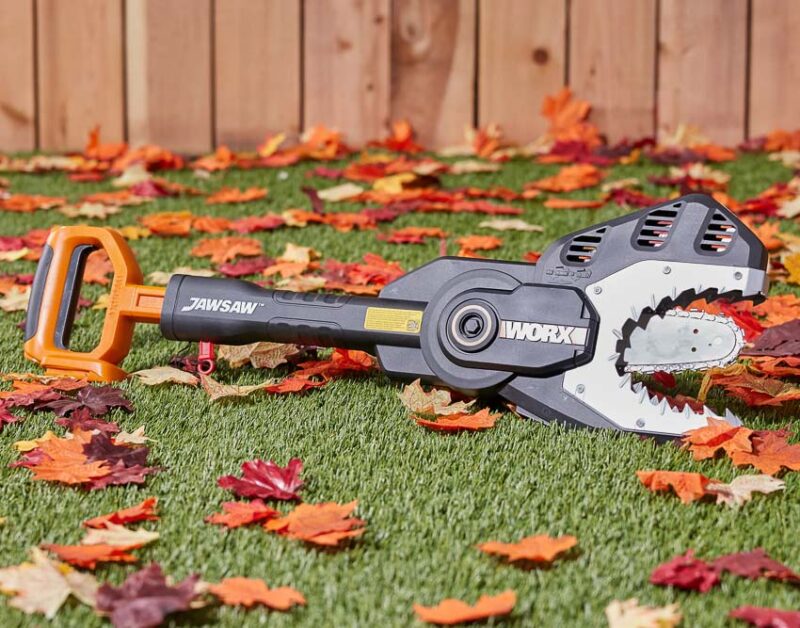 The WG320 has a few design features worth mentioning. Regarding chainsaw maintenance, this model has automatic tensioning, meaning that the chain should always stay tight. Moreover, the Worx JawSaw comes equipped with an automatic chain oiler.
Finally, this saw is under 8 pounds, which will make overhead cutting less strenuous and more manageable.
Worx WG320 Price
The Worx JawSaw normally sells bare for $129 and includes a 3-year warranty.