Heavy thatch buildup can be the bane of your existence if you want a beautiful, healthy lawn. When it gets too thick, it causes serious problems, so getting rid of it is important. That's where tools like the 40V Worx Nitro Dethatcher (WG855) come into play.
Here's a look at what it is and what it can do.
What is Thatch
First, if you don't already know what thatch is, then a quick explanation is in order.
Thatch is the layer of dead grass and other organic matter that builds up on your lawn. Made up of roots, crowns, and other pieces of dead grass, thatch accumulates over time between the surface of the soil and the green leaves of your grass.
This will ultimately smother your lawn, preventing water, oxygen, and essential nutrients from sinking down to the roots. Lawn dethatching removes this harmful matter.
Worx Nitro Dethatcher Features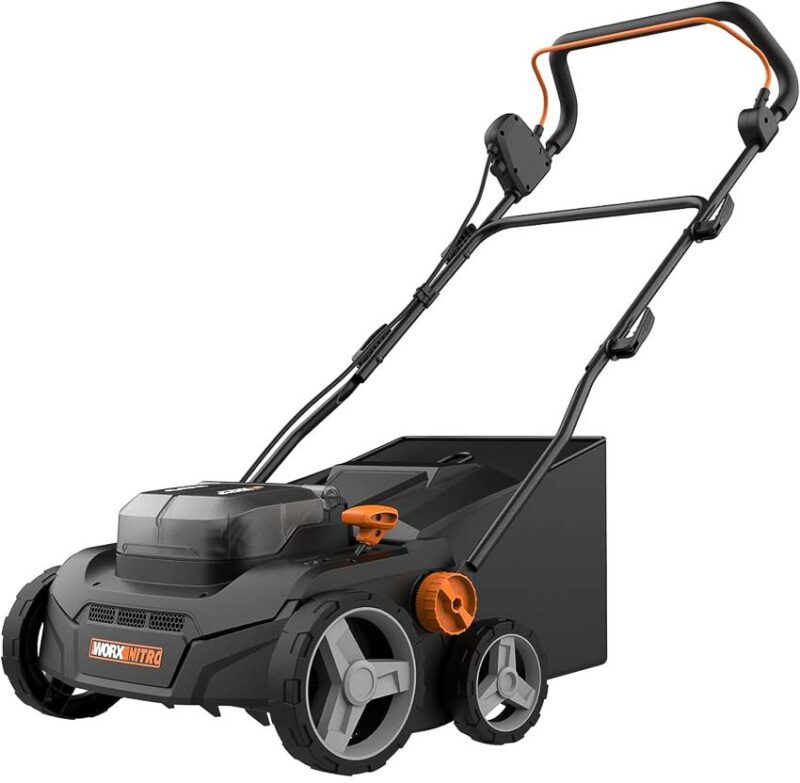 Starting things off, this 2-in-1 tool runs on a 40V brushless motor. According to the folks at Worx, it provides up to 50% longer run time, 25% more power, and 10 times longer life than standard brushed motors. Moreover, they tell us that this motor should run cooler with less friction and heat than conventional motors.
Additionally, the Worx Nitro dethatcher combines two 20V (4.0Ah) MAX lithium batteries to deliver 40V of power.
WG855.9 Specs
Model: Worx WG855/WG855.9
2 x 14V (4.0Ah) Lithium-ion
4 depth positions
Weight: 38.3 lbs
So, what about the "2-in-1"?
Well, this model features two removable, revolving reels; one for dethatching and the other for scarifying to manage thatch buildup in your lawn.
Worx Nitro Dethatcher Design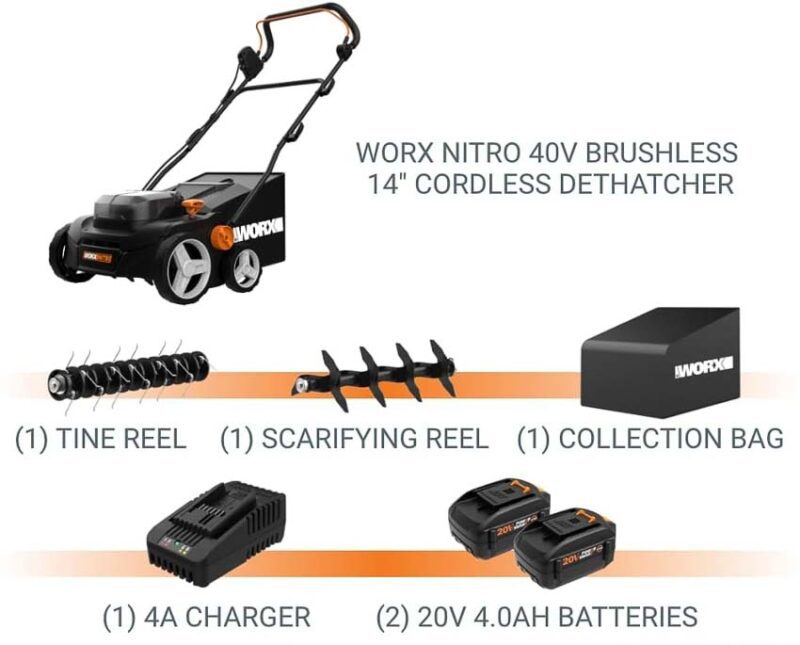 To begin with, it appears that the design team at Worx paid particular attention to making things easier for the operator. For one, they've set up the WG855 so that a single lever sets four height adjustments.
Level +1 removes approximately a 1/4 inch of thatch above ground. Level 0 removes 1/8 inch above ground, while level -1 takes away a 1/4 inch below ground level.
What's more, this 14-inch dethatcher features two dethatching reels, a comfort-wrapped adjustable handle, and collapsible capability for storage.
Worx Nitro Dethatcher Price
This tool sells as a kit with batteries and a charger for $419.99 (WG855) or as a bare tool for $269.99 (WG855.9).