ECHO CS-501P Chainsaw Caters To High-Performance Needs Without Bloated Weight
Recently we had the opportunity to help our friend Eli Mosley out on the ranch to deal with some downed oak trees. We had some success in the past using other battery-powered chainsaws, but we wanted to test out something in the 50cc class to get our work done quicker and more efficiently. The ECHO CS-501P chainsaw seemed right up our alley, so we got our hands on one and got to work.
Want more models? Explore our Best Chainsaw Reviews list.
Pros
Outstanding performance for the 50c class
Incredibly lightweight for the 50cc class
Easy starting
Easy filter access
Cons
Ignition switch doesn't return to the on position automatically
No onboard scrench storage
ECHO CS-501P X-Series Chainsaw Performance
This chainsaw is part of ECHO's X-Series, which emphasizes higher performance, and it definitely lives up to that reputation here. Its 50.2cc engine helped us make quick work of a downed oak tree with the 20-inch Pro-Lite bar and 20LXP chain confidently shredding through the hardwood.
Note: If needed, this saw also comes with a 16- or 18-inch bar if your needs are more suited for those sizes.
ECHO's G-Force engine air pre-cleaner helps extend the filter life, which leads to more time between maintenance intervals. Accessing the filter is a tool-free process, too. All you have to do to access it is loosen the knob on the housing above the handle
Along with this is a digital ignition system and a decompression valve for an easy start-up.
ECHO CS-501P X-Series Chainsaw Design Notes
Weight
As for this chainsaw's design, ECHO's X-Series chainsaw focused on shaving off some pounds. The CS-501P chainsaw has a dry weight of just 10.6 pounds, making it the lightest 50cc chainsaw currently available in North America. This lightweight design helps you achieve excellent cutting performance with lower fatigue.
Chain Tensioning
Chain tensioning is also made easy on this chainsaw. You start by loosening the two bar nuts about half a turn each. Then, it's as simple as supporting the bar in one hand and using the scrench to adjust the tensioner with the other. After tightening the bar nuts back up you're good to start cutting.
The bar nuts are captive, too, so you don't have to worry about losing them when you need to access the chain sprocket or change out the bar or chain.
Ignition Switch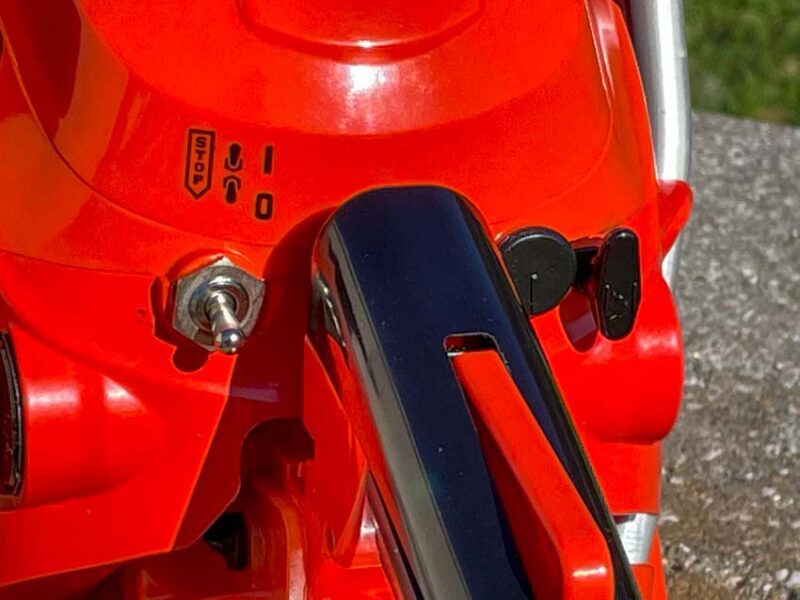 One aspect we're not too keen on is the ignition switch. On this model, it doesn't automatically return to the "On" position after shutting the engine off. This might not seem like that big of a deal, but many chainsaw users cite this issue as a major pain point. Luckily, ECHO has addressed it, and the newest chainsaw models have an automatic return design.
Additional Highlights
Beefy metal bucking spikes
Intertia-activated chain brake
Adjustable automatic oiler
Ergonomic aluminum front handle
ECHO CS-501P X-Series Chainsaw Price
Retail prices for this chainsaw can range from $499.99 to $519.99, depending on which bar length you prefer. The brand backs your purchase with a 5-year consumer warranty or a 1-year commercial-use warranty.
The Bottom Line
ECHO's CS-501P X-Series chainsaw has the performance to cut through hardwoods like butter. That coupled with its low weight makes it an absolute pleasure to use and very easy to manage. If you're looking for a 50cc chainsaw, you'd have a hard time finding a better combination of weight and power than this one.
Specifications
Model: ECHO CS-501P
Engine: 50.2cc
Fuel: 50:1 gas/oil mix (10% max ethanol)
Fuel Capacity: 16.6 ounces
Bar Length: 16 – 20 inches
Chain Pitch: 3/8-inch
Oil Capacity: 9.5 ounces
Dry Weight: 10.6 pounds
Warranty: 5-year consumer, 1-year commercial
Price: $499.99 – $519.99