Green Machine Cordless Blower Devuts with Power and Runtime
Visit Home Depot online and you might have come across the Green Machine brand. They make 62V battery-powered outdoor power tools designed for homeowners looking for premium-level landscaping solutions. We got a chance to test the Green Machine GM500801 655 CFM cordless leaf blower to check out power, runtime, ergonomics, and more.
Check out our best cordless leaf blower reviews article for our top picks!
Green Machine 655 CFM Leaf Blower Design
As seems to be the current trend, Green Machine uses an efficient inline design for its cordless leaf blower. It eliminates any airflow loss from pulling air in from the bottom or side of the tool. Instead, a "jet" fan accelerates the air on its way through the nozzle.
Green Machine GM500801 Weight and Balance
Without a battery, the Green Machine GM500801 blower weighs just 4.9 pounds. Add a 4.0Ah battery, and you raise the total weight to around 7.9 pounds. It feels remarkably nimble and we feel Green Machine did a good job with the ergonomics and balance of this tool. When holding it during use, the downward tilt of the tube lines up with the correct blowing angle you want for most work.
Additional Highlights
The 62V Green Machine battery works with all of their 62V outdoor power tools
Green Machine 655 CFM Leaf Blower Controls
The controls on this blower don't complicate anything. Pull the non-variable-speed trigger and you immediately get to work. Use the variable speed dial located right below the Turbo button to control the maximum blowing power. Press that Turbo button when you want the absolute most power. It works great for those stubborn areas like moving wet leaves or grass.
Measuring Newtons and Blowing Force
According to Green Machine, this blower delivers 655 CFM or air volume and 123 MPH of blowing speed. Using our force meter, we measured 12.5 Newtons in high. Pressing the Tubo button raised the output of the blower significantly to 16.8 Newtons. Most homeowner handheld gas blowers top out around 12 Newtons. Power isn't an issue for this battery-powered blower.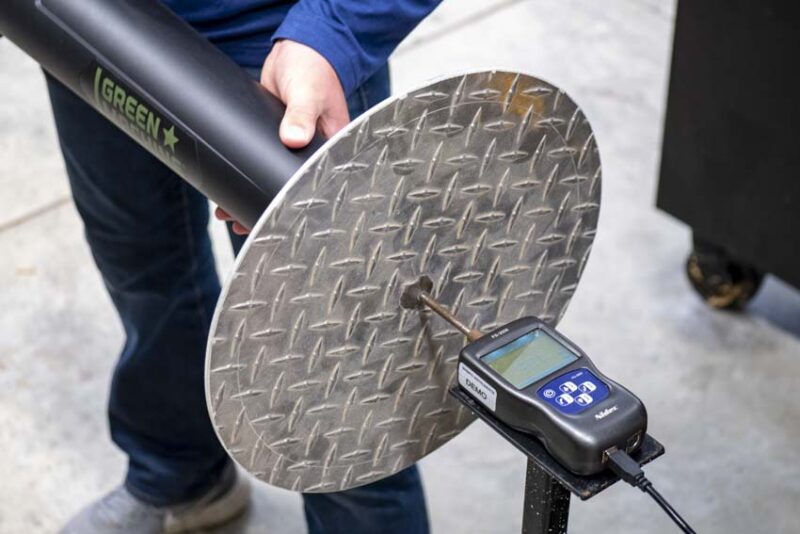 Testing Runtime
When set to its lowest speed, Green Machine says you can get as much as 100 minutes of blowing whe using the kitted 4.0Ah battery. Since nobody uses the lowest blowing speed, we tend to do our tests in High and (when present) Turbo modes. On High, we blew continuously for 16 minutes and 45 seconds. Turbo mode netted us 12 minutes and 9 seconds.
A Note on Noise Levels
Cordless blowers promise less noise than their gas counterparts—and boy, do they deliver in that respect. We measure noise using an SPL meter and by placing it at the operator's ear. On the Green Machine 655 CFM blower, we recorded 93 decibels in High and 95 decibels in Turbo. Run the same test using a handheld gas blower, and you'll likely read 100 decibels or more. Add even more with a backpack blower.
Green Machine 655 CFM Leaf Blower Price
This Green Machine blower is only available online at Home Depot. The kit currently retails for $262 including a 4.0Ah 62V battery and rapid charger. Home Depot will ship the kit to your home or your local store for free.
All Green Machine 62V outdoor power tools come with a 5-year limited warranty on the tool and a 3-year limited warranty on the batteries.
The Bottom Line
The Green Machine 655 CFM leaf blower has plenty of power and a decent amount of trigger time. It makes for a fine replacement for most homeowner gas blowers. While other models we've tested best it in power and runtime, this tool might just stand in the gap between high-performance and high-value models. If that's what you need, definitely consider giving it a test drive.
Specifications
Model: Green Machine GM500801
Power Source: Green Machine 62V battery
Max Airspeed: 123 MPH
Max Airflow: 655 CFM
Weight: 4.85 pounds
Price: $262 with 4.0Ah battery and charger
Warranty: 5 years on the blower, 3 years on the battery