Greenworks 450 CFM Leaf Blower Offers A Lower Cost Option For Homeowners
While there are a number of battery-powered leaf blowers on the market, it's not always necessary to go with the most powerful option. We got some hands-on time with the Greenworks 60V 450 CFM Leaf Blower. Find out how this lower-cost alternative can help you take charge of your lawn.
Greenworks 60V 450 CFM Leaf Blower Design Notes
Controls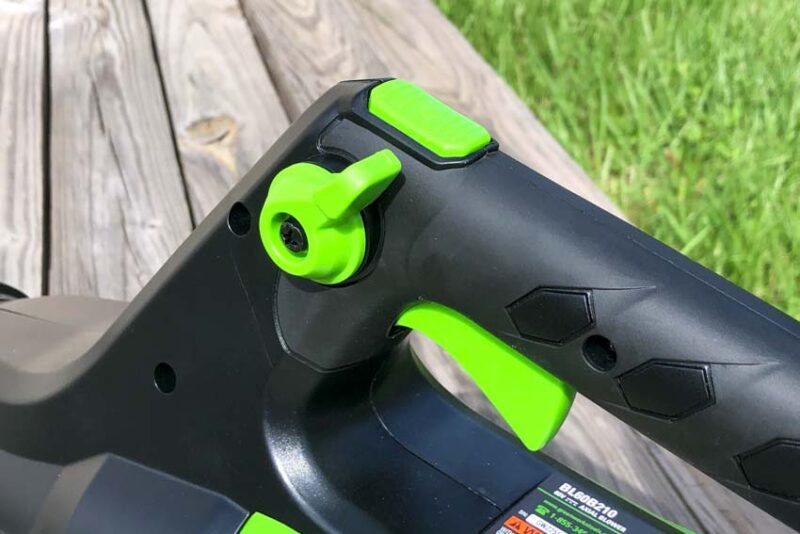 Greenworks included the familiar control design found on its higher-powered blower models. You have a variable speed two-finger trigger and a cruise control lever. The Turbo mode button is located above the handle, which helps give you more blowing force for stubborn debris.
Size and Weight
Greenworks also gave this blower a longer nozzle design. In this case, it helps keep the air concentrated closer to the ground to maximize the effectiveness of the air force.
As for weight, the Greenworks 60V leaf blower weighs 5.3 pounds bare and 8.2 pounds with the included 2.0Ah battery. All in all, this is a very manageable weight.
Additional Highlights
Metal debris scraper
Compatible with all Greenworks 60V batteries
Greenworks 60V 450 CFM Leaf Blower Performance
Greenworks tells us this blower can achieve air speeds up to 125 MPH and volume up to 450 CFM. Using our force meter, we measured 7.4 Newtons on high and 10.2 Newtons on Turbo mode.
This blower falls on the lower end of the price scale compared to more expensive top-performing brands. Comparing it to gas models, its performance falls just short of that of a 25cc gas engine.
This level is ideal for tasks like rounding up fallen leaves or dry post-mowing cleanup. It's also great for blowing off your mower and other lawn care equipment and blowing out your garage or shop.
As for the runtime, we were able to run the blower continuously for 17 minutes and 24 seconds on high, and 10 minutes and 46 seconds in Turbo mode. Greenworks tells us to expect up to a 45-minute runtime at the lowest speed.
Greenworks 60V 450 CFM Leaf Blower Price
This blower retails for $199.99 as a kit, including a 2.0Ah battery and charger. You can also find it bare for $129.99 from Greenworks' website. Both the tool and the battery include a 4-year warranty.
The Bottom Line
For many homeowners, Greenworks' high-end 700 CFM blower is a bit too much in terms of power. Dialing back the power, and thus the price, was a smart, intentional move on Greenworks' part. Keeping a familiar design and the same controls as other options in the 60V system also helps homeowners know exactly what they're getting into. This blower offers the chance to save some money while still remaining on, in our opinion, Greenworks' best homeowner-grade system.
Specifications
Model: Greenworks 2414402
Power Source: Greenworks 60V battery
Max Airspeed: 125 MPH
Max Air Volume: 450 CFM
Weight: 5.3 pounds bare, 8.2 pounds with 2.0Ah battery
Warranty: 4 years