Get More Value With The Greenworks 60V Pole Saw And Pole Hedge Trimmer Combo
If we had to name the tool most often borrowed it would have to be…a tile saw. But the very next tool would be…a demo hammer. OK, ok, after that comes the pole saw! More recently, articulating hedge trimmers have proven useful for those looking to get atop higher hedges and give them a much-needed trim. To solve all of these challenges (not the tile saw one) Greenworks packages a 60V pole saw and hedge trimmer combo kit.
Our goal aims to see if it's a good package deal (and value) for homeowners.
Using the Greenworks 60V Pole Saw and Pole Hedge Trimmer Kit
Open the kit and you find everything you need to get started—almost. Greenworks includes the power head, pole saw attachment, hedge trimmer attachment, 2.0 Ah battery, charger, shoulder strap, and all of the accessories you need.
You do need to supply your own chain oil, however. Plan on picking up a quart when you order or buy this system if you don't already have some on hand.
Greenworks 60V Pole Saw and Pole Hedge Trimmer Power Head
The Greenworks 60V power head has a nice comfortable grip and a two-finger trigger. A trigger safety keeps you from accidentally starting the tool when you move it from place to place. It lets you keep the battery inserted without fear of an accident—we like that.
With this system, Greenworks placed the brushless motors on the attachments themselves. That makes the system more front-heavy than a dedicated pole saw with a drive shaft. On the other hand, this design seems to offload vibration towards the head and away from your hands and arms. We like that.
Greenworks also included a shoulder strap in the kit. While this seems to do more for string trimming than hedge trimming, we like that it's in the box. It might help when leveraging the tool and extending your reach.
Connecting Attachments
Swapping out various Greenworks 60V attachments is fast and easy. You just loosen the threaded collar, line up the connection point, and tighten everything back together. Easy peasy.
Greenworks uses a proprietary connection for this particular system. This means you can only use their attachments with this powerhead. Also—the Greenworks 60V attachment-ready string trimmer uses a universal connection that's not compatible with these attachments.
The difference has to do with where they place the brushless motor. On one system you have a motor on the powerhead which powers a driveshaft. On the other system, wiring connects the battery to the motors located at the head of each attachment.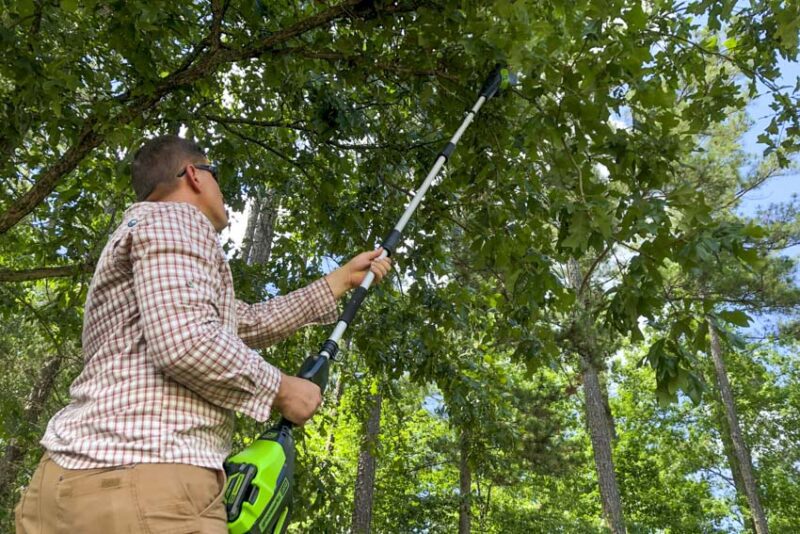 You can add an extension between the power head and attachment extending the tool to 9 feet in length. That gives you roughly 14 feet of working distance, depending upon how tall you are.
Greenworks 60V Pole Saw
The Greenworks 60V pole saw uses a 10-inch bar with a 1/4-inch pitch, 0.050 gauge chain. It dia. great job on the branches we cut while up in Georgia. It helped us quickly clear a whole bunch of small 1-inch limbs hanging over the driveway. Even when we removed several branches measuring between 4- and 6-inches, the saw didn't slow down or stall.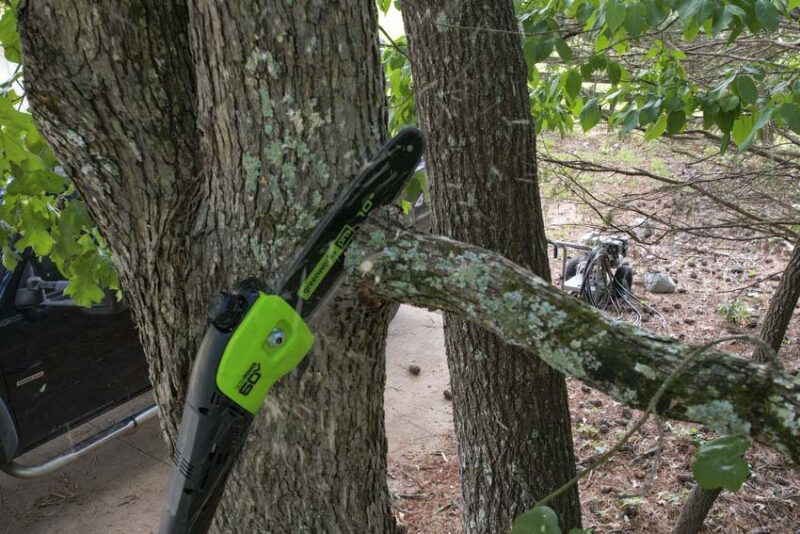 Adjusting the Chain Tension
The Greenworks 60V pole chainsaw uses a single captive nut that you loosen before adjusting the chain tension. This lets the bar move freely. Turning the tensioner screw on the front of the motor housing with the included slotted screwdriver of the scrench tightens or loosens it. After adjusting chain tension you can re-tighten the nut to secure everything in place. The scrench stores on the pole.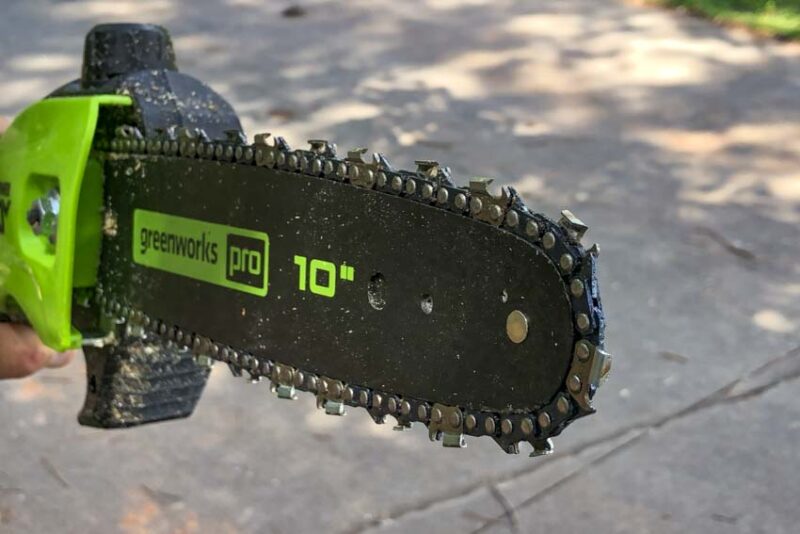 We're used to using a scrench, but the position of the chain adjustment makes using the slotted end difficult. Greenworks positioned it right against the bar. We found it easier to use a long slotted screwdriver.
Auto Oiler
An automatic chain oiler taps the 3-ounce reservoir. It should last for 30 minutes of cut time and the translucent window lets you keep an eye on it.
Additional Features
Plastic bucking spikes
Plastic branch hook
Greenworks 60V Pole Saw Specifications
Bar Length: 10 in.
Chain Pitch: 1/4 in.
Oil Capacity: 2.7 oz.
Chain Gauge: 0.050 in.
Weight: 13.7 lbs (with 2.0Ah battery)
Greenworks 60V Pole Hedge Trimmer
The Greenworks 60V articulating pole hedge trimmer updates a former model. It now uses a brushless motor and features a larger cut capacity of 1.2 inches The former model only allowed branches up to 3/4 of an inch in thickness. For a consumer-focused hedge trimmer, 1.2-inches gives you lots of space. That Greenworks put it on a pole extension model makes it even more versatile.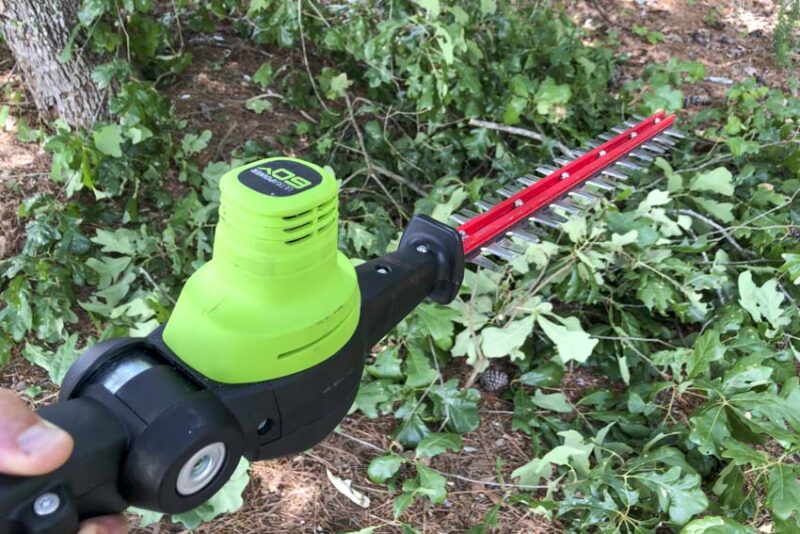 This pole saw also cuts at a brisk 3200 SPM. In addition to the capacity, you can get a lot of work done quickly.
7-Position Head
We found it easy to adjust the angle of the trimmer head. Move the slide release on the head with your thumb to quickly adjust the angle. You can swing the hedge trimmer head all the way to 90° fro reaching up high. You can also tilt it back towards you up to 45° to use it for trimming ground cover.
The versatility of this cordless pole hedge trimmer made it easy for us to trim up several tall hedges. Had we used a traditional hedge trimmer we would have needed a ladder—and that's not a safe way to work with a tool like this.
With the tool straightened, we took care of the front, sides, and back of the hedges. The extended reach of the pole saw let us get well behind the hedges without having to crawl back there.
With the pole hedge trimmer tilted forward, we easily reached the tops of our hedges. Articulating it back, we cleared branches and stalky grasses at ground level.
Greenworks 60V Pole Hedge Trimmer Specifications
Knife Length: 20 in.
Cut Capacity: 1.2 in.
No-Load Speed: 3,200 SPM
7-Position Articulating head
Weight: 12.56 lbs. (with 2.0Ah battery)
Greenworks 60V Pole Saw and Pole Hedge Trimmer Combo Price
You can pick up Greenworks Tools from several retailers and in several configurations. We feel the best value is to get the full $390 kit with both attachments. Either way, each kit comes with a 2.0Ah battery and charger. Greenworks backs the tools and batteries with a 4-year warranty. Here's the price breakdown:
10-Inch Pole Saw Kit: $269.99
Without Battery and Charger: $199.99
20-Inch Pole Hedge Trimmer Kit: $299.99
Without Battery and Charger: $199.99
Pole Saw and Pole Hedge Trimmer Kit: $389.99
While you can get the majority of your Greenworks 60V gear at Tractor Supply , the full combo kit isn't on their website or in the store at the time we're writing, so get it directly from greenworkstools.com.
The Bottom Line
The Greenworks 60V cordless pole saw and hedge trimmer combo kit is a great choice for taking care of your seasonal tree and hedge trimming around your home or property. Its impressive performance and low vibration make the work less of a chore and we are very pleased with the results.
Click here to explore the full Greenworks 60V lineup.