Honda is no stranger to generators, and Honda generators aren't strangers to the OPE Reviews staff. That goes for the Honda EU7000iS inverter generator. This model has been a favorite of ours for quite some time. Indeed, it earned spots on both our Best Generator for Home Use and Best Portable Generator Reviews lists.
Let's dive into the features and design that keep this tool on our radar.
Honda EU7000iS Inverter Generator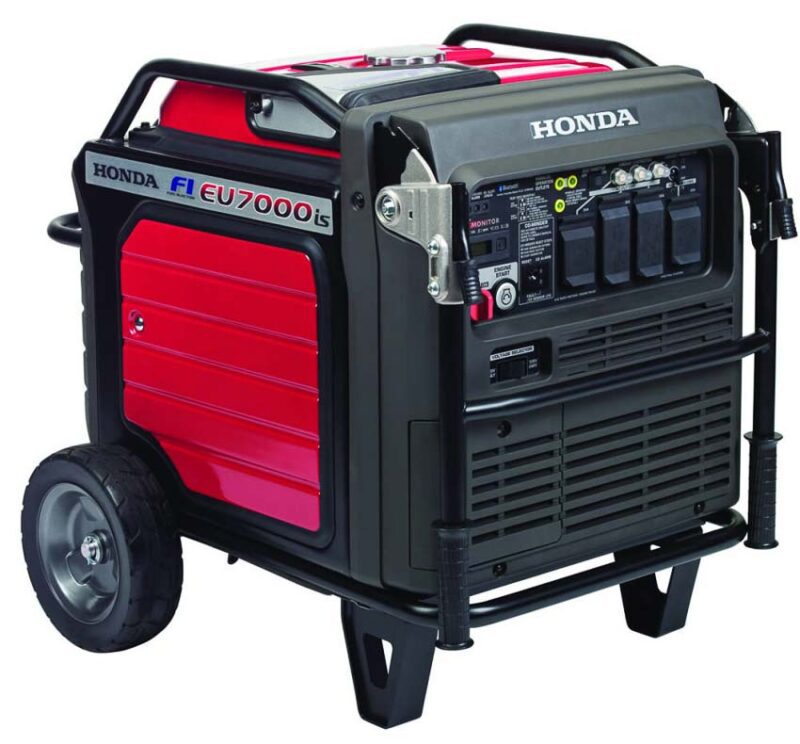 Honda's reputation within the world of engines–and outdoor power equipment in general–is about as close to impeccable as you can get. Their generators are distinctive in their features and performance.
As we've noted in our best-of lists, the EU7000iS stands out as a top choice for many reasons.
For one, it yields excellent power, and, as an inverter generator, provides the clean and reliable electricity that computers and other electronics require. It runs on the GX390 EFI engine and produces an impressive 7,000 peak and 5,500 running watts.
Interestingly, there are slight differences between an inverter and a generator. Find out what they are at OPE Reviews!
Overall, the EU7000iS can operate a variety of 120- and 240-volt applications, including furnace fans, well and sump pumps, refrigerators and freezers, and dual RV air conditioners.
Yet, in spite of this inverter generator's impressive output, the Honda EU7000iS is notably quiet, operating at just 58 decibels. To put that into perspective, a normal conversation is about 60 dB.
Specs
Model: Honda EU7000iS
Engine: 389cc GX390
Wattage: 7,000 (peak), 5,500 (running)
Push-button electric start
GFCI outlets and electric circuit breakers
Electronic fuel injection (EFI)
Fuel Capacity: 5.1 gal
Runtime: Up to 16 hrs
Weight: 263.2 lbs
Furthermore, as a gas-powered tool, fuel efficiency is another important consideration. The EU7000iS has a 5.1-gallon capacity, and a full tank should get you up to 16 hours of runtime.
Honda EU7000iS Inverter Generator Design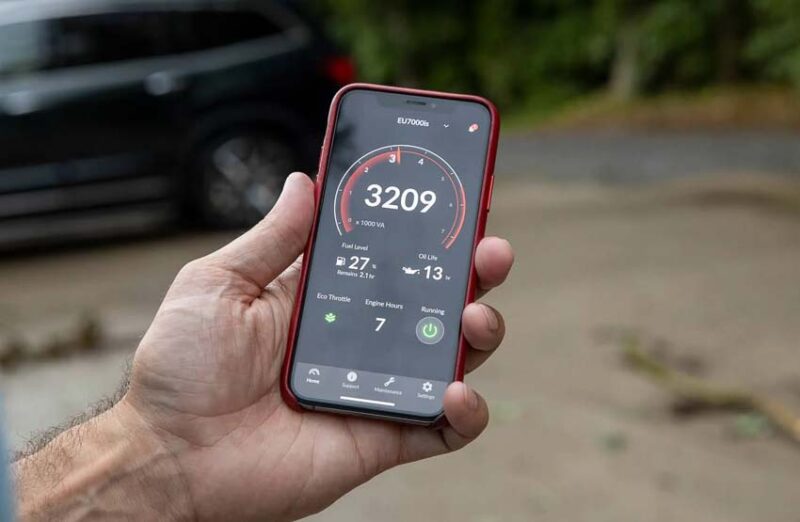 There's a lot to talk about on the design features side, too.
For example, this model has Honda's CO-Minder carbon monoxide detection technology and push-button electric starting.
Moreover, it includes My Generator app + Bluetooth capability. This enables you to use a variety of monitoring features, such as the i-Monitor system, which tracks hours, RPM, battery volts, and wattage.
Finally, the EU7000iS has electronic fuel injection for smooth operation.
Honda 5500W Generator Price
The Honda EU7000iS Inverter Generator retails for $4,999. What's more, this tool comes with a limited 3-year commercial and residential warranty.