We live in a world brimming with modern conveniences, such as smartphones, tablets, and even autonomous lawn mowers and cars. Of course, without electricity, much of this technology comes to a halt. That's why backup generators are the embodiment of peace of mind. If Mother Nature decides to throw you a curveball with a hurricane or blizzard, these hardworking machines will help you keep things under control. Not surprisingly, we've tested and written about more generators than we can count, and there are several fierce competitors feeding this segment of the OPE market. Generac is one of them, which is why we think you ought to know about their 18kW portable generator (GP18000EFI).
Want to explore other models? Be sure to check out our Best Generator Reviews list!
Generac 18kW Portable Generator Performance
Up front, we have to say that the GP18000EFI has a lot to offer. Indeed, at 18kW, this is Generac's most powerful portable generator to date. At the heart of this model is an 816cc EFI engine that delivers 24 horsepower. Operating at 50% load, it should give you 9 hours of continuous runtime.
Again, being a portable generator, this thing is notably powerful. For the sake of context, the GP18000EFI puts out about the same or more wattage as Generac's whole-house models. On that note, we reviewed the 22kW Guardian, which we have here at the OPE Reviews compound. Our system powers the entire property, so, trust us, this portable unit is absolutely capable of handling anything you've got (within reason).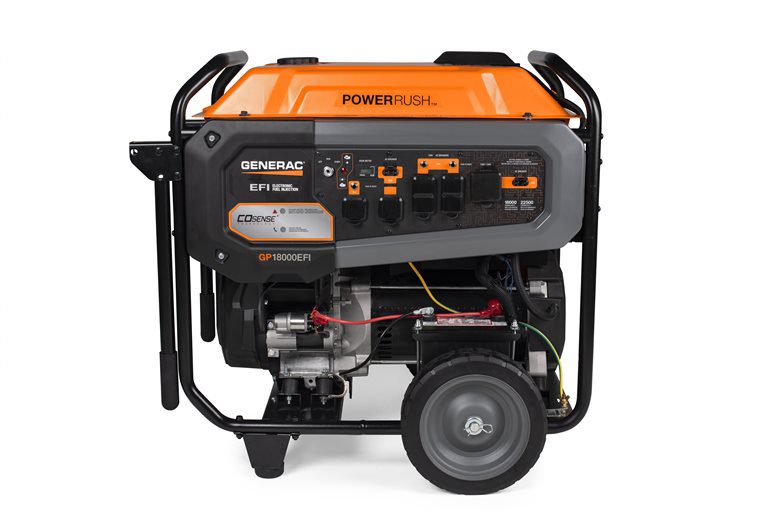 Specs
Model: Generac GP18000EFI
Engine: 816cc, 24.1 HP
Running wattage: 18kW
Starting wattage: 22.5kW
7 power ports
TruePower technology
COsense technology
Weight: 439 lbs
Indeed, Generac is confident that this 18kW portable generator will prove every bit as effective as its stationary counterparts. In fact, if you incorporate the HomeLink manual transfer switch into your setup, you'll have a mobile system that functions as a whole-house power source. The only difference is that the GP18000EFI's switch is manual, whereas the Guardians' is automatic.
On the unit itself, there are 7 power ports where you can connect a variety of appliances and other necessities. What's more, Generac's TruePower technology allows you to safely use sensitive electronics.
Finally, safety is always number one, so Generac made sure that this 18kW portable generator has COsense technology to alert you to high carbon monoxide levels. A low-oil pressure shutdown also safeguards the engine from damage in the event of a leak.
Generac 18kW Portable Generator Design
The GP18000EFI weighs 439 pounds and features heavy-duty "never-flat" wheels that help you move it from place to place. The handles, meanwhile, can fold in for compact storage.
We also like the generous 14.2-gallon steel gas tank, as well as the fuel gauge and digital hour meter. Together, they go a long way in helping you keep track of function and usage.
Generac GP18000EFI Price
This 18kW portable generator retails for $4,399 and comes with Generac's 3-year residential/2-year commercial warranty.