OPE Visits Husqvarna's North Carolina HQ for an Exclusive Tour
I'm not sure what it is about spring 2023, but it seems as though outdoor power tool manufacturers are especially bullish on product line development. Husqvarna is among those brands leading the pack (not surprising considering that they've been making various forms of equipment for three centuries ). Indeed, they're on point in expanding their battery- and gas-powered fleets. I'm talking about a variety of Husqvarna spring products. This runs the gamut, from string trimmers, chainsaws, and automowers to zero-turns, blowers, and hedge trimmers.
So naturally, when Husqvarna invited OPE to join a select group of journalists and YouTubers at their headquarters in Charlotte, N.C., we jumped at the chance. And this exclusive spring showcase event was as diverse as this year's Husqvarna products.
Here's a taste of what went down.
Telling the Story of Husqvarna Products
The event's organizers kicked off the show with presentations and interviews that, together, tell the evolutionary story of Husqvarna spring products. This comprises a series of elements–everything that drives the brand's philosophy:
Research & development,
Market analysis, and,
Satisfying the needs of homeowners, Prosumers, and Pros.
Overall, their mantra is to never forget five practices and principles:
Shaping new products,
Innovation,
Equipment improvements,
Value engineering, and,
Maintenance.
How They Test Husqvarna Spring Products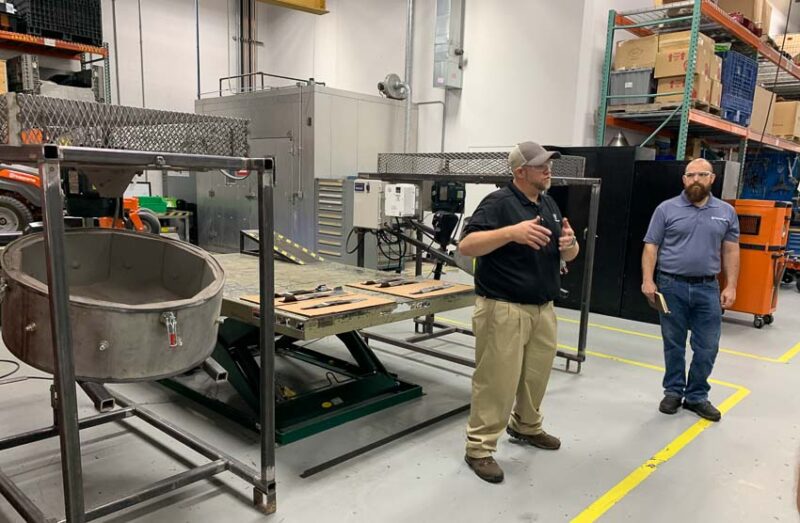 As an editor and journalist, the coolest part of the event was the behind-the-scenes look at how they test Husqvarna products. But before I go any further, I should mention two key observations.
First, their testing facility is huge. And second, they've thought of just about every way to beat the heck out of their own gear.
The bar is open, the bar is closed
They have machines that do nothing but open and close the bars on zero-turns. I mean, day and night, and thousands of times.
The core objective is to see if and when the controls break or wear out.
Hold on tight
Next, you walk into a room to find zero-turns and riding mowers driving in place on a machine that simulates bumps. Bumps and bangs that are hard enough to rattle your teeth from your mouth.
Again, if something's gonna break, it's probably going to happen here.
No kickbacks
Or what about chainsaws and one of the most common (and dangerous) mishaps–kickback? Yup, they've got a machine that simulates that, too.
And this is just a smattering of what's going on at this facility. In fact, there was a ton of prototype equipment that we can't write about or show you.
However, I don't think they'll mind me saying that they were pretty neat.
Hands-On with Husqvarna Spring Products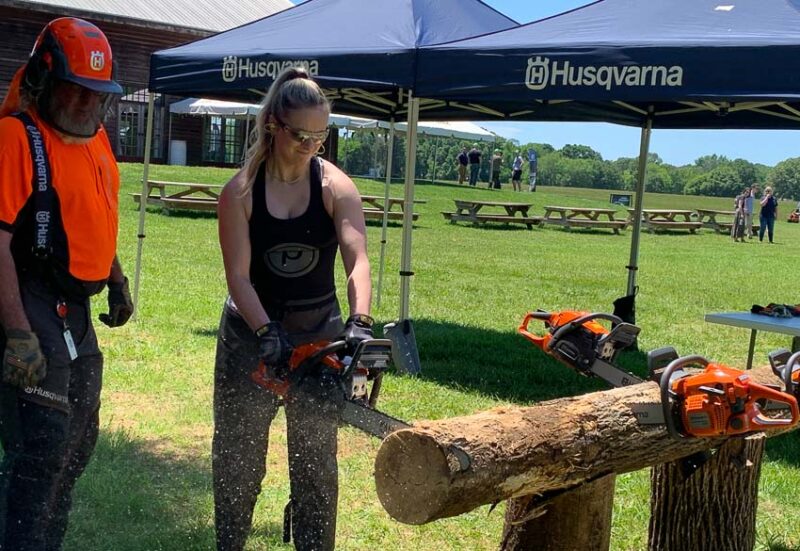 Last but certainly not least was playing with the toys.
As I mentioned above, the Husqvarna spring product line is extensive. So, what stood out?
For me, it was the battery-powered string and hedge trimmers, the blowers, and the Xcite zero-turn. I also really enjoyed standing back and photographing others using the gear. This enhanced my perspective on how operators interact with the equipment, which brings me to my closing comments.
The Takeaway
One of the best things about being the managing editor of OPE is that I'm constantly learning. It never stops.
This may have been an event focused on Husqvarna spring products, but it speaks volumes about the whole outdoor power equipment landscape.
The experience broadened my understanding of the developmental phase, as well as testing and manufacturing methods. Accruing knowledge helps us serve you. And that's OPE's objective, passing it on to our readers.