Since our huge cordless blower shootout back in August, we've been blowing through individual spotlights of each tool so you can take a closer look. The head-to-head (or perhaps nozzle-to-nozzle) competition yielded a lot of data from the 16 competitors. Breaking all of it into bite-sized morsels helps everyone parse it thoroughly. Today, we'll be focusing on the Black and Decker 60V Max PowerBoost Cordless Blower. Unlike many of the blower competitors who are vying to be on the Pro's trailer, B+D makes no apologies for targeting the homeowner. And that's just fine – it's a big marketplace and plenty of value can get packed into a tool that way.
Black and Decker has a rich, century-long history in the tool world. It patented the first electric drill with a pistol grip and trigger switch in 1917, purchased DeWalt in 1960, merged with Stanley Works in 2010, and most recently acquired Craftsman from Sears. Not too shabby for a company founded by a couple 20-something telegraph workers in the early 1900s. It's unlikely that either Black or Decker foresaw today's multi-billion dollar operations with tens of thousands of employees. Let's take a closer look at one of B+D's newest iterations.
Motor, Battery, and Power
The Black and Decker 60V Max PowerBoost Cordless Blower is one of only three shootout contestants to feature a brushed motor. That's a bit of dubious distinction since brushed motors don't last as long and are less efficient than their brushless counterparts. However, brushed motors are more common in tools targeting the homeowner because they are less expensive. Another tradeoff: brushed motors don't allow for "smart" electronics like brushless motors do. Smart electronics is a general term that indicates that a tool's battery to and motor communicate to protect components and prevent thermal overload. But the homeowner is unlikely to put a tool through the wringer like the Pro who uses it constantly, so it's appropriate for the intended target.
Nearly every lithium-ion battery is marked with its nominal voltage these days. But that number reveals only a partial picture of the work a battery can perform. A 60V battery could conceivably be less powerful than a 20V battery. How? Because it's watt-hours that makes a fair comparison among batteries. It's the common denominator. Watt-hours are calculated by the formula voltage x amps x hours = Wh. In addition to the nominal voltage, a battery indicates its own amp-hours (Ah) so part of the equation is already done for you. Multiply the nominal voltage by the amp-hours to find watt-hours. With a 1.5 Ah battery, the Black and Decker 60V Max PowerBoost Cordless Blower produces 90 Wh of work. That ranks last place among the 16 cordless blower contestants.
Even if its brushed motor is relatively inefficient, this blower's inline, rear intake design counteracts it. By pulling the air straight through and accelerating it without bending the air column, the blower reduces friction and improves efficiency. It's notable that even some of the would-be Pro blowers don't have this design.
The blower with battery weighed in at about 9.7 pounds, comparable to its peers. A couple of the shootout contestants had backpack battery designs, which are a different animal.
Variable Speed, Turbo, But No Cruise Control
No matter how powerful a blower might be, you don't always have to let it all loose at once. Often something less than Wide Open Throttle (WOT) is needed. A variable speed trigger helps give the airspeed and volume a little nuance. But then again, sometimes WOT isn't quite enough. For those times, the Black and Decker 60V Max PowerBoost Cordless Blower features a turbo function it calls PowerBoost.
Unfortunately, this blower doesn't offer a cruise control. For bigger jobs or extended use, a cruise control option eases hand fatigue and generally makes working more enjoyable. But it's one of those features that distinguish a homeowner tool from a would-be Pro's tool. We suspect it brings the price point down, too.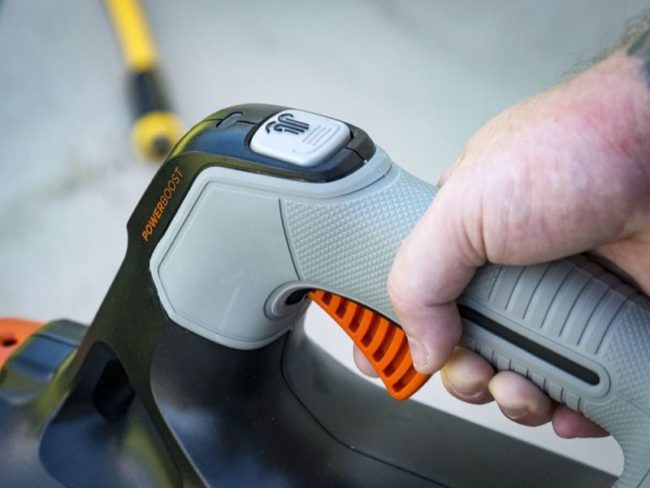 Other Notable Features
Some debris is so stubborn that not even PowerBoost will dislodge it, so there's a metal scraper ring around the nozzle's end. We've probably all owned blowers whose nozzle had worn down after repeated run-ins with concrete or asphalt. This ring prevents that, too.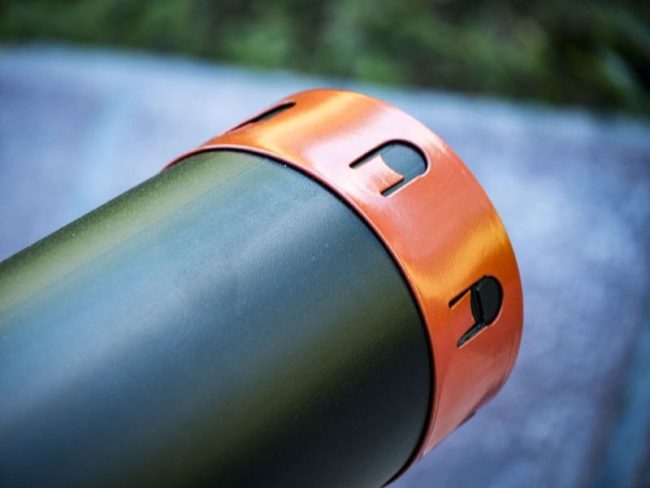 Black and Decker backs it all up with a 3-year limited warranty.
Black and Decker 60V Max PowerBoost Cordless Blower Performance
Before we get to the hard data, we always spend a little time "kicking the tires" of a new tool. It's important we don't think something is bad just because it's different, so we acclimate ourselves through extended use. As you can imagine, the pros and cons quickly themselves quickly. It's only then that we get to objective measurements and comparisons with other tools.
Keep Palm and Handle On
The Black and Decker 60V Max PowerBoost Cordless Blower took a deduction in the ergonomics category, but not like it's competitors. Several of the other guys exhibited a ridge of tool plastic or rubber overmold where the halves of the grip joined that caused hand discomfort. Fortunately, we didn't feel that but we found the B+D blower handle was too thick to be comfortable. It also transmitted a lot of vibration into the hand.
Speak Up, Sonny
Gas-powered blowers are loud and proud of it. But as more communities enforce noise ordinances meant to curb OPE sound, relatively quieter battery-powered blowers can come in under the decibel caps where the gas-powered ones cannot.  Moreover, battery-powered sound poses less danger to the user's hearing. But we always use PPE anyway, right? Sure.
Even if battery-powered blowers produce less noise overall, our shootout's contestants produced a fairly wide decibel range at the user's ear from 82 to 95. The Black and Decker 60V Max PowerBoost Cordless Blower whispered 84 dBa, a feather in its cap as it came in as the 14th quietest. That's quietly cool.
I Can't Drive 55
Why do some blower manufacturers highlight MPH while others focus on CFM? Well, we suspect they think consumers will simply be impressed with the biggest number of whatever the blower can pump out. But much we need a common denominator among batteries (in Wh terms), we need a common denominator to compare MPH and CFM. That measure is called Newtons or Newton Force, and we took the liberty of measuring it for each blower in the shootout. How did the Black and Decker 60V Max PowerBoost Cordless Blower fare? Well, with the lowest CFM (400) and MPH (100) among the blowers, it's probably easy to imagine that B+D came in 16th in Newton Force with around 5.25 Newtons in Wide Open Throttle and just over 8 Newtons in turbo.
Of course, this blower can't compete with the most powerful battery-powered tool in this competition. But it's important to note that even the most powerful blower in this competition can't compete with the Pros gas-powered ones, either. The Pro's blowers churn out 600 CFM at 200 MPH, or 40 Newtons – wowza.
The Bottom Line
The Black and Decker 60V Max PowerBoost Cordless Blower was the third-quietest blower among 16 shootout contestants and is a solid value because it's inexpensive. But with the with the lowest MPH, CFM, and therefore Newton Force of the pack, it's only a homeowner's blower and not for the Pros. That's ok; B+D didn't claim it was anything else. You just have to keep in mind that there are more powerful blowers out there – granted, for more money. We didn't like its thick grip or the lack of cruise control. The grip could be redesigned but the cruise control is a feature that would likely increase the price.
Overall, this blower placed 12th out of 16 – not too shabby for a blower not reaching for the Pro market. It uses its components well and even includes a scraper and 3-year limited warranty it could have easily omitted.
Black and Decker 60V Max PowerBoost Cordless Blower Features
Clear heavy debris with PowerBoost – More Power with Push of a Button
Powerful performance with an axial fan design delivers up to 400CFM
Ergonomic handle design keeps you comfortable while you work
Use the metal scraper to loosen stubborn debris, so nothing gets left behind
Built-in state of charge indicator shows you how much battery power you have left at all times
Maximum initial battery voltage (measured without a workload) is 60V. Nominal voltage is 54V.
Black and Decker 60V Max PowerBoost Cordless Blower Specifications
Model: Black and Decker LSW60C
Air Speed: 100 MPH
Air Volume: 400 CFM
Tested Noise Rating: 84 dB(a)
Tested Runtime: 18:13 (1.5 AH battery)
Bare Weight: 7.38 lbs
Battery Weight: 2.25 lbs
Tested Battery: 1.5 AH
Warranty: 3 years limited
Price: $159.99
Included in Kit: 60V MAX Battery, Charger, Blow Tube