Just as battery powered hand tools can run the gamut from entry level DIY to full-bore professional use tools, the world of outdoor power equipment is jockeying for position in a race to dominate the transition from gas powered products to battery powered solutions. While some will hem and haw about moving too quickly into the battery space, the bottom line is that products like the Husqvarna 436LiB 36V blower are quickly becoming the norm, not the exception. So why the sudden shift to battery, and—more importantly—what's going to drive the transition?
The Quick Case for Battery Powered Outdoor Equipment
I won't belabor the point, but it's becoming increasingly apparent that noise abatement, emissions, and safety concerns for both hearing protection and vibration reduction are driving the transition to battery powered outdoor power tools. Add to that the cleanliness and convenience of eliminating gas and oil, quick starts, and the removal of winterization procedures, and you have a movement that isn't likely to lose momentum. It's just a matter of time.
In the Pro Forest and Garden series, Husqvarna now has 11 tools, 2 battery backpacks, and 2 batteries (we got to see each and every one of them at the Husqvarna Silent City media event in Belgium this year). All of these are Pro-focused tools, and that means they're shooting to replace the comparable gas-powered models in both power/performance and run-time.
The reason this conversation (and the corresponding tool assortment) is even possible is because the energy density of lithium-ion is going up while costs continue to drop. The price per watt-hour is better today than it's ever been. Rather than start timidly in the consumer market, Husqvarna is addressing the commercial customer first, so this mentality drives the development of their tools—a very important concept if you're going to compare or review these products against the competition.
Husqvarna 536 LiB 36V Blower Features
So, what makes for Pro-level features in a blower? Run-time and power. Husqvarna has three blowers, including the Pro-focused 536 LiB and 536LiBX and the America-destined Husqvarna 436LiB which is identical to the 536LiB except for the lack of a harness. The Husqvarna 536LiBX model is only different in that it is specifically designed for use with the Husqvarna battery backpack (eliminating the removable battery compartment for a tether port), and it allows for a rear intake (with a 20% boost in efficiency as a result). Only the 436LiB is currently offered in America due to our particular market needs. Once we get on board with a greater demand for battery powered professional tools, Husqvarna will likely bring across its other models to give us some more usage options.
The first thing you notice about the Husqvarna 436LiB is the streamlined look of the tool. It has good balance, and the battery is placed on the back of the tool to distribute the weight evenly across the handle (the motor being just in front). The air intakes are on the sides, and the air is literally brought in from the right and the left and sent through the front tube at speeds up to 105 mph and with a volume of 388 cfm (cubic feet per minute). That's a lot of air, and Husqvarna has fairly conservative ratings based on our use of the tool and comparison to similar products (some of which show slightly higher numbers in both speed and volume).
Of course, you don't always need that much air to get the job done (and too much can actually make a mess and send you out of control pretty quickly). Because of this, Husqvarna gives you a few options, including a temporary "Boost" button and a throttle adjuster. While the Boost button is self-explanatory, the throttle adjuster is a very cool feature that I haven't seen anywhere else. The ECHO CBL-58V blower comes close, but it uses a physical lever to set the maximum speed. The Husqvarna control is digital in nature and far more sophisticated.
Finally, the durability of this tool is above-par. We didn't baby it and even tossed it about into the bed of our Ford F-150 XLT Super Crew several times, and it was no worse for wear. The Husqvarna battery system is also uniquely designed in that it has a weatherproof housing and integrated seals to keep out dust and debris. Unless you plan to use this tool under water you should be good to go.
Husqvarna 436LiB 36V Blower in Use
We didn't take any time at all before we popped in the 4.2 Ah 36V battery and fired up the Husqvarna 436LiB cordless blower to clear some cut vines, weeds, and leaves from a residential home. With the battery installed, the Husqvarna 436LiB weighs just over 6 pounds…which is to say, it's a couple pounds lighter than a comparable gas powered tool. In our tests the battery delivered 20 minutes of run-time at about 60% speed/power and 12 minutes 15 seconds at full power (we didn't do run-time tests with Boost mode because it's impractical to use it non-stop). During our testing we blew away a considerable amount of debris. The Husqvarna 436LiB blower is easy to use and direct, and it feels very natural in the hand. For those used to a handheld blower, you'll get the same feel, though a gas model will run about three times as long on a single tank of 2-cycle fuel.
If you need to use your blower (or any number of Husqvarna outdoor 36V power tools) for an extended period, you may want to invest in the Husqvarna BLi520X battery backpack. That will give you 14.4 Ah which is like 3-1/2 Husqvarna 4.2 Ah batteries. It will run you around $600, but if you do this for a living, that's not a lot of money for the convenience. The larger model BLi940X gives you 26.1 Ah or the equivalent of about 6 batteries for $949—that's more than all-day run-time for typical use on trimmers and chainsaws.
Recharging was a breeze, and the Husqvarna BMS battery management system takes care of all of the charge and discharge cycle duties as well as managing temperature of the battery. It allows the battery to be ready to take a charge right away rather than having to wait to cool down before being ready to start the charging cycle. For those who are always on the go, Husqvarna hinted at a 12V vehicle charger coming to market in Q1 of 2016. That will be a welcome addition.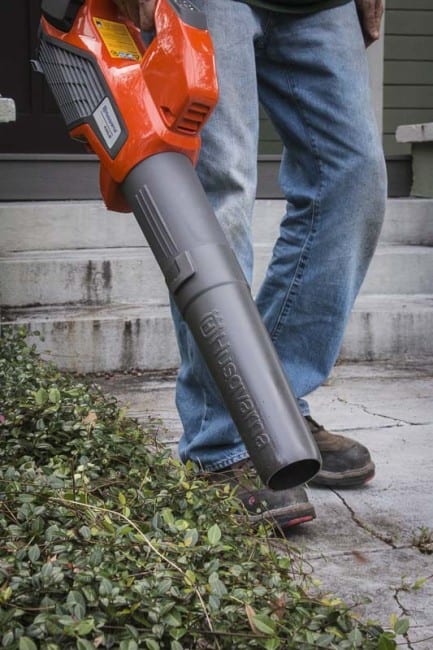 We compared the Husqvarna 436LiB 36V blower against a competitor's 25cc model. It's a good match, and we can definitely say that you get Pro performance from this battery-powered tool. If you don't need to use the blower all day long, or you can top it off between jobs, then you're going to be very happy ditching the noise, weight, and hassle of a gas powered blower for this tool. If you need the power and run-time of a backpack blower you'll probably still need to have that on-hand as it's a completely different type of tool with a  different application.
Conclusion
Is this a professional landscaper's tool? Let's put it this way. A single Husqvarna 4.2 Ah 36V battery will perform the same as 300 liters of fuel over its usable lifetime. So while battery powered tools may cost a little more up front, when you look at the maintenance parts involved in gas powered tools versus their battery powered counterparts—the cost of ownership drops dramatically after about the 70th charge cycle. If you think of one battery as equalling one tank of gas then after 600 recharges or refuels you have a potential cost savings of around $1,000. Considering this tool will run at a reasonable output level for roughly 20 minutes before needing a recharge, that's a tradeoff I think a lot of Pros will want to start looking into. If you factor in the noise reduction, that's even more reason to consider going cordless—and another reason your clients will have for choosing you over your competition.
The only potential negative with a tool like the Husqvarna 436LiB 36V blower is run-time, and that's not really an issue in real-world use if you can top off the charge between jobs or use one of Husqvarna's backpack battery products. The goal with battery power is to meet or exceed the capability of the comparable gas products. With the Husqvarna 536LiL 36V string trimmer and the Husqvarna 36V hedge trimmer this has, in my opinion, already occurred. With a product like the Husqvarna 436LiB 36V blower it only depends on your intended use of the product and whether you're fully vested in the system. If you are, then adding this to your inventory is no-brainer, and you'll love using it.
Shop Husqvarna battery powered products from our friends at ACME Tools