Do you happen to get jazzed about lawn care, and more specifically, do you have a particular fondness for well-functioning backpack blowers? Does fuel efficiency get your motor cranked? How about a cleaner-burning, 4-stroke engine that requires no mixing of fuel? Do you dream about a cool breeze caressing your back while you actively send lawn clippings off to the great hereafter? Do any of these thoughts tickle your proverbial fancy? If you answered yes to any or all of these questions, I've got some good news for you. The Makita EB7650TH MM4 4-Stroke Tube Throttle Backpack Blower combines fuel efficiency with comfort, power, and a world-class active cooling system.
We recently had the opportunity to test out the Makita EB7650TH, along with 6 other blowers from various commercial grade manufacturers, when we ran our backpack blower head-to-head shootout. We got the chance to run the blowers through all sorts of empirical tests to prove how they stood up to manufacturer claims, and how they fared against each other as well. Not surprisingly, Makita showed very well in a number of categories. Furthermore, it was the only 4-stroke blower in the shootout, and proves that you don't have to mix oil and fuel to battle with the best.
Fuel And Work Efficiency
The Makita EB7650TH excelled in this respect. In runtime tests, the Makita finished toward the top of the pile when compared to comparable pro-level blowers. On a full tank, this blower ran for over 71 minutes at WOT. Of course, the size of the tank in relation to the other models could account for this; if the Makita tank was noticeably larger, you would expect a longer runtime. However, at 64 oz, the fuel tank on the Makita falls on the smaller side of the spectrum for the blowers we tested.
Even running all of the blowers with only 6 oz of fuel proved that the Makita performed near the top of the fuel efficiency list. It finished second in our tests. Plus, with a 4-stroke engine, there is no need for premix oil. The Makita EB7650TH runs cleaner, and for longer, than almost every comparable brand of blower we tested.
Power
For those who don't know, blower manufacturers spout off all sorts of information in regards to their blower's power. Generally, after testing their product, they will list a rating for MPH and CFM. Those numbers are helpful to know, but they might not tell the whole story. So, in our tests, we look at the Newton force produced as well. Newton force is the force required to move 1 kilogram of matter 1 meter over 1 second. The Makita EB7650TH achieved 33.9 Newtons on the force test, and the difference between this blower and the winner was pretty negligible.
It performed well in our performance testing, cranking out 197 MPH winds. In the Cubic Feet per Minute (CFM) calculation, we measured the volume of air the blower produces at Wide Open Throttle, at the tip of the tube. The EB7650TH delievers 732 CFM in our test, which is quite a bit more than Makita's claim of 670. Kudos to Makita for under-promising and over-delivering.  All of that is to say that while the Makita produces fast air, with an ample amount of volume.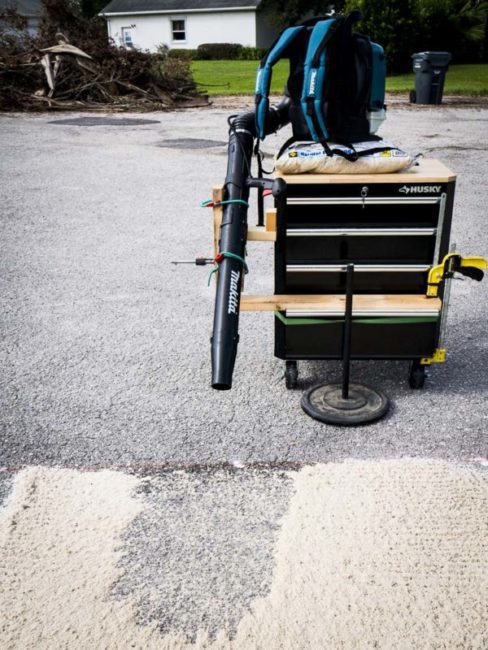 Real World Testing
In addition to our lab and benchtop testing, we also brought a real-world element as well. Blowing leaves just seems too easy, so we decided on using wet sand on asphalt pavement. Marking a 72″ x 72″ inch sqaure, we evenly raked out a 50-pound bag of damp playground sand. Next, we loaded the Makita EB7650TH blower on a rolling stand, with the nozzle at a 45-degree angle and the tip 12-inches from the ground. We roll the blower up, while at WOT, until the tip is even with the beginning of our marked area. After allowing the blower to run for ten seconds, we measure the swath size marking in the sand. At a max width of 22-inches and max length of 34-inches, the Makita EB7650TH blower achieved a 748 square-inch swath.
Feature Set and Ergonomics
The Makita backpack blower includes very comfortable straps and a back pad. The straps were easy to cinch up, and the vibration was such that neither of those things should cause too much discomfort on longer jobs. There was one issue I had with this blower in this regard, however. Because this blower was a little on the heavier end of things, and because it has a narrower, but deeper, body design, I felt its weight more acutely. Almost as if it hung from my shoulder blades, rather than settling evenly across my back, the Makita felt just the tiniest bit awkward by comparison to the other blowers.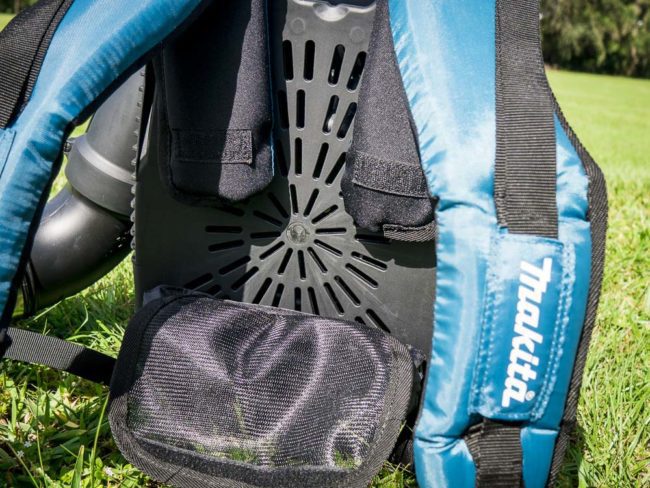 However, the Makita EB7650 has a great active cooling system that makes up for the slight awkwardness of its weight displacement. Makita designed the fan intake directly behind the user. As the blower runs, it pulls air through the intake, across the users back. The result is a much cooler blowing experience. Other blowers included this feature as well, but Makita's design worked much, much better than everyone else's.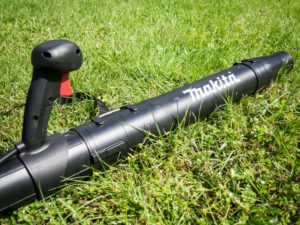 This blower also includes a couple different tips and an easily adjusted pistol grip handle. Makita designed the EB7650TH with a step plate for easier start-up as well.
Final Thoughts
The only knocks I'm prepared to give the Makita EB7650TH come down to its weight and its power. The difference in weight between the Makita and other high-end backpack blowers is, realistically, negligible. However, when it comes to weight displacement, this blower just sits a little awkwardly. It feels like its pulling down on your shoulders a bit. Waist and chest straps could probably fix this, though I don't know too many lawn guys who would be wearing this for long enough to fuss with all that unless they're tackling really large jobs. As far as power goes, this blower will definitely get the job done.
Great Value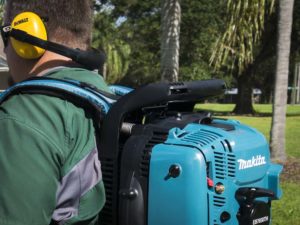 Make no mistake though, the Makita EB7650TH is a great blower, and at $499, presents one of the better values on the market considering performance, runtime, feature set, and power. This blower might not actually be significantly quieter than other, comparable models, but with the lower tones it produces, it definitely sounds less abrasive than a 2-stroke engine. The fuel efficiency on this blower is one of the best-in-class that we tested, and we love the 4-stroke engine. Not having to mix fuel feels like a huge perk for us, believe it or not.
Plus, this blower has one of the best features we've seen (or felt) lately. The active cooling system on this backpack blower is second to none. At Wide Open Throttle, the blower pulls a good amount of air across your back. This might be a detriment during the winter, but during the summer, when the vast majority of the year's lawn work is being done, this feature sets it apart from most other blowers. We've been told that there have been lawn guys claiming that they've actually felt a little chilly while using this in the dead heat of a Florida summer. I don't know if I quite believe that, but the active cooling on this blower does feel effective.
You can purchase the Makita EB7650TH blower at your local dealer or Home Depot . To see how the Makita EB7650TH performed next to some other pro-grade blowers, check out our Best Backpack Blower Shootout.
Makita EB7650TH Backpack Blower Features
Mechanical automatic engine decompression for quick and easy starts
Shoulder straps engineered with multiple adjustments for improved fit
Tool-less handle adjustment for quick positioning of handle
Powerful fuel efficient 75.6 cc (3.8 HP) MM4 commercial duty engine
Large capacity air filter is replaceable and easily accessible
Padded back panel is ventilated for improved operator comfort
Heavy duty anti-vibration mounts between frame and engine for improved operator comfort
Adjustable tube easily adjusts to the desired length
Large grip positioned at optimum center of gravity for easier transport
Large capacity muffler ensures quieter operation (76 dBA)
Padded shoulder straps retain their shape for easier re-shouldering
Makita EB7650TH Backpack Blower Specs
Engine (HP) :

3.8 HP

Max. Air Volume:

670 CFM

Max. Air Velocity:

200 MPH

Fuel Type:

Unleaded gas

Fuel Tank Capacity:

64 oz.

Crank Case Capacity:

7.4 oz.

Sound Pressure:

76 dB(A)

Dry Weight:

24.1 lbs.

Blower Type:

Backpack

Power Type:

4-stroke gas

User Type:

Professional

Shipping Weight:

33.9 lbs.

UPC Code :

088381-669825

MSRP: $499