Husqvarna Battery Combi Trimmer Equals 25cc Gas Power
It hasn't hit Stateside yet, but we can expect the Husqvarna 325iLK multi-purpose tool to make its way over from Europe any month now. Husqvarna designed this 36V system for those looking to get a variety of yard work done quickly and efficiently. The trimmer head can detach, letting you attach any number of different tool heads in its place.
10-Second Summary
Model: Husqvarna 325iLK
Available attachments include: blower, pole saw, cultivator, hedge trimmer, and edger
36V equivalent to 25cc gas power
Attachments compatible with gas power head and visa versa
Adjustable front handle
Battery status on handle key pad
82 dB(A) at ear
Availability: Spring 2020
Price: ~$425
Notable Features
The Husqvarna 325iLK operates on the brand's 36V platform that the company claims will rival the power of 25cc gas engines. This opens it up for use with any of the Husqvarna 36V battery packs, including the line of battery belts and backpack batteries. These particular options can power the tool for extended runtimes. Tethering in the 325iLK to the Husqvarna backpack battery lets the Pro work all day without having to stop to swap out packs.
The other notable feature here is the versatility of the tool. The Husqvarna 325iLK comes with the string trimmer head, but other tool head attachments can be equipped. Husqvarna has a blower, pole saw, cultivator, hedge trimmer, and edger. The attachments click on and off easily.
Husqvarna has also included some convenience features as well. The battery charge status is now displayed on the handle. An intuitive keypad makes the 325iLK easy to operate and gives you easy access to the "savE mode", which extends your runtime.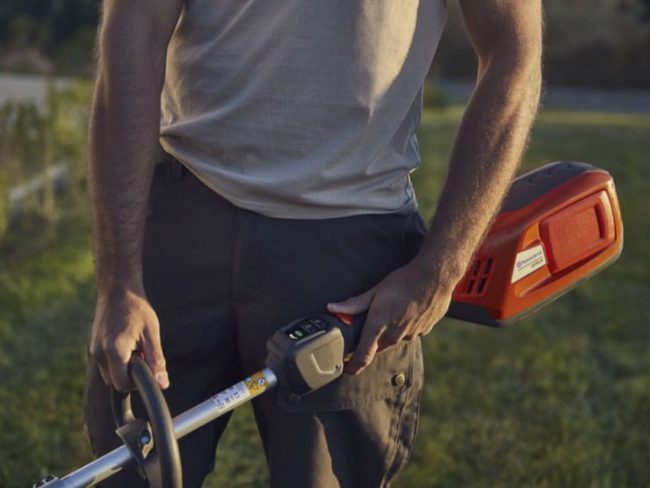 Operator comfort and convenience is a feature as well. Like any battery-powered tool, it's significantly quieter than gas power. At the ear, the 325iLK only measures 82 dB(A).  Also, you can customize where you want your front handle. This will give you better control and make the tool more comfortable to use, thereby reducing fatigue and allowing you greater productivity.
While we don't have any definitive information on when the Husqvarna 325iLK String Trimmer and Power Head System will hit shelves in the States, we expect it soon as it's already on the market in Europe. We expect it to retail for somewhere in the $425 region, though that's based primarily on what it retails for oversees right now.
Husqvarna Power Head System Specs
Model: Husqvarna 325iLK
Battery: 36V
Transmission Gear Ratio: 1.46
Cutting Width (String Trimmer): 16.5″
Tube Length: 56.5″
Tube Diameter: 1″
Sound Pressure Level (at ear): 82 dB(A)
Available Spring 2020
Price: ~$425