Throughout the OPE market, many manufacturers are producing what we like to call Swiss Army knife tools. Combining multiple functions into one, such gear provides efficiency in several ways. It gives you options for the types of tasks you can do and how you can do them. And that is precisely what designers had in mind with the 18V LXT Makita Blower and Vacuum Mulcher (XBU07).
Here's a look at what it's got.
Makita Blower and Vacuum Mulcher Performance
A redesign of Makita's earlier model–the XBU04–the 07 has several useful features for clearing fallen leaves.
Starting with the heart of the tool, the XBU07 has a brushless motor powered by an 18V (4.0Ah) lithium-ion battery. Together, they give the blower up to 148 CFM and 143 MPH of force. As a vacuum, it generates 215 CFM and provides 13 inches water lift of suction.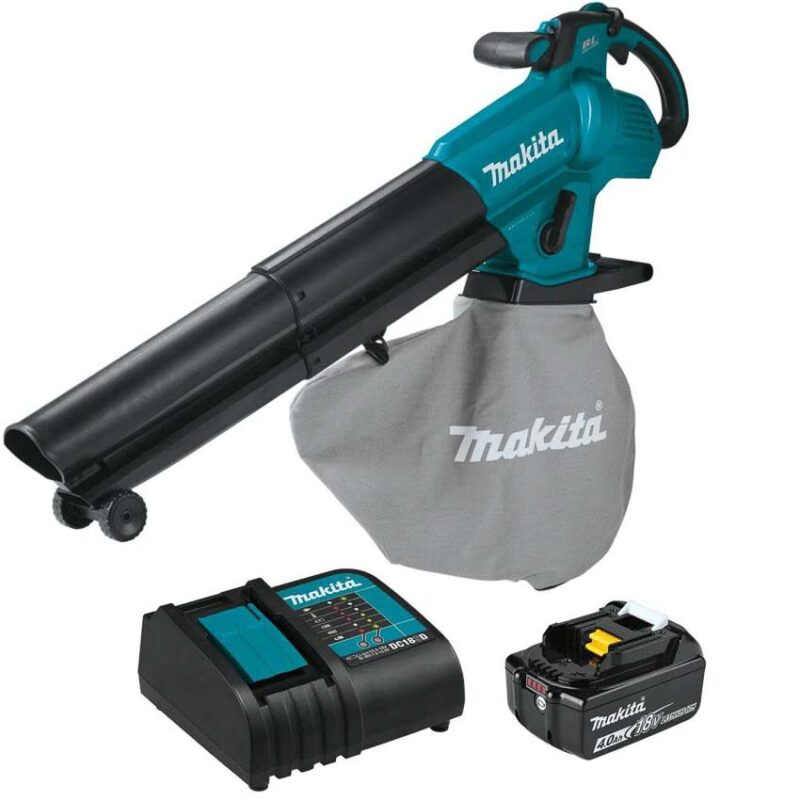 Specs
Model: Makita XBU07
Motor: Brushless
Battery: 18V (4.0AH)
Blower: 148 CFM, 143 MPH
Vucuum mulcher: 215 CFM, 13 in. water lift
Bag: 6.6 gal.
Weight: 7.4 lbs (w/ battery)
Furthermore, the Makita blower and vacuum mulcher is a convenience-centric solution. For example, you can go from blowing to vacuuming and mulching with a simple turn of a switch.
And speaking of mulching, the XBU07 uses a metal impeller shredding blade to slice and dice debris. Specifically, you should see a 10:1 mulching ratio. That means you can reduce 10 bags of leaves to just one, according to Makita.
Meanwhile, the attachable collection bag has a 6.6-gallon capacity.
Makita LXT Design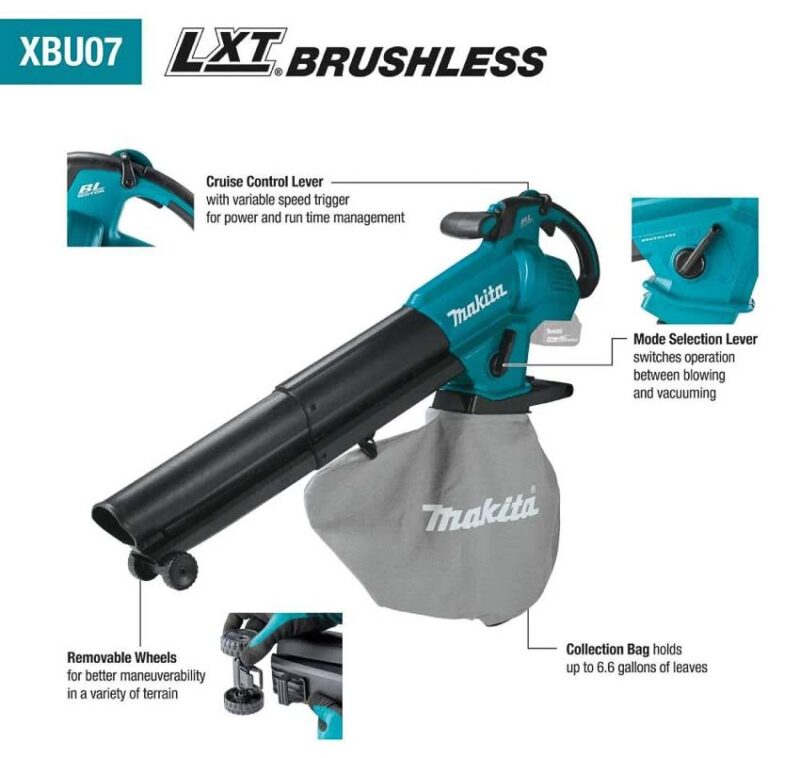 To operate this blower and vacuum mulcher, Makita has included both a cruise control lever and a variable speed trigger. Foremost, these features should enhance your ability to manage battery consumption. Moreover, Makita says they'll help tune the tool's power to the task at hand.
Finally, this model is rather light, weighing 7.4 pounds with the battery installed.
Maketa LXT Blower and Vacuum Mulcher Price
This tool sells as a kit (XBU07SM1) for $299 and comes with the blower/vacuum, a 4.0Ah battery, and a charger. It's also available bare (XBU07Z) for $199. Makita backs this product with a 3-year limited warranty.