The Masterforce 20V 12-inch String Trimmer Delivers Runtime and Ergonomics
Unfortunately, we don't have Menards in Central Florida. You will, however, find them—and their house brand, Masterforce—all over the midwest and beyond. Having used several of their 20V power tools, we wanted to try out the Masterforce 20V 12-inch string trimmer to see how it does as a consumer-focused solution for smaller yards.
Pros
Strong performance for a small consumer trimmer
Excellent runtime
Lightweight
Excellent value
Cons
12-inch cutting swath may be too small for some users
Editor's Note: Check out our best string trimmer article for our top picks!
Masterforce 20V 12-inch String Trimmer Features and Ergonomics
Masterforce did a great job create a lightweight trimmer with great ergonomics. Weighing 7-1/4 pounds with its 4.0Ah battery installed, it came in almost three pounds less than most string trimmers we review. This innovative design by Masterforce should work really well for anyone looking for a tool that won't make them sore when they get done with the trimming.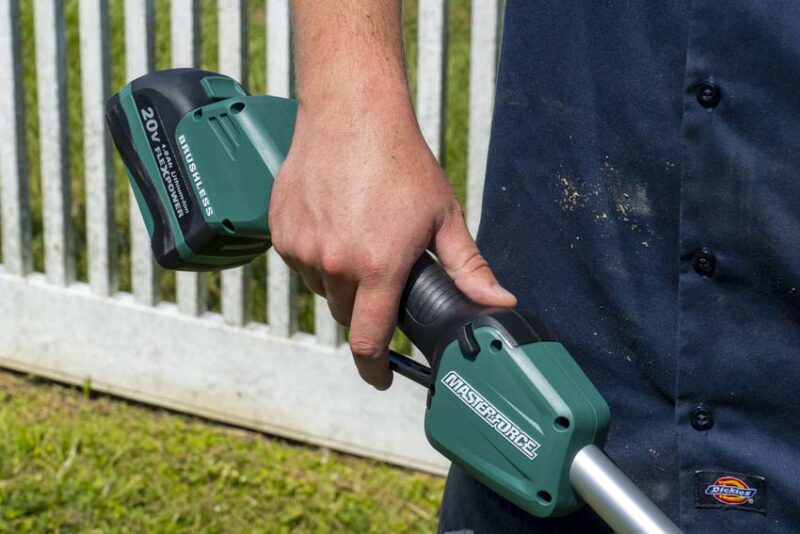 We love the tool-free adjustable handle. I have yet to find a string trimmer that works perfectly between two different users. Allowing for a quick adjustment means you can pick up this tool after your spouse just used it and find a comfortable balance.
The tool has much of its weight forward—mostly due to the smaller 20V 4Ah battery pack. We actually prefer more weight on the front when using a string trimmer so you don't need to fight it to get it in the right position for trimming.
Line Changes
The dual-line head uses 0.080-inch. Because of the design of this tool and its limited battery size, you don't want to update to anything larger. It does require a manual line refill which is unfortunate given how many excellent quick-winding systems exist on the market today.
Here's how you refill the string:
Remove the cover on the trimmer head
Cut a piece of string about 8 to 10 feet long
Wind the line on by hand (follow the arrows)
Thread each end through the holes in the cover
Snap the cover back into place
Split Shaft Not Intended for Repeated Folding
To ship this trimmer more easily, Masterforce ships it folded in half. Note that once you assemble it, you don't want to fold it back down. The split shaft design merely lets them get more of these packed on a pallet. The dead giveaway is that the shaft doesn't separate and that it assembles with a screw, not a quick-release knob.
Additional Features
Trigger safety works for right or left-handed individuals
Compatible with all Masterforce 20V batteries
Masterforce 20V Cordless 12-inch String Trimmer Performance
The Masterforce 20V string trimmer uses a brushless motor and variable-speed trigger that spins the line between 5,800 and 7,000 RPM. That actually falls near the top of the speed charts for a string trimmer. You need that speed, however, when cutting with the lighter-weight 0.080-inch line.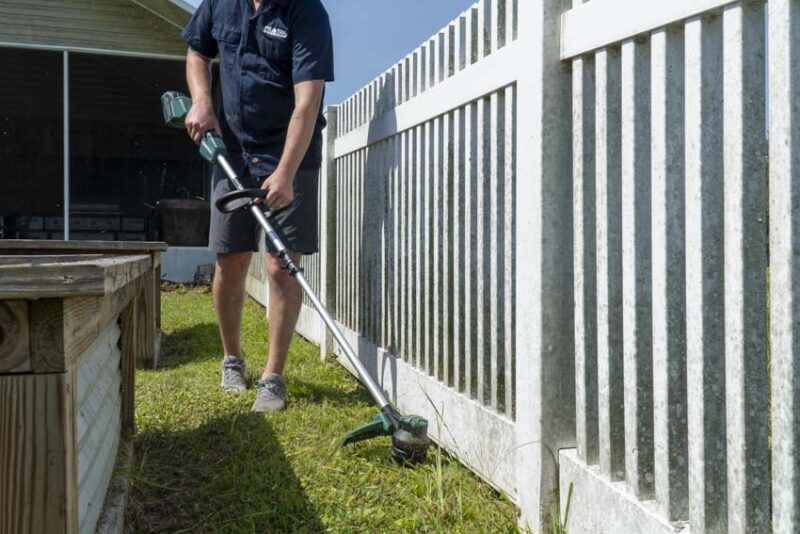 As you might expect, we didn't throttle down much and ran the tool wide-open (WOT). It really trimmed the grass more quickly and powerfully than we expected—again likely due to the speed. Given the 12-inch diameter, we would expect to see a tool like this used on smaller yards to handle weekly maintenance tasks. You can also use a premium trimmer line like Echo Cross-Fire if you want to see even better results.
Masterforce 20V String Trimmer Runtime
We ran this 12-inch string trimmer continuously for over 25-minutes using a 4.0Ah battery. By our reckoning, that actually gives you enough time to maintain up to 1/3 an acre or more provided you don't have too many individual landscaping elements.
Vibration
We did notice a good amount of vibration in the handle when operating the Masterforce 20V 12-inch string trimmer. A lot of this gets absorbed by the shaft, but if that's a top concern then know that some higher-end trimmers provide more advanced vibration control.
Masterforce 20V Cordless 12-inch String Trimmer Price
You can buy the Masterforce 20V 12-inch string trimmer at your local Menards or online at Menards.com It costs $89 as a bare tool and $139.99 as a kit with a 4.0Ah FlexPower 20V battery and charger. Masterforce gives you a 3-year warranty. Since Menards runs frequent sales and rebates, look out for coupons, deals and discounts.
Looking at the overall landscape of what else is out there, Masterforce offers a compelling value for the performance you get from this string trimmer.
The Bottom Line
With solid cutting performance and runtime for its size, the Masterforce 20V cordless string trimmer is a great choice for homeowners who prioritize light weight and high value.
Masterforce 20V Cordless 12-Inch String Trimmer Specifications
Model: Masterforce FlexPower 2673210
Power Source: Masteforce 20V Flexpower battery
Line Size: 0.080 in.
No-Load Speed: 5,800-7,000 RPM
Cutting Swath: 12 in.
Feed Type: Bump Feed
Shaft Style: Straight
Motor Type: Brushless
Weight: 5.69 lbs (bare), 7.25 lbs (with 4.0Ah battery)
Tool Length: 67 in.
Warranty: 3-year
Price: $89 (bare tool), $139.99 (kit)
Click here to check out the full Masterforce lineup.