Small chainsaws–normally with 4- to 8-inch bars–are great for pruning. In fact, a few of them are on our Best Chainsaw Reviews list. But sometimes, it's beneficial to use pruning shears. That's especially the case when working with moderately thick branches rather than limbs. After all, they're light, manageable, and specifically designed for jobs like the one we just mentioned. So, the question remains: Do the Milwaukee M12 Shears (2534) possess such traits? Moreover, are they up to the task?
Here's what we think.
Milwaukee M12 Shears Performance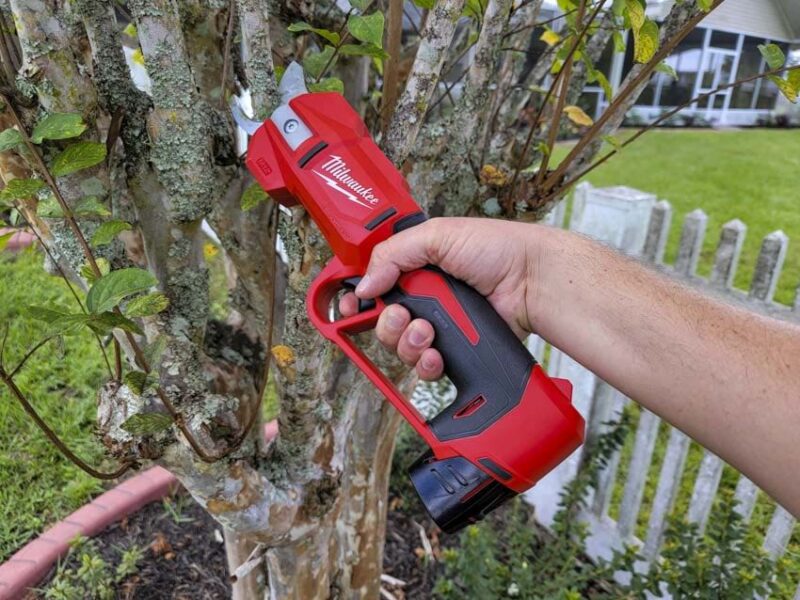 Powering this tool is a brushless motor fed by a 12V (2.0Ah) battery. Overall, we thought the two gave us a solid cutting capacity. Together, the motor and battery enable the 2534 to conquer branches up to 1.25 inches thick. That's quite good and right around the size of branches that require pruning on trees like crepe myrtles.
Also, we've used our share of manual pruners (we're sure you have as well). Hand and wrist pain, along with fatigue, usually accompany such tools. However, this wasn't the case with the Milwaukee M12 shears.
Model: Milwaukee 2534
Battery: 12V (2.0Ah)
Blade length: 2.25 in
Cut capacity: 1.25 in
Weight: 3.2 lbs (w/ battery)
We used the 2534 in the field for quite some time. One of the first things we noticed was how the blade reacted to the trigger. For example, when you squeeze, the blade engages right away. Therefore, if you don't want to complete a cut, you can simply retract the blade. We found that this increased our control when it came to cutting capability.
Lastly, Milwaukee estimates that you should get about 1,000 cuts on a single charge, which really impressed us. Oh, and the blades are replaceable.
Milwaukee M12 Shears Design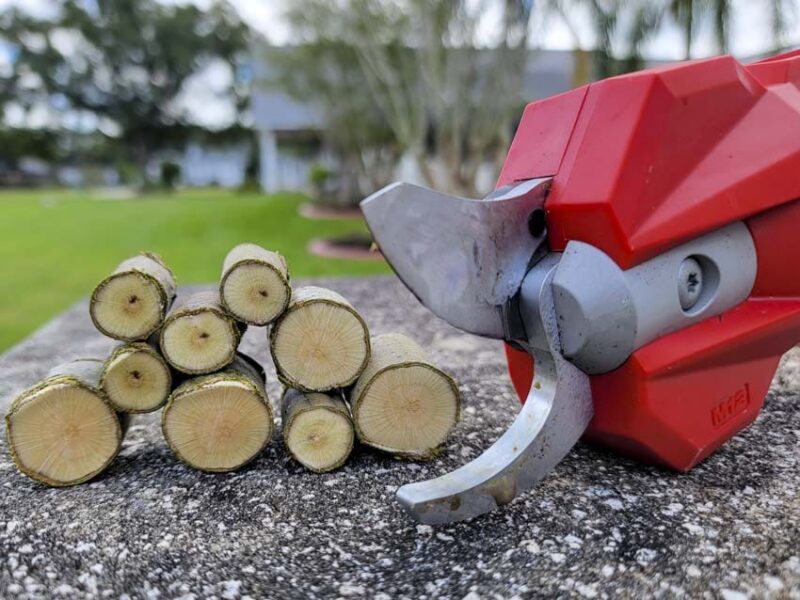 The ergonomics on the 2534 were, in fact, worth writing home about. First, as we discussed earlier, this tool's battery-powered operation bolsters comfort. On top of that, they are lightweight, which makes extended work periods tolerable. Finally, the relatively compact design provides maneuverability and access when working with a tangled mess of branches.
The Bottom Line
Throughout our field tests, the Milwaukee M12 Shears performed very well. The cut thickness will definitely allow you to work on a variety of trees and shrubs. What's more, the functionality and design were comfortable, so long jobs won't be a problem. And the battery's runtime adds to this.
In summary, the 2534 deserves your consideration.
Milwaukee M12 Pruning Shears Price
The 2534 sells for $199 bare and $249 as a kit and comes with a battery and charger. Milwaukee also provides 3-year tool and 2-year battery warranties.