New Huing's 6-Inch Cordless Saw Will Make Simple Tasks Even Easier
We've all heard it a million times–that tired cliche reminding us that "Size doesn't matter." While there are moments when size matters quite a bit, this simple, three-word saying is generally spot-on. And on that note, the New Huing Mini Chainsaw is a case in point.
Let's take a closer look at this pint-sized chopper to see why.
New Huing Mini Chainsaw Performance
This tool may look more like a toy, but it's a bona fide chainsaw. And the little guy has a pretty powerful bite, too.
Driving the saw are two 21V (2Ah) Lithium-ion batteries, which, together, generate 550 watts of power. And if the specs and product literature are accurate, this unit puts every last watt to good use with a high-efficiency motor and upgraded copper wiring.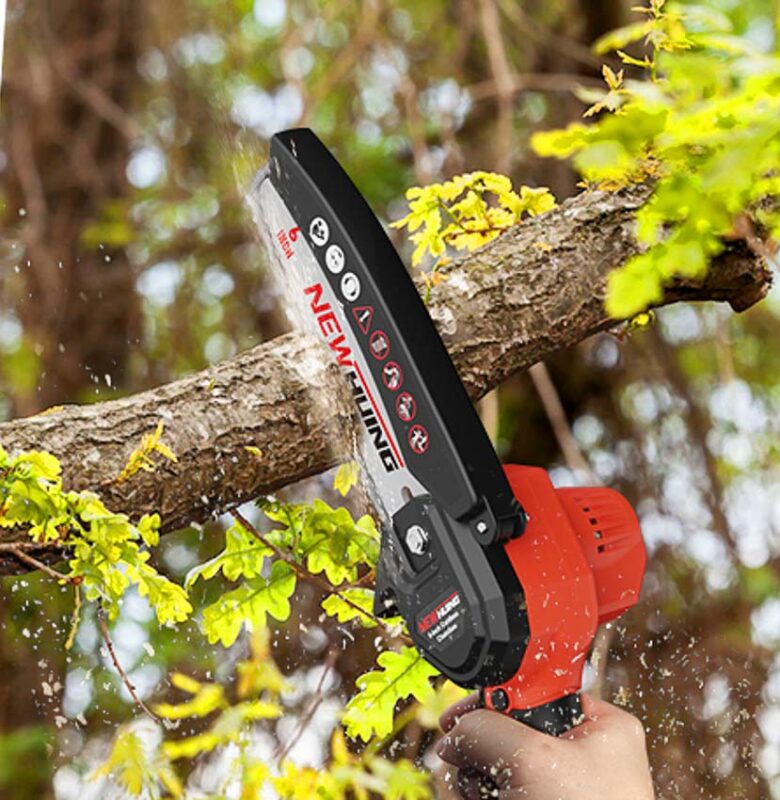 Model: New Huing PCS0002
21V (2Ah) Lithium-ion batteries
Chain speed: 19.2 fps
Cutting capacity: 3 inches
The PCS0002 has a 6-inch bar and tops out at a chain speed of 19 fps. That's not neck-breaking by any stretch, however, New Huing apparently conducted its own trials to measure cutting time and capacity.
They put the saws to work and consistently tore through 3-inch-thick tree limbs in 4 seconds.
These stats probably wouldn't impress discriminating Pros like Leatherface , but, all things considered, they're not shabby either.
Overall, the New Huing Mini Chainsaw seems to make sense as a cutting solution for residential yard work and other outdoor maintenance.
New Huing Mini Chainsaw Design
New Huing designed the PCS0002 to make short work of small jobs. You might liken it to a more powerful version of scissors in your kitchen drawer, or clippers in your toolbox.
The key is simplicity and convenience, which this tool has. At 2.53 lbs, it shouldn't be a nuisance to carry.
Weight: 2.53 lbs
Bar Length: 6 inches
Tooled chain tensioning
Upgraded copper wiring
Protective bar baffle
Trigger lock
Moreover, as with any chainsaw, New Huing made sure to incorporate safety features into the design. These include a protective baffle that sheaths the saw's bar and chain during operation and a lock switch that you have to press before you can engage the throttle.
New Huing PCS0002 Cordless Chainsaw Price
This chainsaw sells on Amazon for $69.99 and comes as a kit containing two chains, two batteries, a charger, and tension adjustment tools.
Looking for something bigger? Check out our Best Cordless Chainsaw Reviews!