This 4x20V Mower Uses an All-in-One Battery Charger/Powerplant to Deliver 80V of Power
We've been covering the best battery-powered lawnmowers for quite some time. The Worx Nitro 80V 21-inch self-propelled lawnmower is the first product we've seen that uses four batteries in series to achieve its rated voltage. This is also the first Worx 80V lawnmower—a product the company hopes will anchor its new 80V Power Share platform.
Worx Nitro 80V Lawnmower: The Big Deal
Four Worx 20V 5.0Ah batteries combine within a single 4A 4-Port Charger (model WA3774). The entire charger mounts directly into the top of the Worx Nitro 80V Lawnmower. After connecting the multipin power connector, it delivers 80V of power to the self-propelled mower.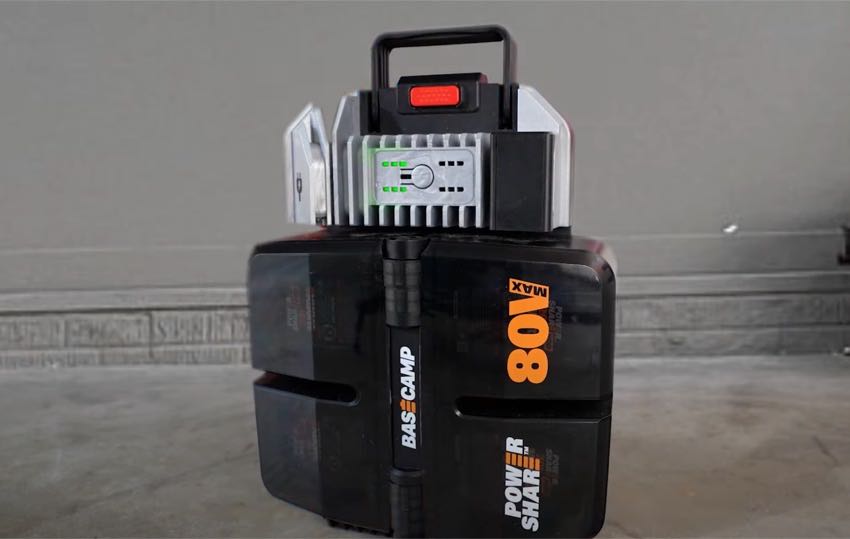 While the entire system acts and mounts like a cohesive unit, when you're not operating the Worx 80V mower, each battery can be removed for use in other Worx 20V and 40V tools.
We also like some of the advanced features we're seeing on this mower. It offers a lot more power and convenience over the lightweight Works 40V 17-inch mower. The Worx WG761 lawnmower has an integrated mulch plug so you don't have to remove it and replace it when you switch from mulching to bagging You just activate it with a lever. A one-touch folding handle makes this mower easy to store. It even has a single button and grip to raise and lower the cutting deck height as needed.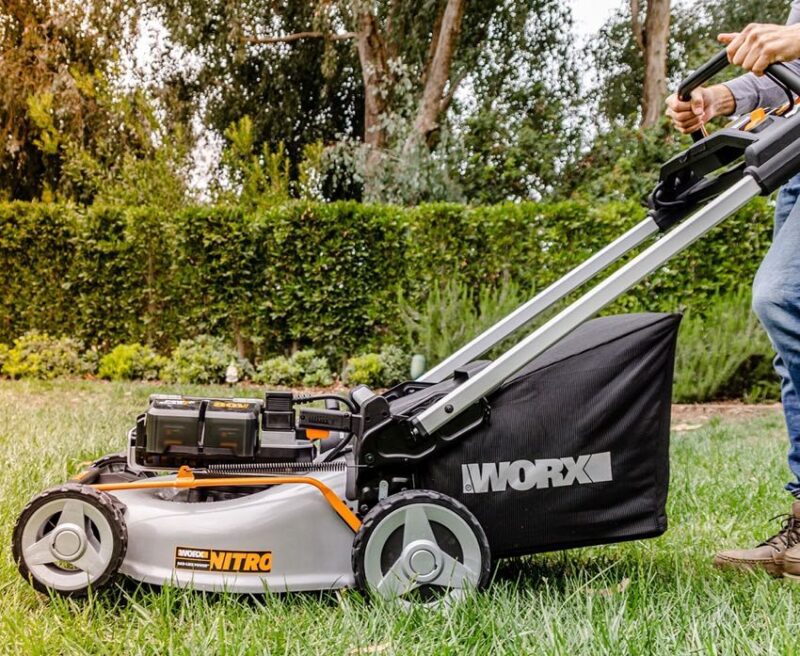 Additional Features
Brushless motor
Steel deck
Mulch/bag/side discharge
Rear-wheel drive
4-port simultaneous 5-hour charger
2-bushel grass bag
LED light
Onboard charge level indicator
Worx Nitro 80V Self-Propelled 21-inch Lawnmower Price
The Worx Nitro 80V Self-Propelled 21 in. Lawnmower (WG761) runs $679.99 as a kit. It includes four 5Ah 20V batteries and a 4-port charger/power supply. Worx provides a five-year limited warranty on the mower.
Worx Nitro 80V Lawnmower Specifications
Model: WG761
Deck: 21-inch steel
Drive: Variable-speed self-propelled rear-wheel
Wheels (front/rear): 8 in./10 in.
Cut height: 1 to 4 in.
Max (recommended) lawn: 1/2 acre
Weight: 77.2 lbs.
Includes: 4x 20V 5.0Ah batteries, 4-port charger, rear grass bag, side-discharge chute
Price: $679 (kit w/4x 5Ah 20V batteries and 4-port charger)