DeWalt is a name that rings synonymous with tools. For the longest time, this meant construction gear. However, today they're also a growing name in outdoor power equipment. That includes everything from hedge trimmers and pole saws to pressure washers and leaf blowers. And speaking of leaf blowers, we think you ought to know about the DeWalt 20V Brushless Blower (DCBL722).
So, let's dive into this handheld model and see what it has to offer.
Want to explore other models? Check out our Best Leaf Blower Reviews list!
DeWalt 20V Brushless Blower Performance Features
Starting off with the heart of this tool, the DCBL722 runs on a brushless motor and a 20V MAX (5.0Ah) battery. In terms of power, this duo puts out 450 CFM and 125 mph of blowing force. That's not bad, considering that we typically like to see at least 400 CFM.
Taken together, the DeWalt 20V brushless blower's output should be ample force for a series of jobs. For example, we think the DCBL722 will perform best if you want to remove leaves from your yard, tackle grass clippings after a cutting, or tidy up garden mulch.
Specs
Model: DeWalt DCBL722
Battery: 20V Max (5.0Ah)
Blowing force: 125 mph, 450 CFM
Weight: 6.7 lbs
In terms of noise level, the DeWalt 20V brushless blower's 62-decibel rating is impressive. While it's not the quietest around (see Ryobi's RY404170 in our Best Backpack Leaf Blower Reviews list), it's definitely a competitor.
Indeed, according to DeWalt, it's quiet enough to use both indoors and outside. And, we believe it, as we've run plenty of cordless handhelds inside the shop and even tested a few in the house.
DeWalt 20V Brushless Blower Design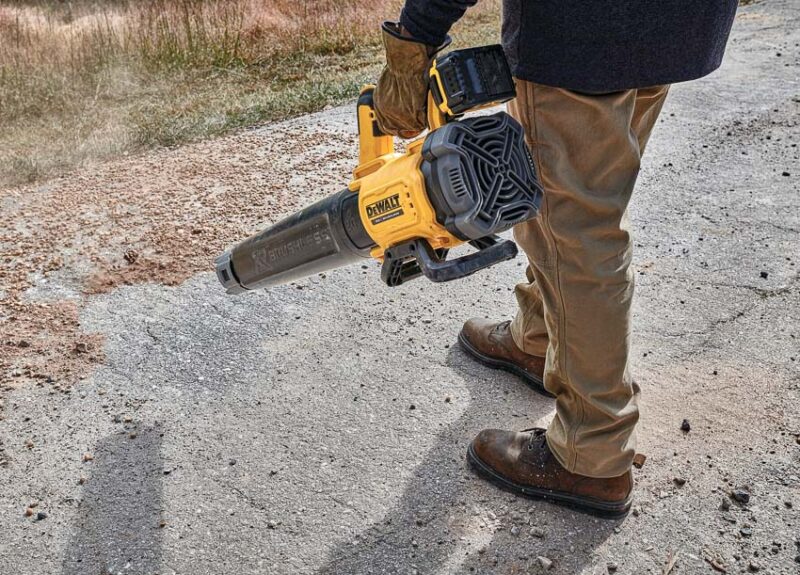 The main design element that we're especially happy to see is an axial fan.
Simply put, an axial blower uses a fan that rotates on an axis. Other blowers use a centrifugal fan, which has enclosed blades that rotate on a hub. The latter generate higher pressure than their axial counterparts, and, therefore, give you higher speeds.
However, we prefer axial fans in handheld models like the DeWalt 20V brushless blower. That's because they generate a high volume of airflow, which has less speed but more blowing coverage. They also tend to be more power-efficient.
DeWalt DCBL722 Price
You can buy the DeWalt 20V Blower as a kit for $219 (DCBL722P1) or bare for $139 (DCBL722B).