Springtime often catches us off-guard every year. We once again have to move leaves, grass clippings, and general detritus from lawns, driveways, and sidewalks. What? You don't want to rake and sweep all day long for a week? Neither do we. Joining our aversion to unnecessary work with our love of power tools causes us to quickly reach for a blower. As with most tool categories, there's a smorgasbord of choices: corded, cordless, gas-powered, backpack, handheld—even wheeled. Some have four-stroke engines, some are 18V or 36V or 56V…Then you have the blower MPH vs CFM issue. We aim to answer those questions by starting with the issue of gas blowers vs battery powered blowers.
Be sure to check out our Best Backpack Leaf Blower Reviews list!
What Matters Most?
Gas-powered and battery-powered blowers greatly outrank corded electric models, so we'll focus there. Still, blower principles remain the same, so don't abandon ship now if corded or wheeled models interest you. You should consider several things before deciding on a gas vs battery leaf blower.
We start with some basic questions. That helps you determine the actual power, speed, and airflow you need to get the work done. Just because a product has the highest speed or CFM possible, doesn't mean you need all that power for your 1/8-acre lot. It may, however, mean a world of difference to someone clocking several hours a day with a backpack blower.
Gas vs Battery for Commercial Work
The type and volume of debris you regularly need to move help determine, in large part, the blower power needed. If you have dry leaves and clippings lightly scattered on concrete you need less power than if you consistently have piles of damp debris.
Although battery technology continues to gain on petrol products in the area of performance, in general, gas engines still win the power contest hands-down.
For those working 8 hours a day on a landscaping crew, the power of a backpack battery has yet to be matched. That said, most backpack blower users probably don't need quite as much power as the top performers deliver. Still, you get more done with greater CFM and airspeed.
Verdict: Gas backpack blowers produce, by far, the most blowing power (measured in Newtons of Force). For commercial applications, battery power has yet to compete on this level.
The Exception to the Rule
If you don't find yourself blowing difficult loads, or you live in a climate that doesn't produce much moisture, a battery-powered leaf blower might be a great alternative that can save you money over the long term. You also need to be aware of the many laws coming down on landscaping tools that seem to be targeting loud leaf blowers in particular.
Gas vs Battery Leaf Blower Weight
Those gas engines may pack more power, but they come with another potential trade-off. Some are heavier than battery-powered blowers. Yes, those lithium-ion batteries are dense and heavy themselves. However, they still don't tip the scales as much as that two- or four-stroke engine, fan, throttle, and accompanying parts.
The exception to this comes with some Pro manufacturers who offer heavier-duty commercial systems with high-capacity battery backpacks. Some of those products actually tip the scales even against the top-performing gas leaf blowers.
Let's make some quick comparisons to get an idea of what we're looking at:
Gas Leaf Blower Weights
Stihl BR 800 C-E Magnum backpack blower – 25.8 lbs
ECHO PB-770 backpack blower – 24.5 lbs.
Stihl BR 600 backpack blower – 21.6 lbs.
ECHO PB-255LN handheld blower – 10.2 lbs.
Husqvarna 525BX handheld blower – 9.48 lbs.
Battery-Powered Leaf Blower Weights
Husqvarna 550iBTX backpack blower – 34.6 lbs. (w/battery)
EGO LBX6000 and BAX1501 backpack battery – 25.9 lbs.
Stihl BGA 200 with AR 2000 backpack blower – 24.5 lbs.
EGO LB6000 backpack blower – 18.8 lbs. (w/battery)
EGO LB6500 handheld blower – 9.8 lbs. (w/battery)
ECHO CPLB-58V handheld leaf blower – 8.5 lbs. (w/battery)
Husqvarna 320iB handheld leaf blower – 8.15 lbs. (w/battery)
In general, you can find lighter options for handheld battery-powered leaf blowers vs gas blowers. For backpack models, the battery-powered models stay more similar in weight due to the presence of larger backpack batteries. Typically, however, this weight stays closer to the body and ergonomics are much improved.
Gas vs Battery Leaf Blower Maintenance
If you've been using battery-powered tools for a while, you recognize the many things needed to keep them running. You also understand having to keep a small container of gas around for refills. You know about having to mix the proper ratio of gas and oil for your two-cycle products. Fiddling with the pull string, priming bubble, and choke (especially after winter) becomes second nature. And cleaning spark plugs and rebuilding carburetors will also take some additional time out of your schedule.
Of course, we've done tons of good work with gas-powered tools, but you still need to contend with these issues when using them.
So, what about the maintenance of battery-powered blowers?
Well, remember to charge the battery. It's cleaner—and fewer parts have to work correctly after a period of disuse. They also don't generate the heat that gas-powered blowers generate.
The potential downside? Parts and support. Many battery-powered tools have very few parts available—particularly on a local dealer level. Instead, you often have to send the tool in, losing the use of it for several weeks at a time. Even warranty coverage tends to be a tad difficult depending upon where you bought the tool. Pros definitely need to keep this in mind when making the switch to battery or setting up a dedicated battery-only trailer.
Noise Levels (dBA)
It might not make or break your buying decision, but the decibels produced while the work is done are no small matter both for your ears and your neighbors' ears. Battery-powered blowers are quieter than their gas counterparts.
For this reason, many municipalities like Washington D.C. have managed to completely ban gas-powered leaf blowers. Similar legislative moves are in process all over the country.
Until they can't, Pros typically still choose gas-powered blowers. Some Pros, however, have begun supplementing their gas tools with battery-powered ones in those neighborhoods with noise restrictions.
In any event, we don't recommend using either one at 7 a.m. on Sunday morning!
What Really Matters: CFM and MPH
All of the above considerations are important, but we really need to know if the blower can get the job done. To determine that, we look at two inextricable metrics: Cubic feet per minute (CFM) and miles per hour (MPH). That represents volume and speed, respectively.
Some smaller blowers showcase their MPH as measured at the end of the nozzle while some larger blowers advertise their CFM. Although we consider CFM more important, having higher numbers in both areas lets you accomplish more work.
Conceptualize it like this: If you could hook a powerful air compressor up to a drinking straw such that the air was coming out of the drinking straw at 500 MPH, would it be an efficient leaf blower? No, because the volume of air is so low. Conversely, if you set an industrial fan 5 feet in diameter at the edge of your property and fired it up, would it be an efficient leaf blower? No again. You'd produce volume but not necessarily speed.
All of that just to say higher CFM moves more debris while higher MPH moves heavier, wet debris. Consider both metrics and compare them to the work you'll be doing. We also measure Newtons—which equates to the actual force (power) of the blower. Regardless of whether a blower emphasizes speed or volume, Newton force reveals the true blowing force.
How Good Are Battery Powered Blowers?
So let's take a look at some highly-rated blowers and how they have increased in power and speed over the years.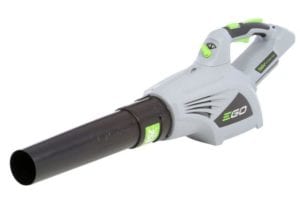 2014 EGO LB4800 – 480 CFM
EGO, available at Acme Tools, Lowe's, and Amazon, began its battery-powered blower offering back in 2014 with the LB4800 blower, producing 480 CFM and 92 MPH. This blower has a noise rating of 64 dB and weighs just 5 pounds (without the battery).
2016 EGO LB5300 – 530 CFM
The next-generation EGO LB5300 blower hit the market in 2016. It moved up to 530 CFM and 110 MPH while keeping the noise level down and weighing just 7.4 pounds with the 2.5 amp-hour battery attached. This blower sells bare for $149.
2019 EGO LB5800 – 580 CFM
Compare that to the battery-powered LB5800 which arrived next. Available online or in-store, it boasts 580 CFM and 168 MPH. It also carries a noise rating of just 65 dB and a weight of just 9.6 pounds. The price stays low at $149.91 for the bare tool.
2020 EGO LB6500 – 650 CFM
The EGO LB6500 blower marks the latest and greatest to arrive. Pushing an astounding 20.8 Newtons in our ANSI-based testing rig, this blower outdid every other handheld model we had tested. If you need the best handheld blower battery can offer, this model runs about $299 as a kit with a 5Ah battery.
What About Battery Backpack Blowers?
2016 EGO LB6003 – 600 CFM
For even more power and a big boost in run time over either of the handheld models, we got the EGO battery-powered backpack blower (model LB6004). This system produces 600 CFM and 145 MPH. Noise peaks around 64 dBA, and the entire tool weighs just 13 pounds. The price comes in at $449 for the kit with a 5Ah battery.
2019 EGO LBX6000 – 600 CFM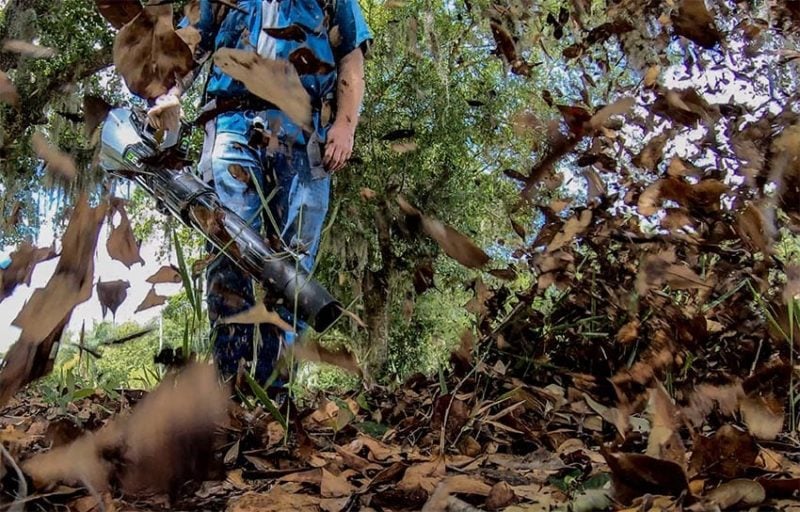 For Pros, EGO also released the 600CFM LBX6000 Commercial cordless blower. It's designed to work with the EGO BAX1501 backpack battery. You can get the bare tool for $429.
Gas-Powered Backpack Blowers Still More Powerful
When considering gas blowers versus battery-powered blowers, backpack designs remain the "Holy Grail". Although the EGO backpack blower might rival some commercial blowers, we'd be remiss if we didn't feature some excellent gas-powered options. Check out these options from Stihl and Husqvarna.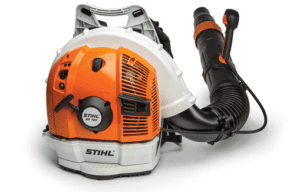 The BR 700 remains Stihl's most powerful commercial gas-powered backpack blower. It packs 912 CFM and 197 MPH, has a noise rating of 75 dB, and weighs 23.4 pounds. The price? About $600 .
One of Husqvarna's most powerful commercial gas-powered backpack blowers, the 580BTS Mark II, might blow you away with its 941 CFM and 206.2 MPH power. It has a noise rating of 112 dB and weighs 26.3 pounds. The price point is $639.99. These are not "homeowner" models unless you live on considerable acreage or need to move a lot of leaves.
Other Considerations
You still can't beat the run-time of gas—unless you carry a lot of charged batteries. For this reason, Pros are likely to stick with gas-powered blowers for their primary load-outs.
When comparing gas blowers versus battery powered blowers, you rarely see slanted nozzles on the former. Nozzle shape influences the tip speed (MPH) so for some applications, you can consider changing the tip shape to accommodate the work. Just don't fall for gimmicks where battery models achieve higher speeds by thinning out the tip of the tool.
Also, be sure to estimate the average length of time you'll use the blower. Not only do you need to consider how comfortable it is to use, but it could also help you determine if a gas-powered blower is best or if you can get the job done on one battery charge or less. Many new models run continuously in excess of 20-30 minutes.
The Answer (to Gas Blowers Versus Battery Powered Blowers) is Blowin' in the Wind
When comparing gas blowers versus battery powered blowers, seriously consider the scope of work. Specifically, look at CFM and MPH, then decide what type of blower power you need to produce. We hope you've benefited from this guide. If you have more ideas, leave us a comment below!