Generac Enters Portable Power Station Market With Two Lithium-Ion Models
Battery-powered generators, or to be more technical, lithium-ion inverters, provide a great way to get portable power. They're also safe for indoor use, which holds an advantage over gas generators. Plenty of brands have stepped into the inverter-manufacturing game, and now Generac enters the market. The company has a reputation for emergency and portable power, so we wanted to know what the Generac GB1000 portable power station had in store.
Using the Generac GB1000 Portable Power Station
Capacity and Output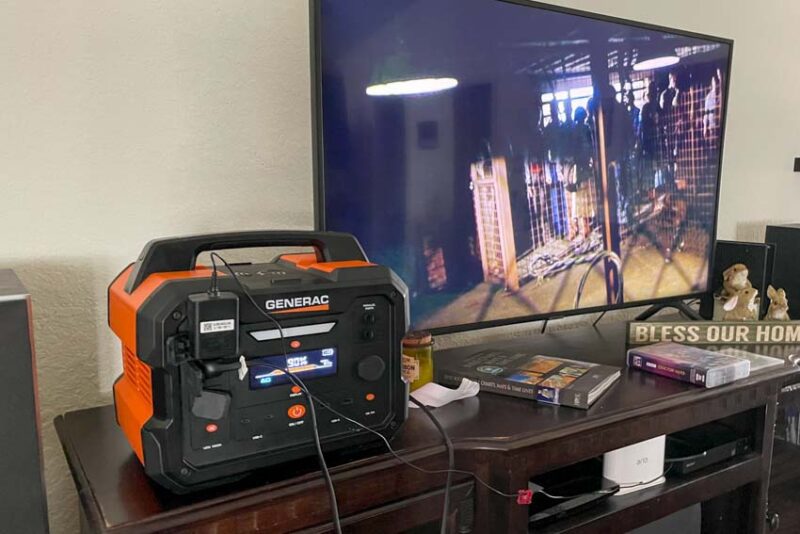 Generac gives you the choice between two models: the GB1000 and the GB2000. The former has a 1086Wh capacity and the latter holds 1206Wh. Regardless of which model you choose, you'll get up to 1600 continuous running watts and 3200 starting watts.
So… what can you run?
Well, there's a limit of 13 total amps. You can run a wide variety of power tools, home appliances, and more. Some examples include:
Small angle grinders
Coffeemaker
TV and Blu-ray player
Refrigerator or freezer
Portable fans
Lights
Phone/tablet/laptop charging
This inverter also puts out "clean" energy, so you don't have to worry about frying your sensitive electronics when you want to run/charge them. Keep in mind that the higher the energy requirements of what you're using, the quicker the inverter's battery will drain. Luckily, it's not a guessing game, since Generac included a reverse-contrast display that gives you information like the active energy output and the estimated runtime remaining.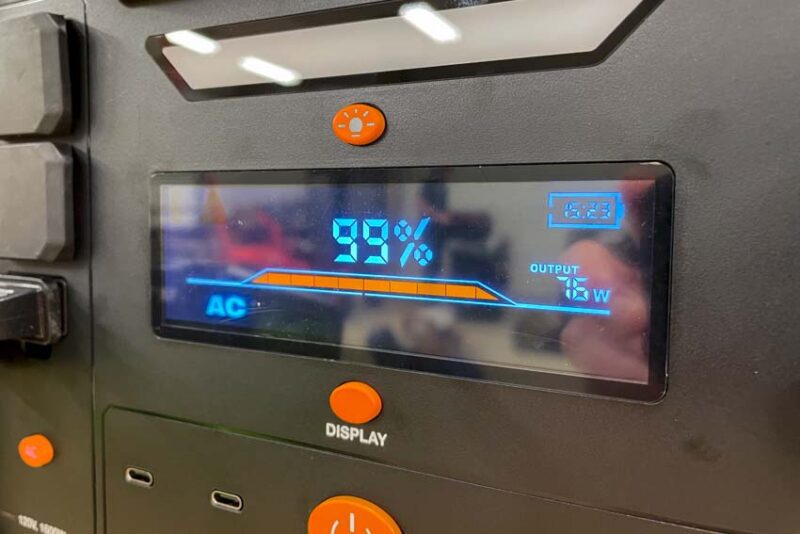 Hurricane Ian blew through Florida recently, which presented the perfect opportunity to test our GB1000 while our power was out. It ran the TV and Blu-ray player with a combined draw of just less than 100 watts and gave us over 12 hours of estimated runtime. It kept our refrigerator running for around 6 hours. Using the larger GB2000 model would have roughly doubled that time.
Generac also included the option for parallel connection between units. You can hook two Generac portable power stations together for a higher capacity and more energy output.
Outlets and Ports
Generac's portable power station includes a generous offering of outlets and charging ports. You have three 120V outlets, two USB-A ports, two USB-C ports, and a 12V car outlet. It also has a 15-watt wireless charger on the top, which is a feature that we don't usually see on most battery-powered generators.
As long as you stay under 1600 continuous watts, you can use as many of these as you want. Remember that the more power you draw, the faster you run through the battery, so pick your battles wisely if you don't have another nearby power source.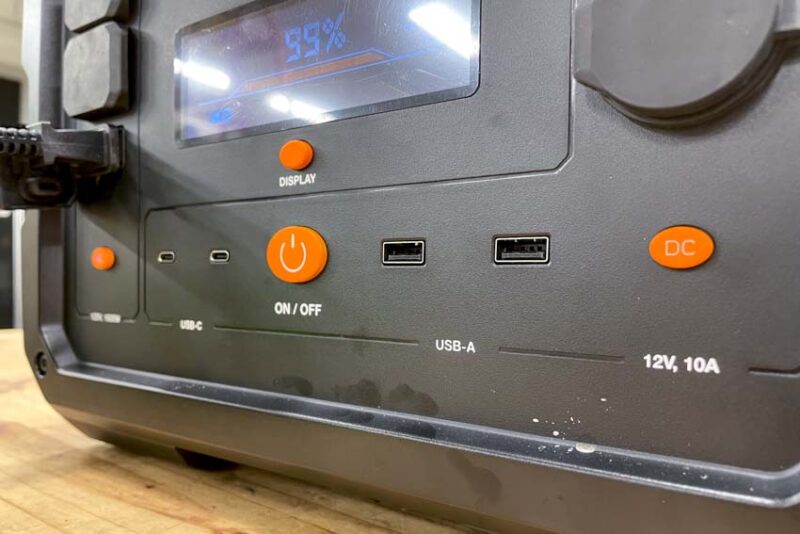 Before you use any of the ports, you need to power the inverter on. Press and hold the on/off button until you hear a quiet beep and you see the display screen light up. At that point, the unit starts generating power and all of the USB ports become active. The 120V outlets and 12V DC port require you to push the corresponding button to activate them. The wireless charger is connected to the DC switch.
Charging Options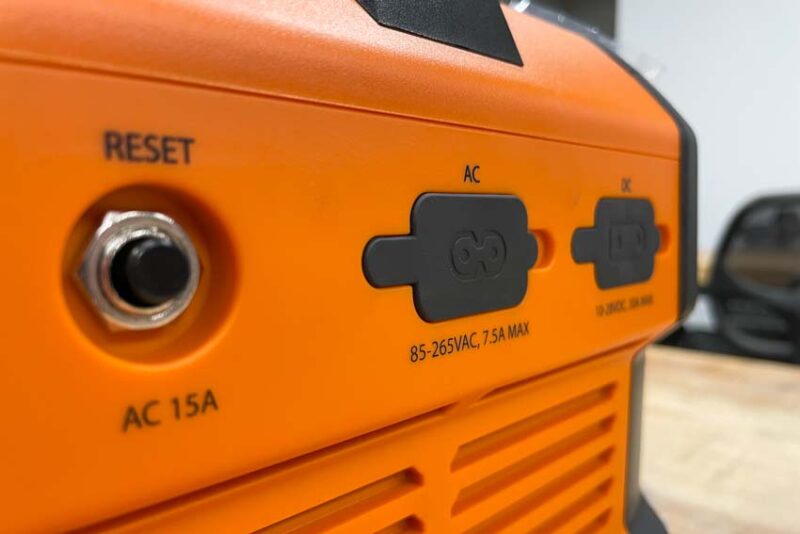 There are a couple of different ways to charge the power station. First, and most obviously, you can plug it into the wall to recharge it. If you're wondering about off-grid power, it includes a connector for solar panels. You also get a 12V vehicle charging cord, which is something that we don't usually see.
The built-in MPPT controller ensures quick recharging. When you charge the unit via a wall plug, you can get an 80% charge in just over two hours on the GB1000. Once it reaches the 80% mark, it slows the charging speed down to avoid damage to the lithium-ion battery cells.
If you're in dire straits and need the fastest charging speed possible, it's possible to combine power sources. For example, you could run both 120V AC and solar. But keep in mind that charging too quickly can reduce the battery life overall. For best long-term results, stick with under 540 watts on the GB1000 or less than 1000 watts on the GB2000.
LED Light
The unit includes a 2-setting LED light on the front to help with visibility when it's dark. Don't worry about energy consumption with this light—it's a low draw on your battery and won't have an impactful effect on your overall runtime.
Generac Portable Power Station Models
The only real differences between the two Generac power station models are some variations in size and weight. Here's a quick chart comparing the units:
Generac GB1000
Generac GB2000
Total Capacity
1086Wh
2106Wh
Running Watts
1600 watts
1600 watts
Starting Watts
3200 watts
3200 watts
Ports
3 x 120V AC
2 x USB-A
2 x USB-C
12V car port
Wireless charging pad
3 x 120V AC
2 x USB-A
2 x USB-C
12V car port
Wireless charging pad
Charging
120V AC or 10 – 28V DC
120V AC or 10 – 28V DC
Solar Compatible
Yes
Yes
Rated Life*
800 cycles
1000 cycles
Weight
29 pounds
43 pounds
Dimensions (LWH)
14.1 x 10.2 x 12.0 in
16.8 x 10.4 x 15.1 in
Retail Price
$999
$1799
*Rated life based on the number of charge cycles before the battery is at 80% of its original capacity.
Optional Accessories (Sold Separately)
200W Charging Enhancer
450W Charging Enhancer
30A Parallel Kit
100W Solar Panels
Generac GB1000 Portable Power Station Price
The Generac GB1000 retails for $999 and the GB2000 will run you $1799. The company backs these power stations with a 3-year warranty. When you compare these units to the popular Jackery 1000 , you'll notice how Generac offers more features and more power, and still comes in $100 less.
The Bottom Line
These Generac power stations offer excellent power output, include a variety of charging ports and outlets, and include features we have yet to see from other brands. Plus, you're not paying a premium just to have the Generac name and they don't upcharge for the many features they added. If clean portable power is on your radar, we recommend checking out the Generac GB1000 and GB2000.