Green Machine Carbon Fiber String Trimmer
Having used several of the latest Green Machine battery-powered lawn care products, we decided to look at their 16-inch carbon fiber string trimmer. Having touched nearly every model on the market, we concerned ourselves with finding where it stood amongst the myriad of consumer string trimmers available today. To know that, we had to test power, runtime, and vibration.
Pros
Lightweight design—under 10 pounds with battery

Powerful cutting
Carbon fiber shaft
16-inch cut diameter
Cons
A bit more vibration than we like
Green Machine 16″ Carbon Fiber String Trimmer Design Features
The carbon fiber shaft really stands out on this Green Machine 62V string trimmer. While it helps absorb vibration from he trimmer head, it also lowers the tool's overall weight. In fact, the bare tool weighs just 6.8 pounds. Add in the 2.5Ah 62V battery pack and you bring that up to just 9.8 pounds. That's one of the lighter models we've tested.
Green Machine put the brushless motor down at the trimmer head. That shifts weight away from the battery and balances out the tool well. When you have both the battery and motor at the rear (as you find with all accessory-ready powerhead models) it often makes the tool more difficult to control.
We also like that you can adjust the front handle forward or back without the need for a tool—just rotate the knob to loosen and tighten it. If you share this tool with other users, this type of feature really helps.
Changing Out Trimmer Line
Manufacturers differ in how they approach changing out the line or string. Green Machine does a pretty solid job and makes the process fairly painless. To change the line, you simply run up to 13 feet of line through the eyelets to the center. You then turn the bump head counterclockwise to wind it in. There's no need to take apart the head and manually wind the line.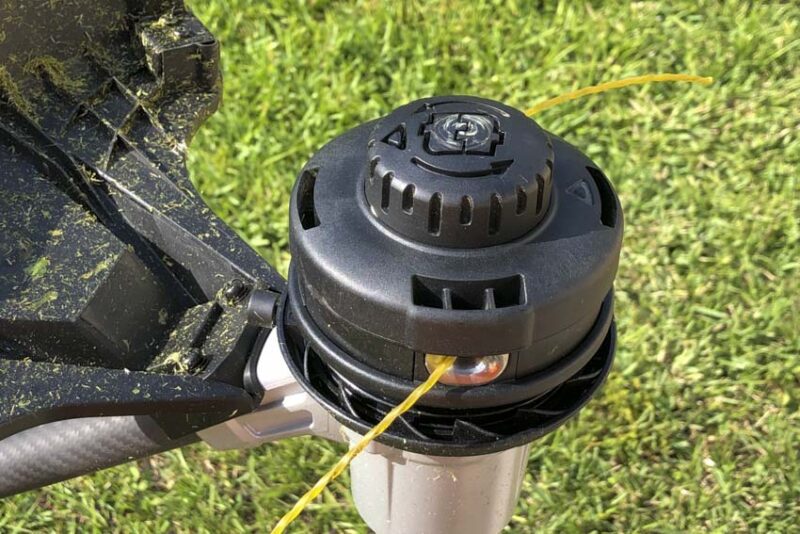 The Green Machine 62V carbon-fiber string trimmer supports 0.063 to 0.095-in diameter line. Keep in mind that a thicker line takes up more space. We recommend loading around 10 feet of 0.095-inch for best performance and results.
Additional Highlights
No gas engine noise, emissions, or hassles
62V battery is compatible with all Green Machine 62V tools
Green Machine 16-inch Carbon Fiber String Trimmer Performance
Green Machine powers its 62V string trimmer with a brushless motor. With the included ~0.090-inch line, it tops out at 6300 RPM in High speed. You can switch to Low gear if you want to extend your runtime or you end up trimming dry grass that doesn't require the faster speed. A variable-speed trigger gives you even more options for working the way you want.
If you're right-handed, it's easy to press the trigger safety with your thumb and get started. Lefties may find it slightly awkward but not difficult to engage.
Green Machine also lets you choose between 14 and 16 inches of cutting diameter. As with all string trimers with this feature, you flip around the integrated cutter on the guard to alter the diameter. It comes premounted in the 16-inch position.
We liked the ease of use provided by the bump head. It works well and fed out line as expected. Be sure you have the trimmer at maximum speed when bump-feeding the line for best results.
Testing the Green Machine 62V 16-inch String Trimmer
We did most of our testing at high speed, and the Green Machine carbon fiber string trimmer impressed us with its ability to quickly trim down even thicker grasses. The 6300 RPM falls near the top of the range of models we've tested. It lets you really clear grass quickly. That also makes very efficient use of the battery while you work.
While we saw great performance once we loaded 0.095-inch line, we did notice some bending with the stock line. This only occurred on thicker patches of St. Augustine and reedy or wet grasses in our ditches. We recommend Echo Black Diamond trimer line as it does a great job and doesn't cost a lot.
We did notice more vibration than we liked to experience when trimming. While the shaft likely absorbs a bunch of it, we'd like to see even less. It's not a deal-breaker by any means but something that could be improved in the next model.
We tested no-load runtime by putting the trimmer in High gear with the included ~0.090-inch line. We used the kitted 2.5Ah 62V battery. That let us run the trimmer for nearly 20.5 minutes. In Low, after recharging the battery, the carbon fiber string trimmer ran for over 33 minutes. Based on our estimates, that amount of trigger time should let you easily trim lawns up to 1/2 acre.
Green Machine 16-inch Carbon Fiber String Trimmer Price
You can find Green Machine products exclusively on Home Depot's website. The carbon fiber string trimmer runs $188 and comes with a 2.5Ah battery and charger.
If you'd like to save a little money, you can get the same trimmer with an aluminum shaft instead for $157.
No matter which Green Machine trimmer you buy, it comes with a 5-year warranty. Green Machine batteries also have 3-years of coverage.
The Bottom Line
We compared the Green Machine carbon fiber string trimmer to the best battery-powered weed eaters we've tested. It definitely falls in the top tier of residential models. It cuts strong and gives you lots of runtime while keeping the weight down. We'd like to see less vibration at the rear handle, but we like this tool overall and find it an excellent choice for homeowners.
Specifications
Model: Green Machine GMST6200-C
Power: 62V battery
Cutting swath: 14 or 16 inches
Line diameter: 0.063 to 0.095-inch
Max line length: 13 feet
Weight: 6.8 lbs bare, 9.8 with 2.5Ah battery
Length: 70.2 inches
Price: $188 kit with 2.5Ah battery