Greenworks Targets Professionals Who Need An Electric Pressure Washer
If you're used to using gas engines in your outdoor power equipment, you may be in for a change. With places like California banning lawn care equipment, and many areas sure to follow suit in the coming years, it may be time to start looking for alternatives. Most Pro-level pressure washers tend to run on gas, but Greenworks has entered the game with the 2500 PSI industrial electric pressure washer to change the way we think about professional OPE.
Greenworks 2500 PSI Industrial Electric Pressure Washer Performance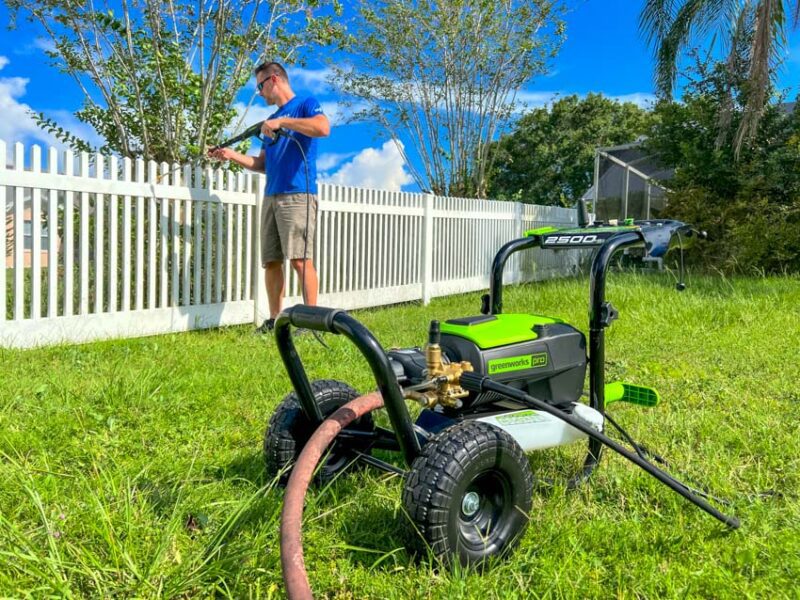 Greenworks is already towards the top of the performance scale when talking about water pressure on electric pressure washers. In total, it produces up to 2500 PSI with 1.2 GPM of water flow thanks to its brushless motor and pump. If you don't need quite as much pressure, it can deliver 2.1 GPM at 100 PSI. Additionally, you can be confident that you're actually cleaning on these levels since these values are PWMA-certified.
But wait… Doesn't Greenworks already have a 3000 PSI electric pressure washer? Wouldn't that be more appealing for commercial work? We dug deeper to find out the difference between these models that makes the 2500 PSI model more suitable for Pro use.
For starters, the 2500 PSI model uses a 14-amp brushless motor. You'll find this motor most commonly in cordless tools to help achieve higher power and provide fewer maintenance concerns. It's no surprise that Greenworks decided to incorporate this motor type in this pressure washer since Pros tend to put far more hours on their machines than homeowners.
There's also the pump, which is a huge giveaway when trying to differentiate the targeted audience of a pressure washer. Homeowner-targeted models usually use an axial pump since they're less expensive and can provide a long life if used less regularly. For professional models, a higher-quality triplex pump supplies a longer service life even with the demanding hours commercial pressure washers are designed to endure. In fact, the Greenworks 2500 PSI pressure washer's triplex pump is rated for 1000 hours of use.
Greenworks 2500 PSI Industrial Electric Pressure Washer Design
Physical Design
This pressure washer's design is relatively simple, but yields effective results. You have the motor, pump, and detergent reservoir, all surrounded by a steel tube frame that gives you easy access to the areas you need. The front bumper doubles as a lifting point when you need to load it onto a truck or trailer. You can also stand it up vertically to take up a smaller footprint in storage or travel.
Hose and Wand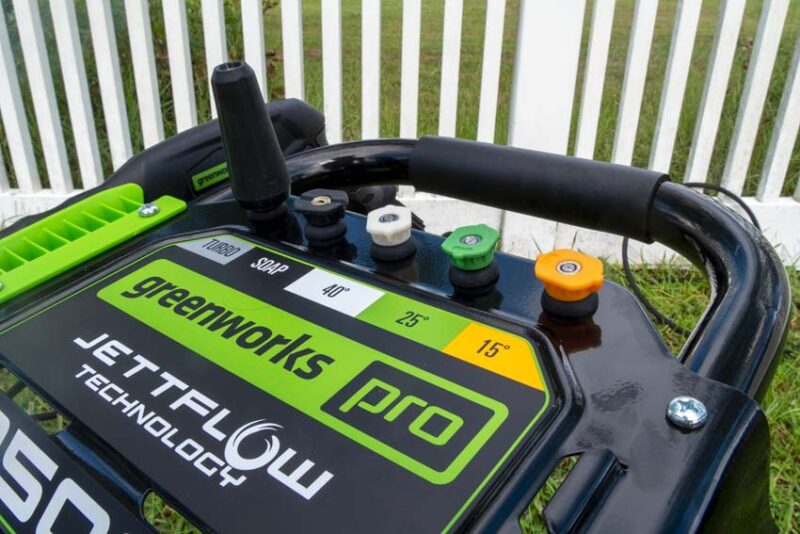 With this pressure washer, you get the standard nozzle set that includes 15°, 25°, 40°, Turbo, and Soap nozzles. The wand itself is 36 inches in length and the nozzles attach to it via a quick-connect interface. There is also onboard storage for each nozzle attachment.
From there, the wand is connected to the pressure washer with a 25-foot steel braided rubber hose. This type of hose gives professionals more durability than a standard pressure washer hose.
Detergent Tank
Sometimes you need a little extra cleaning power, which is where detergent comes in. This model has a generous 1-gallon detergent tank, which can fit an entire 1-gallon bottle of the detergent of your choice.
Additional Highlights
Simple push-button starting
35-foot cord with in-line GFCI
No gas engine noise, emissions, or maintenance
Greenworks 2500 PSI Industrial Electric Pressure Washer Price
Any tool designed for professional use will have a premium, which is why the price point on this pressure washer is a little higher. It retails for $699.99, which Greenworks backs with a 3-year warranty. The best place to find it in stock right now is direct from Greenworks, but it's also available on several online retailers.
The Bottom Line
Gas-powered tools and OPE are slowly being phased out in many areas, for better or worse. Greenworks is getting ahead of the game with the introduction of the 2500 PSI professional electric pressure washer. Its performance and durability offer ease of use at any professional or commercial capacity.
Specifications
Model: Greenworks 5110102LUTV
Motor: Brushless
Max PSI: 2500 PSI (1.2 GPM)
Max Water Flow: 2.1 GPM (@ 100 PSI)
Wheels: 10-inch
Cord Length: 35 feet
Hose Length: 25 feet