No doubt, there's tremendous competition within the realm of cordless self-propelled lawn mowers. As manufacturers improve the battery-powered platform, a few things are happening. One, you have a broader spectrum of competing features across the market landscape. Second, consumers' standards are becoming more discerning, launching a heated performance race between the industry's many brands. That said, our goal is to help you navigate the sea of available mowers so that you can narrow your search and choose the tool that's right for your needs. We think that the 21-inch Kobalt 80V self propelled mower (KMP 6080-06) is a model you should know about.
Kobalt 80V Self Propelled Mower Features
In our many encounters with Kobalt tools, we've mainly had good experiences. Overall, their battery-powered gear is solid both in performance and design. Most recently, we reviewed several tools from their 40V Max line, and they lived up to the Kobalt name.
The same is true with the KMP 6080-06. Indeed, the 80V line is where Kobalt's performance peaks–this self propelled mower included.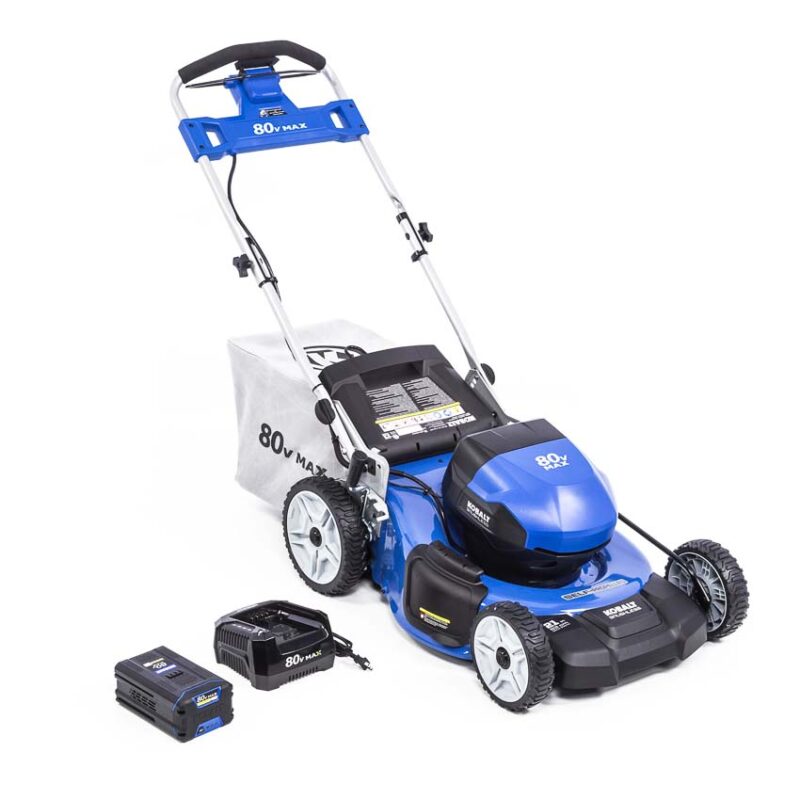 Specs
Model: Kobalt KMP 6080-06
Battery: 80V (6.0Ah)
Deck size: 21 in
Cutting height: 1.38 to 3.75 in
Weight: 60 lbs
We like several things about this model, starting with the brushless motor, which you always want to see on cordless tools. Specifically, this design provides enhanced torque (and, in this case, excellent cutting power), as well as quieter operation and longer runtimes.
On that note, we're also impressed with this mower's battery performance. In particular, it makes fairly efficient use of its 80V Max (6.0Ah) pack, running up to 60 minutes on a single charge. That's a respectable runtime, especially when you combine it with self propelled capability.
Moreover, the KMP 6080-06 should cover up to an acre of property, according to Kobalt.
Kobalt 80V Self Propelled Mower Design
Kobalt geared the KMP 6080-06's design largely towards convenience, flexibility, and durability.
For example, you can use the 80V Max battery across the board with all of Kobalt's compatible tools.
Furthermore, this model has a 7-position, single-lever cutting height adjustment. And finally, it's always nice to see a steel deck on a mower.
If there's one thing we could change, it would be the rear-wheel drive system. Particularly if you have an uneven lawn, front-wheel drive tends to offer better traction. This, of course, requires less pushing when mowing uphill.
Kobalt 80V Self Propelled Mower Price
The KMP 6080-06 retails as a kit for $699.99 and comes with an 80V Max (6.0A) battery and charger. Additionally, Kobalt backs this tool with a 5-year limited warranty.