A portable water pump is a tool that people rarely think to have on hand ahead of time. Yet, when the need arises, they wish they did. Indeed, there are numerous applications for a model like Ryobi's 18V Water Transfer Pump (P3020). Whether you've got a backyard pond, hot tub, or pool cover that requires draining, or, perhaps, standing water on your lawn or near your foundation, this cordless solution may be the one for you.
Let's take a look at what the P3020 can do so that you can decide for yourself.
Ryobi Water Transfer Pump Features
The P3020 runs on a brushed motor and a Ryobi 18V ONE+ (4.0Ah) battery. Together, they generate a 1/6-horsepower output and, ultimately, a rather impressive flow rate.
Specs
Model: Ryobi P3020
Battery: 18V (4.0Ah)
Max HP: 1/6
Discharge flow (0 ft): 20 GPM
Discharge flow (10 ft): 15 GPM
Weight: 7.58 lbs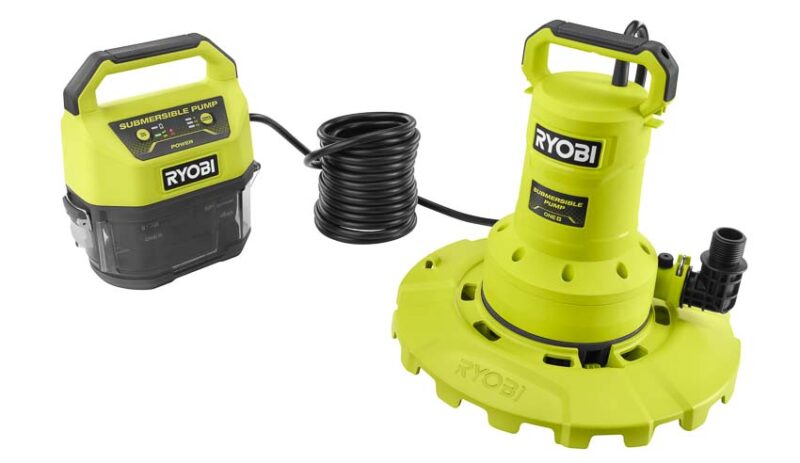 Specifically, Ryobi tells us that this water transfer pump can move 20 gallons per minute, assuming that you have a perfectly level discharge line. For some context, the average 6-person hot tub holds about 450 gallons. To save you time with the math, the P3020 should empty that in less than 25 minutes.
With a 10-foot incline, you're looking at 15 gallons per minute. In that case, the job will take longer.
Either way, the turn-around isn't bad. However, this is a cordless unit, and runtime is an unavoidable factor. We have a lot of experience with the 18V packs, and, generally speaking, we've been happy with their performance. And while Ryobi hasn't provided runtime specs, what you get out of the battery will depend on how hard you run the pump.
Ryobi Water Transfer Pump Design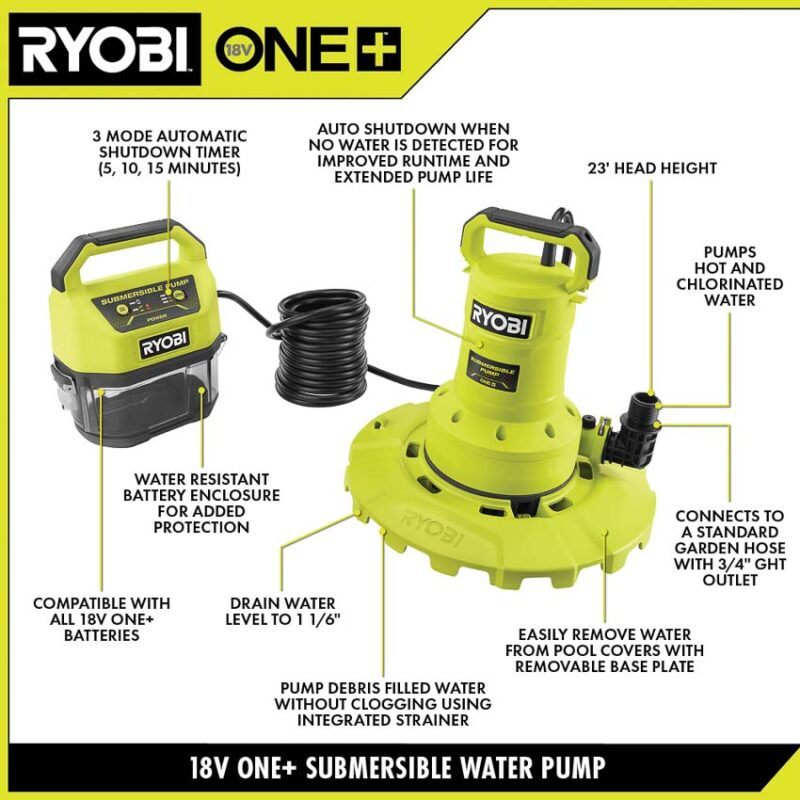 In terms of design, the P3020 has a number of nice touches.
First, we like the auto shutdown features on this model. For example, you have an auto shutdown time that you can set for 5, 10, or 15 minutes. But, most importantly, Ryobi equipped this transfer pump with an auto shutdown sensor that stops the motor when there's no more water. (Running a dry pump is a very bad idea.)
Moreover, the debris strainer is a valuable addition, especially when you're draining a pool cover thick with fallen leaves, etc.
Ryobi P3020 Price
The Ryobi 18V Water Transfer Pump sells as a kit for $199 and comes with a battery and a charger. Ryobi backs this product with a 3-year limited tool and battery warranty.