Stihl Takes Things Up a Notch With Their First AP-Series Self-Propelled Mower
Stihl has been less than bullish in entering the battery-powered lawn mower market. However, the models they've released have been respectable. In 2019, we reviewed their RMA 510 push mower, and the company has since unveiled a successor–the Stihl RMA 510 V Self-Propelled Mower.
Let's take a closer look at the features and specs for this model. It recently took second place in our best battery-powered lawn mower list.
Stihl RMA 510 V Mower Performance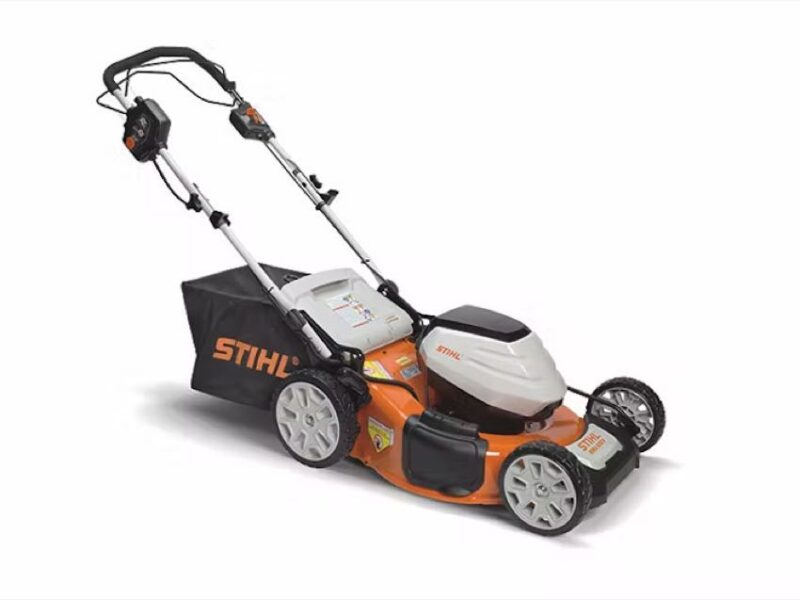 Model: Stihl RMA 510 V
Cutting width: 20″
Blade speed: 3200 RPM
Self-propelled
Mowing speeds: 0.6 MPH to 2.8 MPH
Driving the RMA 510 V is a brushless motor and Stihl's 36V AP 300 battery.
Enhanced for increased water resistance, high-performance output, and extended runtimes, the redesigned battery can work at full speed until it's fully depleted. Interestingly, this is the first time the AP series has seen service on a self-propelled unit.
According to Stihl, a single charge should yield blade speeds of 3,200 RPM and up to 2,583 square feet of cutting, which makes the RMA 510 V ideal for small- to medium-sized lawns.
In terms of self-propulsion, the RMA 510 V features variable speeds from 0.6 MPH to 2.8 MPH, thus accommodating a range of walking paces.
Stihl RMA 510 V Self-Propelled Mower Design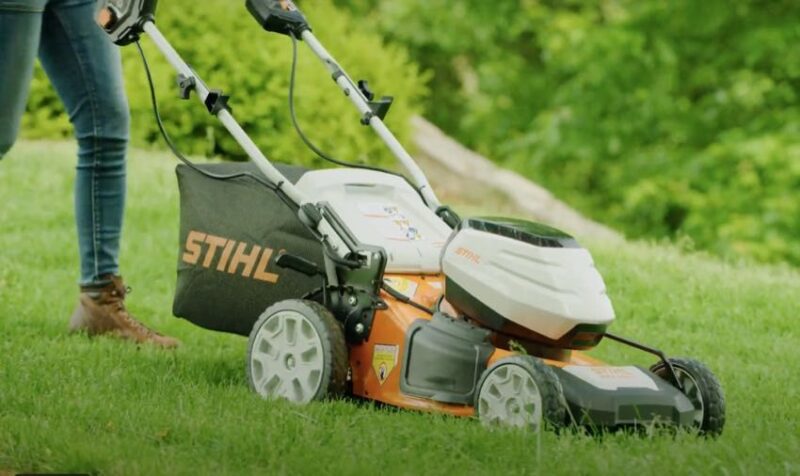 Seven adjustable cutting heights
Three handlebar positions
10″ rear & 8″ front wheels
Weight: 63.9 lbs.
Deck: Steel, 21″
Grass bag capacity: 19.8 gallons
From the design perspective, there are several features to discuss.
First, Stihl has fitted the RMA 510 V Self-Propelled Mower with conveniences like push-button startup.
Once the motor's running, you can begin cutting in 20-inch swaths at heights of 1 to 3.9 inches (adjustable in 7 positions). The operator can also choose between three handlebar positions to increase comfort.
The RMA 510 V furthermore includes a 21-inch steel deck that brings the mower's bare weight to a comparatively light 63.9 lbs. What's more, 10-inch rear and 8-inch front ball-bearing wheels assist in negotiating rough and uneven terrain.
Finally, the mower's foldable handle allows for compact, vertical storage.
Stihl RMA 510 V Lawn Mower Price
The RMA 510 V retails for $499.99 bare and $729.99 as a kit, including an AP 300 battery and AL 300 charger. Stihl backs everything with a 3-year warranty.