Those of you who know about cordless landscaping tools have likely heard of the Greenworks Commercial line of cordless, professional landscaping equipment. This lineup runs off of the company's 82V battery platform. To date, the Greenworks 82V line of cordless tools includes string trimmers, blowers, hedge clippers, a push lawnmower, and a Greenworks 82V chainsaw. They also have a brushless pole saw. Now, the company has stated their intentions to introduce a new tool to the Commercial 82V lineup. Coming in April, the GE 080 Greenworks Commercial Stick Edger will round out the line and target Pro landscapers who could benefit from a quieter lawn tool. More often, Pros find themselves subject to an increasing level of new ordinances. The company's cordless lineup address issues of reducing related noise and/or emissions.
From Greenworks Commercial
"We are excited to continue to build on our award-winning 82-Volt system of outdoor power equipment, with new solutions for landscape and turf management professionals that encounter new noise and emission ordinances every day. Like all of our tools in the 82-Volt system, the new Stick Edger provides users with high performance in an environmentally responsible way.  The GE 080 is up to the toughest of edging tasks, so we're excited to see pros begin putting it to the test this Spring."

-Chris Allen, President of Greenworks North America
Highlights of the New Stick Edger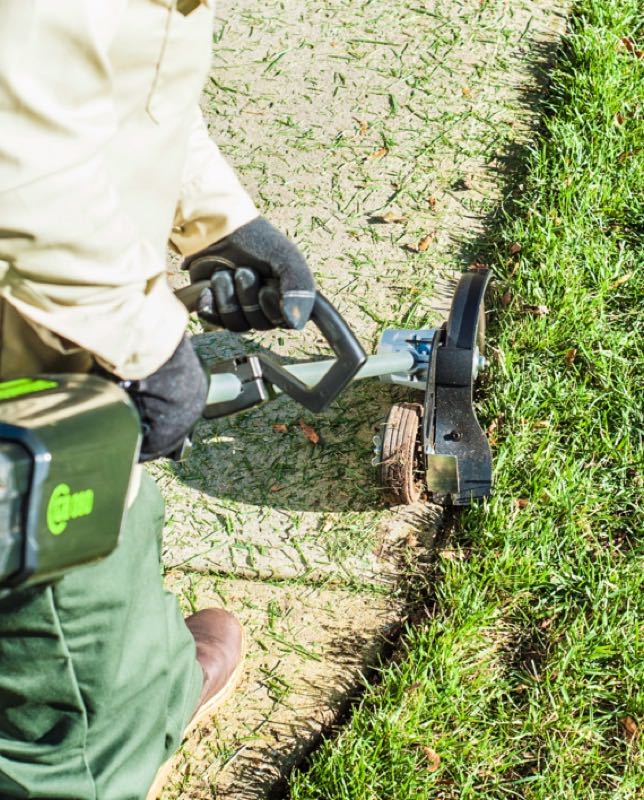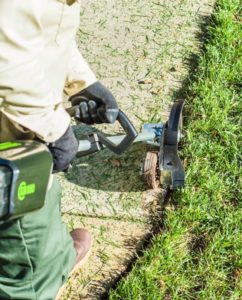 The Greenworks Commercial Stick Edger, like the rest of the tools in this lineup, run off of the brand's 82V lithium-ion battery platform. Greenworks also claims that their battery provides both superior performance and run-times. In addition, since these tools operate on batteries, they provide the Pro an opportunity to get an earlier jump on the day. As anyone who has received strict start-time instructions knows, the reduced noise that comes from battery power offers great benefits. They feature instant, hassle-free start-up and reduced vibrations.
The Greenworks edger (GE 080) uses a direct-drive brushless motor that delivers adequate torque while reducing downtime. There are no motor brushes to wear out or replace, and the motor runs cooler overall compared to brushed alternatives. A variable-speed trigger allows for more precise control over the speed of the 8-inch heat-treated steel blade. Finally, the Greenworks Commercial Stick Edger also features a cast steel blade guard for increased durability.
This edger will run you about $229 for the bare tool. It will also come with the company's 2-year limited powertrain warranty. This is a non-transferable warranty that covers the motor, PCB boards, and gearbox. It also comes with a 1-year battery warranty and 60-day limited warranty on wearable parts. Greenworks plans to make this product available April 15, 2018.
Related Content
82V Greenworks Commercial Stick Edger Features
8" Heat-Treated Steel Blade for commercial grade performance
Cast Steel Blade Guard for maximum safety and durability
Direct-Drive Brushless motor to deliver more torque and longer life
Variable speed trigger to help conserve battery life
5X less vibration than gas, which reduces user fatigue
50% less noise allows you to start jobs earlier in the day without disrupting clients
For more information about the 82V Greenworks Commercial Stick Edger, visit the company website here .