The CAT 60V 21″ Brushless Mower puts features and functionality center stage
CAT has a long history in construction equipment and tools , with its unmistakable trademark "Caterpillar Yellow" and roots going back to the 19th century. Of course, as the CAT DG671 60V Self-Propelled Lawn Mower demonstrates, products and technology have come a long way since the early days.
Like its competitors, CAT is laser-focused on creating battery-driven gear that combines the power of gas with the convenience of cordless. So naturally, we couldn't resist taking a peek behind the curtain to see how this mower seeks to accomplish that.
Let's dive in.
CAT 60V 21″ Self-Propelled Mower Performance
Model: CAT DG671
Motor: High-efficiency Brushless 2.0 Motor
Battery: DG6B5 60V 5.0 Ah Battery
Run Time: 80 minutes
Charge Time: 1 hr
Blade speeds up to 2,800 rpm
Self-propelled, variable-speed rear-wheel drive
Yard Size: Up to 1/2 acre
The DG671 has quite a few performance features to explore, starting with the engine.
According to CAT, the proprietary high-efficiency Brushless 2.0 motor on this lawn mower is 40% more powerful than other brushless models, but without additional drain on the battery. This means a longer run time for more expansive jobs.
And while on the topic of power, CAT has also developed a smart technology called TorqLogic.
In a nutshell, this allows the mower to sense and adapt to cutting conditions. In taller, thicker grass, it automatically ups the torque. Once things get easier, it dials itself down to conserve the battery.
What's more, the variable speed rear-wheel drive function lets the operator adjust the pace for a more controlled cut.
With respect to longevity, CAT lists a run time for this self-propelled mower of roughly 80 minutes. That gives you a mowing capacity of half an acre. However, the user can extend this span via the dual battery port, which accommodates a backup battery should the primary fizzle out.
DG671 Mower Design
Length: 40.55″
Width: 21.89″
Height: 17.13″
Weight: 66.8 lbs. (bare); 73 lbs. (w/ battery)
Cutting Width: 20″
Cutting Height: 1.5″ to 4″
Single-Lever 7-position cutting adjustment
Deck: 21″ Steel
In terms of design, the CAT DG671 60V lawn mower has a fairly customizable set-up, providing a 7-position adjustment capability for cuts from 1.5 to 4 inches high.
Furthermore, the operator definitely won't have to worry about disposal options. The CAT DG671 has a 3-in-1 Mulch/Bag/Side-Discharge feature where you can quickly switch from mulching to bagging with the pull of a lever–no plug required.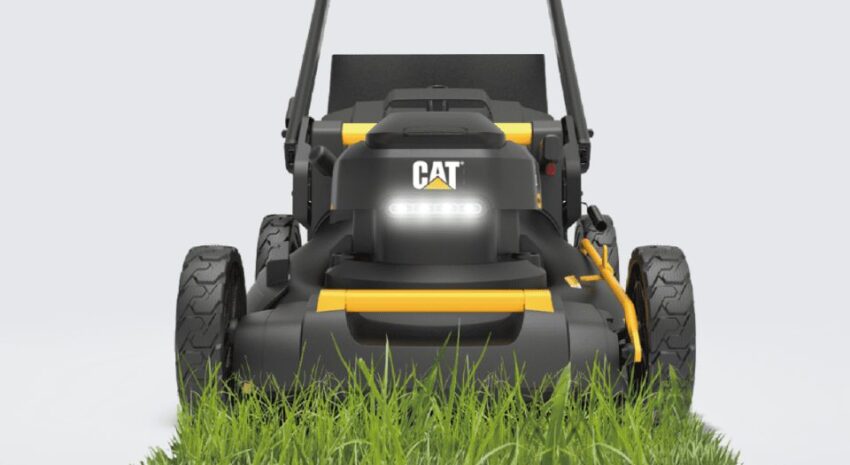 CAT 60V 21″ Self-Propelled Lawn Mower Price
The CAT DG671 retails for $629.99 and comes with a 60V 5.0Ah battery, 5A charger, mower bag, and discharge chute. CAT backs your purchase with 5-year tool and 3-year battery warranties.