Cordless outdoor power equipment is bigger than ever. Indeed, widespread adoption will only continue as more states and municipalities limit or entirely eliminate gas tools. Of course, the platform's reliability still varies depending on the gear. Self-propelled mowers are among those at the top of the list regarding solid performance and dependability. We say this based on our extensive hands-on experience and overall knowledge of how they've evolved. In particular, those tools that "have arrived," so to speak, have the power, the features, and the runtime to effectively tackle lawn maintenance and cleanup. We think the Skil Pwrcore 40 Mower (SM4910C-11) satisfies these criteria.
To help you decide if this is the right model for you, let's explore what it has to offer.
Be sure to check out our Best Self-Propelled Lawn Mower Reviews list!
Skil Pwrcore 40 Mower Features
At the heart of this self-propelled mower is a brushless motor and a 40V (6.0Ah) battery. As always, the brushless design is a huge asset, and, in this case, it gets enough juice to handle fairly challenging conditions.
However, this mower gets the bulk of its strength from the Skil Pwrcore 40 features.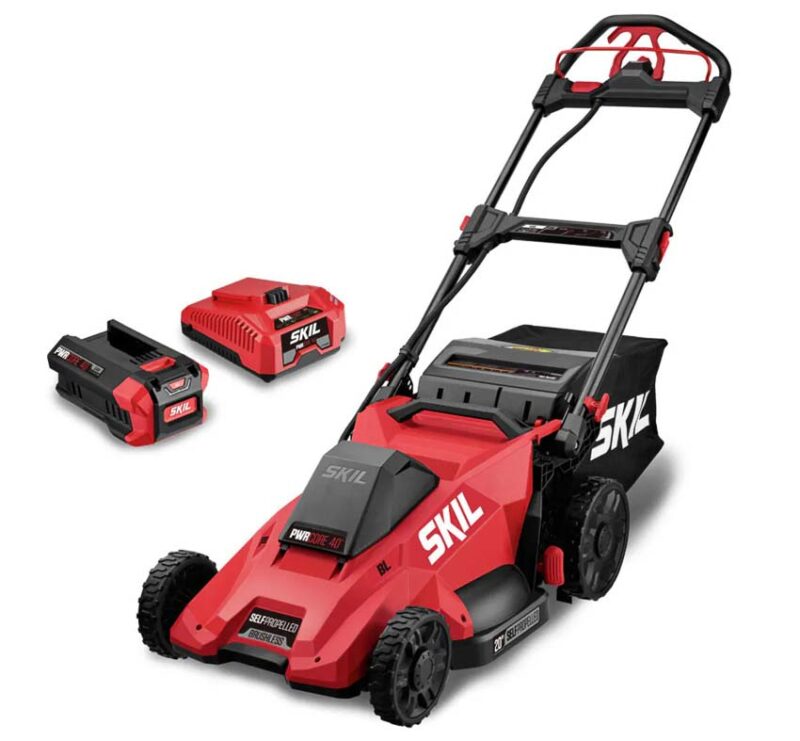 Specs
Model: Skil SM4910C-11
Battery: 40V (6.0Ah)
Self-propelled
Cutting width: 19.5 in
Cutting height: 1.5 to 4 in
Weight: 52 lbs
For example, you get both bagging and mulching capabilities right out of the box–no additional purchases required. Whether you want to collect the clippings to make your own compost or mulch the grass into instant organic fertilizer, you'll be ready to go.
The runtime specs are rather impressive, as well. According to Skil, the battery has a 25%-longer runtime than comparable 40V models. Moreover, the charge time is just 45 minutes. Together with the 19-inch deck and variable speed self-propulsion, Skil rates this mower for lawns up to half an acre. All things considered, that estimate sounds about right.
Skil Pwrcore 40 Mower Design
On the design side, convenience is the core attribute here.
Naturally, the push-button start feature helps make things easier. Likewise, the 7-position single-lever height adjustment gets rid of yet another hassle.
Finally, the telescoping handle allows for vertical storage.
Skil SM4910C-11 Price
The Skil Pwrcore 40 Mower sells for $399 and comes with a 40V (6.0Ah) battery, a charger, and a 5-year limited warranty.