We probably sound like broken records by now, but oh well. It never ceases to amaze us how far battery power has come in so short a time. Indeed, manufacturers are making leaps and bounds in pushing the evolution of the cordless platform. This includes everything from performance and runtime to flexibility and cost-effectiveness. Take, for instance, the EGO Turbo Leaf Blower (LB5800), which earned a spot on our Best 56V EGO Blower Reviews list.
Let's take a closer look.
EGO Turbo Leaf Blower Performance Features
Originally released in 2019, the LB5800 is still available. And with good reason, too.
Driving this tool is a high-efficiency brushless motor, fueled by EGO's 56V (5.0Ah) ARC lithium-ion battery. Together, this duo delivers 168 MPH, 580 CFM (18 Newtons) of blowing force.
That's not bad, considering we generally recommend at least 400 to 450 CFM for heavier cleanup jobs.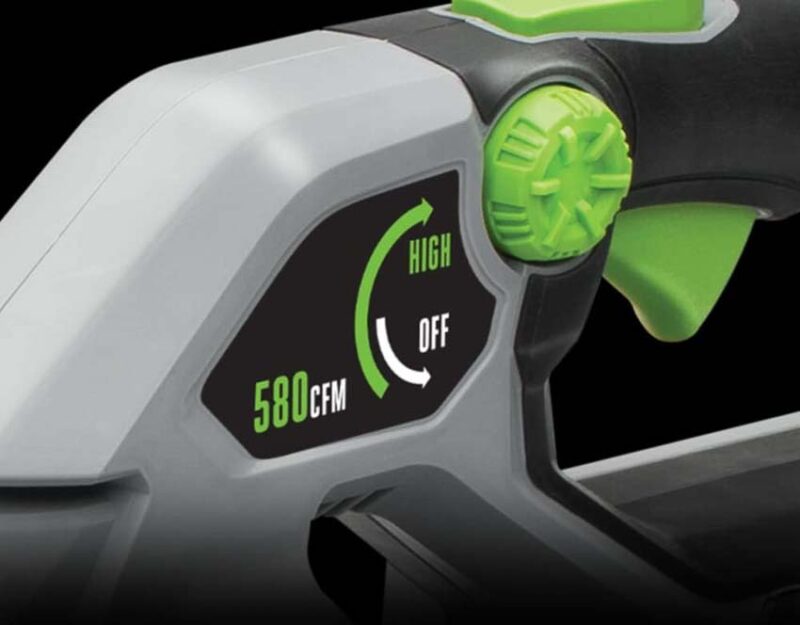 Also, check out our Best Leaf Blower Reviews and Best Backpack Leaf Blower Reviews lists!
Specs
Model: EGO LB5800
Air volume: 580 CFM
Airspeed: 168 MPH
Newton force: 18.0 N
Approximate runtime w/5.0Ah battery: 18 min (turbo), 30 min (high), 200 min (low)
Weight: 9.6 lbs (w/ battery)
Now, the EGO Turbo Leaf Blower has a number of features that bolster performance. For example, a variable speed trigger gives you greater control, as does the turbo-boost button.
However, what stands out to us is the runtime. The recommended 5.0Ah battery yields an estimated 18 minutes on turbo, 30 minutes on high, and 200 minutes on low.
Especially if you have more than one battery, you should experience minimal downtime with this tool.
And, last but not least, it carries a quiet 65-decibel noise rating.
EGO Turbo Leaf Blower Design
The LB5800's design features are particularly strong when it comes to flexibility and ergonomics.
Without a doubt, the ARC battery system is the core of this blower's flexibility. First, it provides cross-compatibility throughout the entire fleet of EGO POWER+ tools. Furthermore, you don't have to rely solely on the 5.0Ah pack, which is nice if you already have one or more 2.5Ah batteries in your garage or shed.
What's more, this blower is fairly light, weighing 9.6 pounds with the battery attached.
EGO LB5800 Price
The EGO Turbo Leaf Blower sells bare for $149.91 and has a 5-year limited warranty.