Many of us have been there before: "I needed to run my generator, but it was raining/snowing/storming, and I had to sit around in the heat/cold/dark without any power because my generator isn't weatherproof!" It seems a little unfair that you can blow a grand on something that needs to be run outside, but that can't handle a little wetness. Or a lot of wetness. You'd think generator manufacturers would build in some IP protection. But, until that happens, a company called GenTent has come up with a solution that allows you to run your generator in inclement weather conditions. That's because, to put it simply, the GenTent is a tent for your generator.
Sure, generator covers are not really a new thing. One look at Amazon.com proves that plenty of options exist for covering your generator. Most of those are waterproof and resist U/V light. However, while these other covers work well for storage, you probably shouldn't leave them on while the generator runs. Because they all snug up on the body of the generator, they'll retain the generator's heat, and won't allow for proper ventilation.
The GenTent Difference
The GenTent takes a different approach to portable generator protection. Rather than fashioning a box-shaped cover, GenTent utilizes a more standard tent shape that allows the generator a bit of breathing room. Four frame adapters clip to the frame of your generator. Fiberglass rods insert into the adapters and provide a framework for the tent, which the company fashions from NFPA 701 FR rated vinyl laminated polyester.
The company claims that the GenTent can fit most portable generators from 3,000W to 10000W (although, on their website, there is a "Find Your GenTent" Tool that will help you pick the right GenTent for the ideal fit). It should also withstand 70MPH winds, 18″ of snow, and up to 12″ of rain per day. It has an easy-access flap for accessing the gas tank and electronics as well.
You might also find yourself curious about the amount of heat the GenTent retains, as well the level of protection the GenTent offers the more delicate parts of the generator. The tent does have flaps at the top to help with heat release. Additionally, the GenTent can be fitted with a skirt that helps protect the electronics from swirling winds, rain, and snow.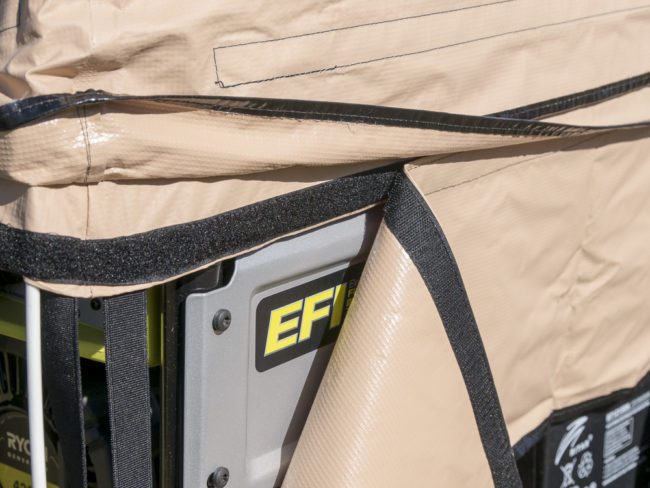 For an in-depth review of the GenTent, head over to ProToolReviews.com , where Kenny Koehler has put this the GenTent to work.
Final Thoughts
The price on the GenTent seems a bit on the high side at around $149.99. The quality is there, and the GenTent looks like it'll do its job pretty well without melting or blowing away or otherwise falling apart. Ultimately, the GenTent helps protect an investment that, when you need it, you'll probably really need it. At which point, maybe $149.99 doesn't seem that steep after all.
GenTent Key Features
Run your portable generator safely outside in wet weather – rain, snow, ice, sleet
Protects sensitive electrical panels and outlets and dome shape sheds water away
Allows easy refueling with large opening door flap
Universal cover size fits most portable generators over 3000W up to 10000W
Maintains generator natural cooling airflow and intake
Self-attaching to keep the "portability" in your portable generator
Directly connects to all four frame members on your portable generator
RF Welded seams and vinyl fabric for waterproofing
No Tools Required – Simple 3 step setup
For a full review of the GenTent, check out ProToolReviews.com . Or, for a broad overview of the product, take a look at the company's website .