Makita XML11 21-inch Self-Propelled Lawn Mower Raises Value For Homeowners
The Makita XML11 expands the company's line of cordless residential lawn mowers with an updated 18V X2 (36V) 21-inch self-propelled solution. The XML11 targets a lower price point, features a plastic deck, and only has two battery slots. We featured this mower in our Best Makita Lawn Mower article but wanted to take a closer look at what it offers residential consumers.
Makita XML11 Self-Propelled Lawn Mower Controls and Ergonomics
Makita takes its design cues from professional gas mowers. As such, it sticks with a more traditional bail bar and self-propelled bar to operate the mower. This might appeal to those familiar with gas lawn mowers more than designs that use a thumb bar to control speed.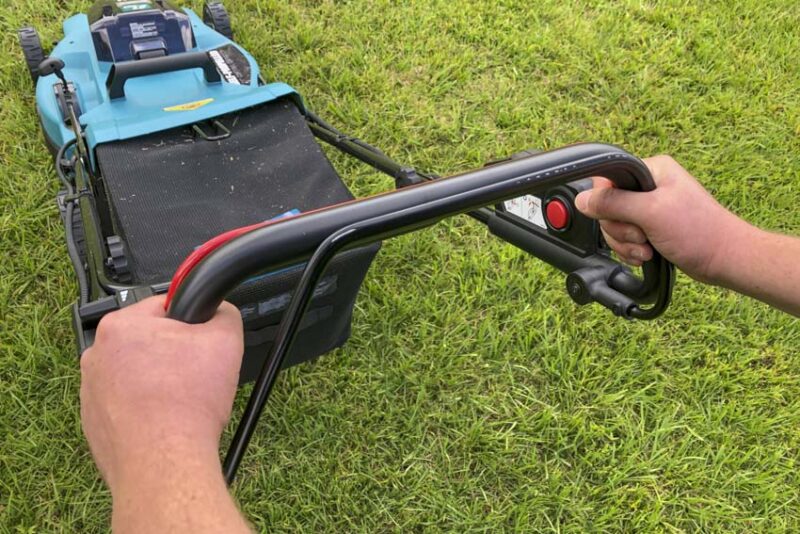 Makita used an interesting and efficient design in its drive bar. Angling it away from the left side of the handle, it lets you release the drive bar with one hand. The other can remain on the bail bar and keep the blades spinning. It's a solid design.
We like the comfortable rubber overmold on the handle. It gives you a nice grip and seems like it should last longer than some foam designs we've seen.
The handle locks into one of two positions. You get a bit less functionality here, but we found it worked with our crew—who measure between 5 ft. 6 in. and 6 ft. 3 in.
Adjusting the Deck Height
A single-point height adjustment lever lets you easily adjust the cutting height between 1.25 and 4 inches. It has a peculiar 8 steps of adjustment. If equidistant, that means you get roughly 0.4-inch increments between those ranges:
1.25 in.
1.64 in.
2.04 in.
2.43 in.
2.82 in.
3.21 in.
3.61 in.
4.00 in.
In the end, we recommend just finding the height that works for you—or matches your neighbor's yard—and running with it.
Additional Features
IPX4 ingress rating
Handle folds up for vertical storage
Two

handle height settings
Makita XML11 Self-Propelled Lawn Mower Cutting Performance
In central Florida, the Spring and summer both bring thick, lush grass once the rain begins. This tends to challenge many battery-powered mowers since lift and cutting take considerably more energy.
We tested the Makita XML11 on a lawn cut down to 4.5-inches. Using a Toro Timecutter 60-inch ZT, we "set the pace" before bringing out the Makita lawnmower. We then placed the Makita XML11 deck height at approximately 2.5 inches (position 4).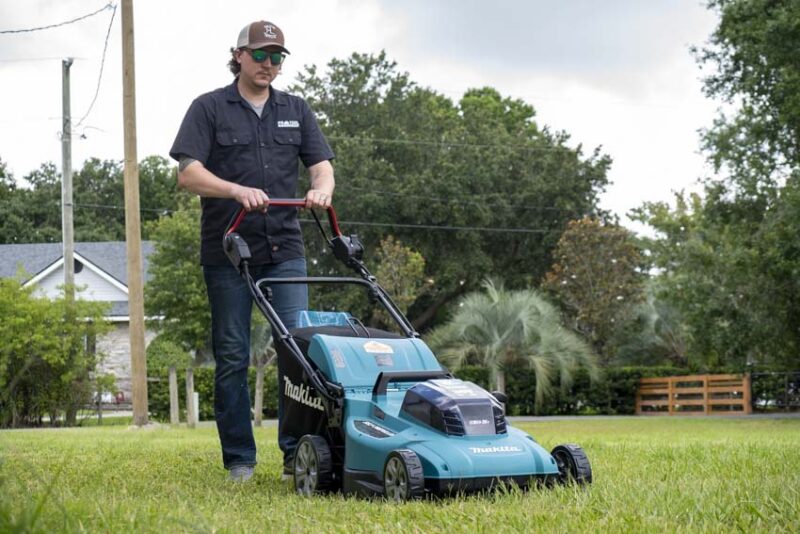 The brushed motor on the Makita XML11 did a good job of keeping the 21-inch blade at 3,000 RPM. Since it runs at 36V (using two Makita 18V battery packs) it has plenty of power to maintain torque. Because it lacks brushless motor technology (and the associated electronics that aid those systems), it did slow down when we ran into heavier grass. This became particularly apparent in thick St. Augustine.
For a torque test, we dropped the deck to its lowest setting. It managed to keep the blade spinning for 40 feet of mowing before it stopped. For a mower in this price range, we felt that was excellent.
Mulching, Bagging, and Rear Discharge
When mulching, bagging, or even using the rear (in this case) discharge, mowers with high lift produce the best results.
With dry grass conditions and normal cuts, the Makita XML11 maintained its 3000 RPM blade speed. That let it mulch and bag without any issues. As we hit thicker patches we did need to slow down in order to maintain performance when bagging and mulching. Push too hard and you would leave a lot of grass behind or experience clumping.
As hinted at above, the Makita XML11 uses a rear discharge chute instead of a true side discharge. While a side discharge throws and distributed clippings more efficiently, a read-mounted discharge takes advantage of the additional airflow you get from most lawn mower decks. With the composite deck Makita uses in the XML11, it felt like they did some significant optimization to really make this work well.
While the "side" discharge got bested by some other mowers we've used, the design really enhanced the mower's mulching and bagging capabilities.
Testing the Makita XML11 Runtime
Makita tells us to expect up to 40 minutes of cumulative runtime when you cycle through both sets of 5.0Ah batteries that come with the kit. That means you get 20 minutes per set of two batteries.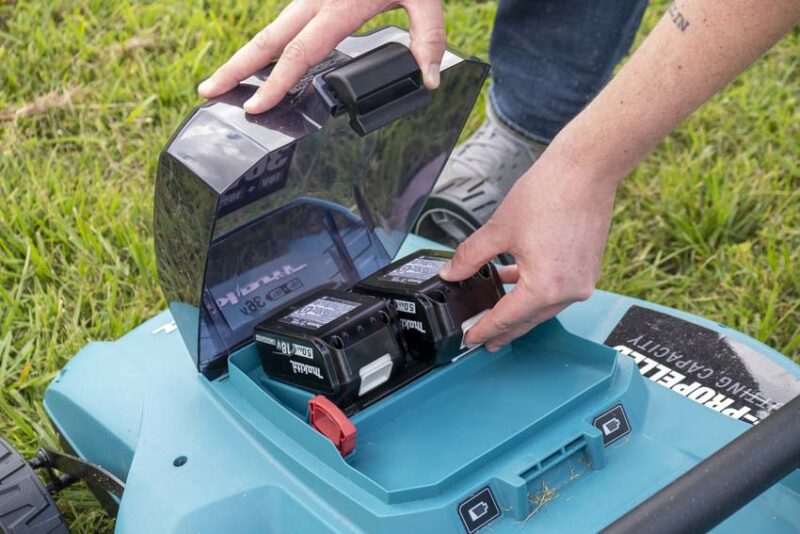 Our runtime test clocked in at 14 minutes and 58 seconds on the first set of batteries. We then repeated the test with the second set and got 14 minutes and 48 seconds. That's fairly consistent as far as results go.
We attributed the lower runtime to a combination of our heat (which lowers battery runtime) and the type of grass we mowed (thick St. Augustine). Even though we didn't quite get to the full 40 minutes, we feel some users might in a dry-weather maintenance cut. Remember, we took off roughly 2-inches of grass.
Self-Propelled Drive System
The rear-wheel drive Makita uses on the XML11 works better than a front-wheel drive system. This shows up in particular when mowing on small inclines.
Makita places the speed control on your left. It varies the self-propelled motor from 1.5 to 3.0 MPH. The design lets you adjust speed smoothly with no positive stops. We liked the feel of the control as it's unlikely to slip on you during use. It also stays out of the way of your hands while you work, so you aren't likely to bump it accidentally while mowing.
The tire tread gripped the grass well—even when we mowed early with dew on the ground. The smooth bearings also helped this mower glide over the grass. The self-propelled mechanism also releases easily, so you can switch to push mode as needed without difficulty. It made this one of the easiest battery-powered lawn mowers we've used that switches between both modes.
Makita XML11 Self-Propelled Lawn Mower Price
The Makita 21-Inch self-propelled lawn mower kit retails for $499. That price includes four 5.0Ah 18V batteries and a dual-port charger. When you consider those four batteries and the charger retails for $508.99 when you buy them separately, it's like you're getting the mower for free! You also get a 3-year limited warranty.
It's also available as a bare tool for $479, but that's insane since you get 4 batteries and a charger for just $20 more.
*Two batteries and a charger kit cost $279.99 and another two-pack of batteries is $229.
The Bottom Line
Compared to other mowers in the same price range, the Makita XML11 cuts really well and has decent runtime though you need to swap batteries midway. It's a good fit for homes that sit on a 1/4-acre or less lot. Overall, it's the value that seals the deal as one of the best residential mowers under $500.
Click here to check out the full Makita LXT lineup.
Makita XML11 Self-Propelled Lawn Mower Specifications
Model: Makita XML11Z (bare tool), XML11CT1 (kit)
Power Source: two Makita 18V batteries
Deck Width: 22 in.
Cutting Width: 21 in.
Motor Type: brushed
No-Load Speed: 3,000 RPM
Cutting Height Range: 1.25 – 4 in.
Warranty: 3-year limited
Price: $499 (kit with 4 batteries)