Of all the jobs that comprise basic property maintenance, mowing grass is by far the cornerstone task. And several factors determine the quality of your cut. They include a regular schedule; decent equipment; and sharp blades. Interestingly, the last item is arguably the most important, yet one that often slips people's minds. To ensure that you never forget, you might want to start sharpening those blades yourself, which means you'll need equipment like the Oregon Economy Blade Sharpener.
Sharpening Mower Blades: Why DIY?
Now, you might be wondering why you should sharpen your blades yourself. Well, it's mainly because it will save you money and time.
There's no way around eventually having to replace your blades, but the first dull edge isn't a good reason! You can resharpen them numerous times before they're too thin to use, particularly with powered gear like the Oregon Economy Blade Sharpener.
And why pay someone else? You have to remove them from the mower, anyway. Do it then and there.
Oregon Economy Blade Sharpener Features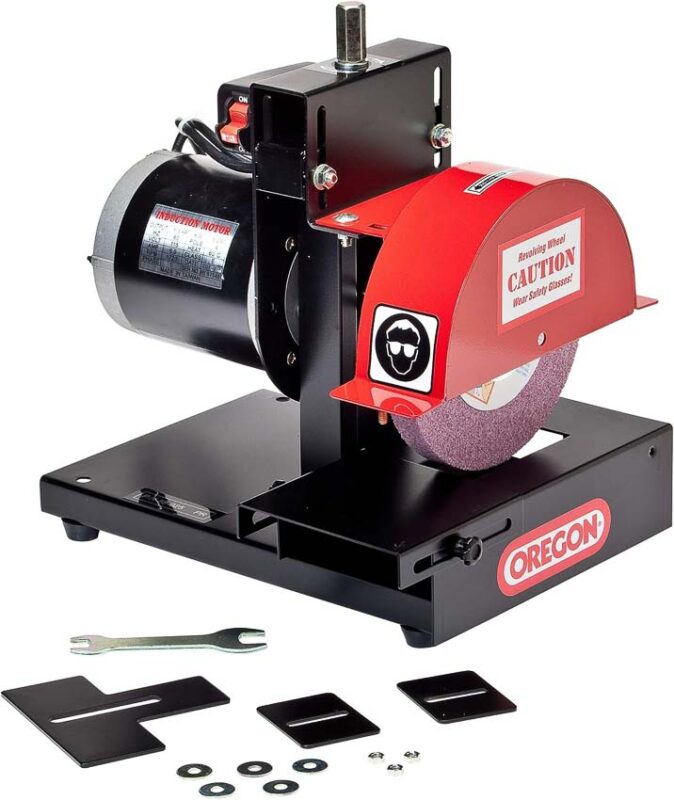 While the Oregon 88-025 doesn't have a lot of bells and whistles, it has plenty to offer maintenance-conscious DIYers and residential lawn care Pros.
To start with, this grinder's 1/3 HP motor gives you a wheel speed of 1,750 RPM. We should also note that the motor is single-direction and non-reversing, so it can only sharpen right-hand cut blades.
Need a safe, easy way to lift your tractor? Then check out the MoJack ZR Mower Lift!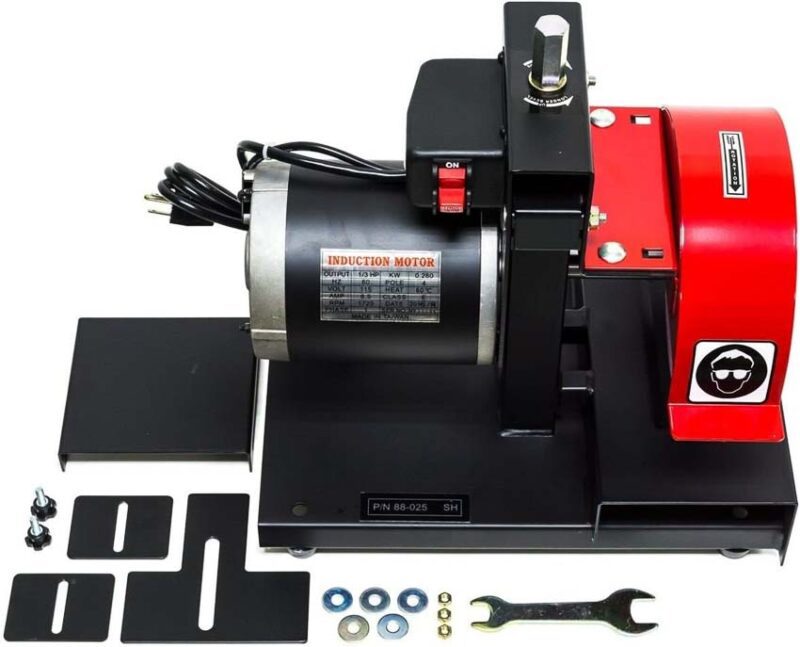 Specs
Model: Oregon 88-025
Corded electric
1/3 HP
1,750 RPM
8-inch wheel
Single-direction, non-reversing
Weight: 42.1 lbs
A standard-duty tool, this unit comes equipped with an 8-inch hardened grinding wheel. Moreover, it allows for height adjustments and can accommodate any length cutting edge.
Finally, Oregon added rubber feet to reduce vibration and prevent annoying and potentially dangerous grinder "walking".
Oregon Economy Blade Sharpener Price
The 88-025 retails for $454.89. Furthermore, a grit collection bin and lamp are available separately.
Are you wondering if it's okay to mow wet grass? OPE has the answers.